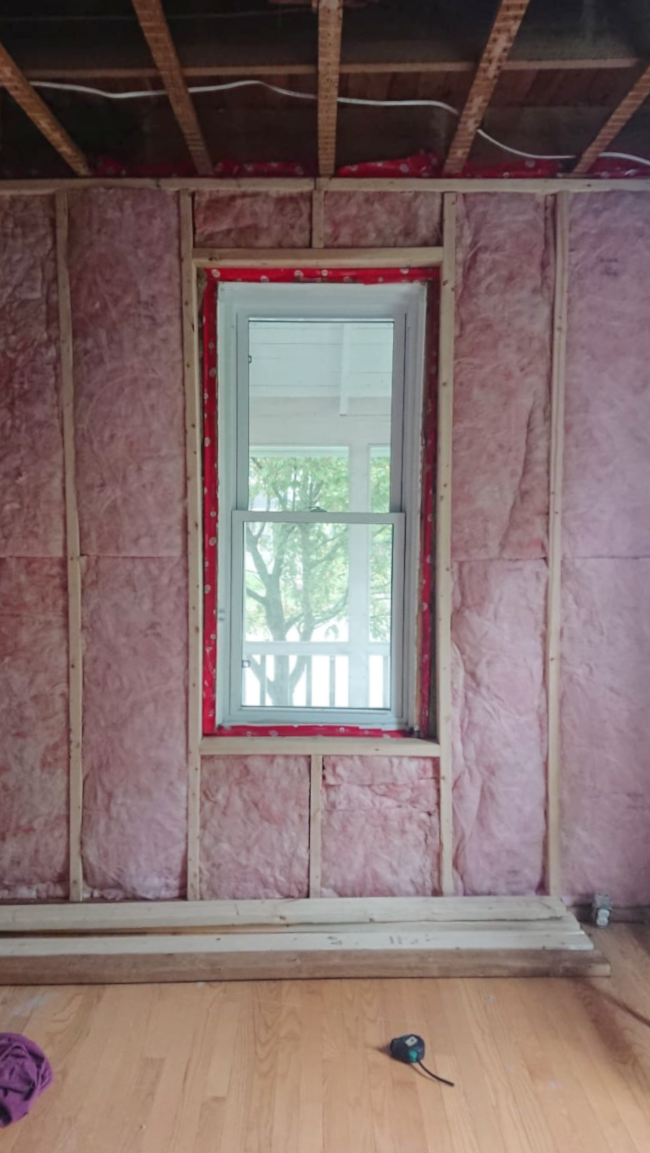 With all that has happened in America [and Canada, and around the world] this past week, the usual weekly link-up for the One Room Challenge won't be happening this week out of respect of the Black Lives Matter movement. I'll be sharing my Week Five progress quietly here on my blog, but I won't be sharing anything on social media as it would feel flippant.
We're also starting the conversation about race and colour with Cora. I'll be honest that we've never consciously brought it up with her before, but after much reading this week I'm realizing that is not the right way to go about it. In my innocence, the colour of someones skin is not a factor for me [not in a I don't see colour way], but again I'm realizing talking about it with Cora is a much bigger deal. I'm researching and educating myself as a white person as how to best bring this conversation into our home to make our three-year-old understand what's happening in the world in a way that is appropriate for her right now.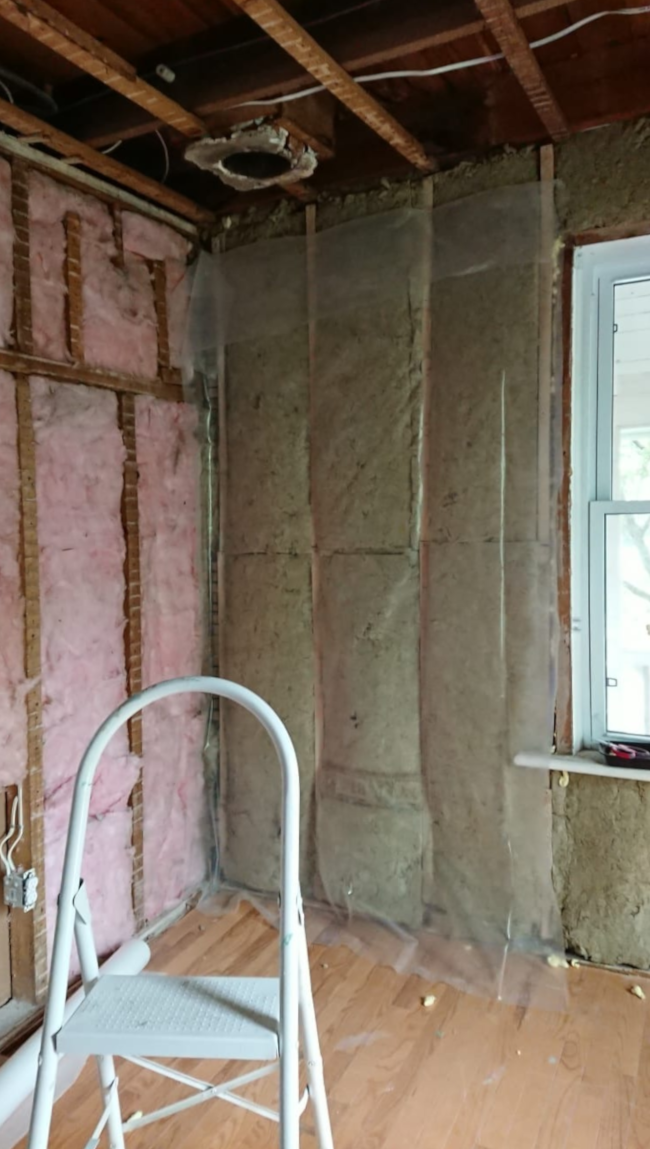 Regarding this weeks progress with my ORC, above is where I left off last week, right as I was realizing I'd have to pull everything down and start over again. Why? Because …
The wood slats on the walls weren't deep enough to sufficiently house insulation nor strong enough to hold drywall
There needed to be another layer between the brick and the insulation. Despite my best efforts to Google "should I put stuff on brick before I insulate my super old, wonkey house?" didn't advise I need to put a Tyvek breathable barrier up first, as advised by Dad DIYer
So down everything came [as seen below] and I started over again. I wasn't upset about having to start over as I prefer to do things the right way, even if it means taking longer. But I was mentally exhausted as just to get to this point took a lot of work.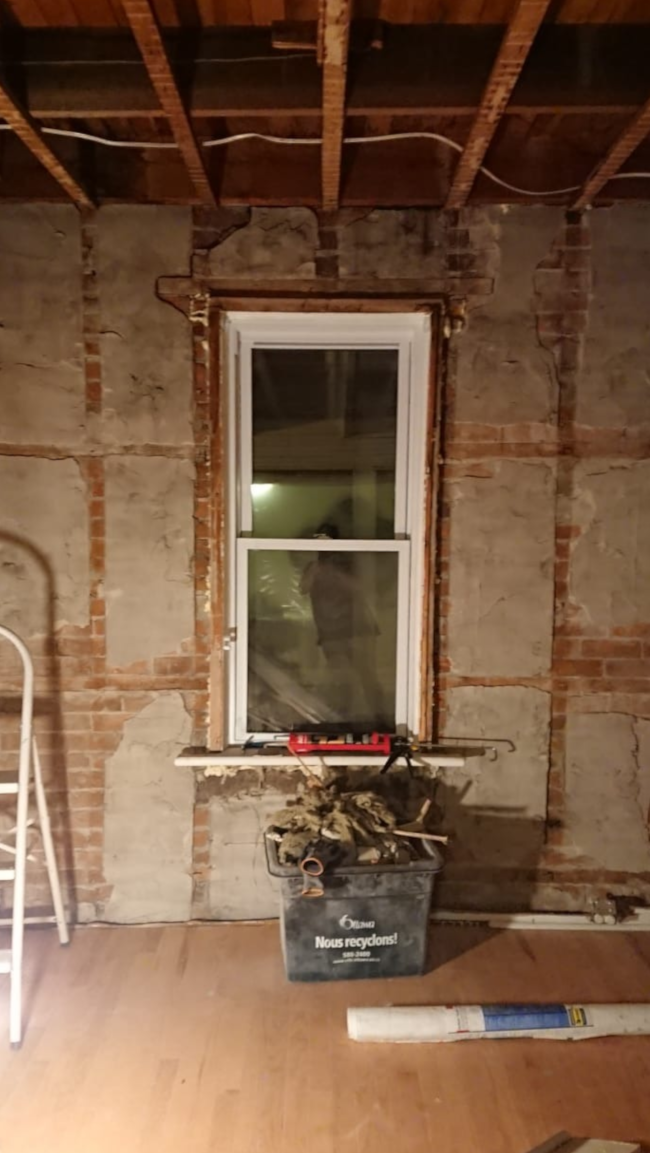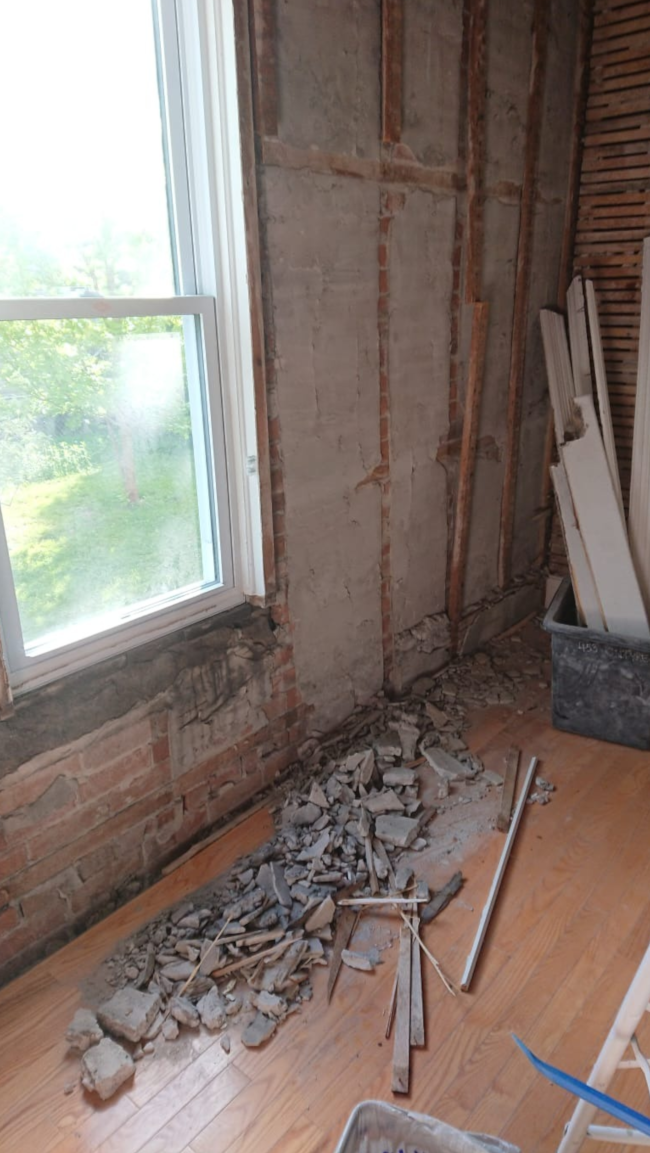 There was a surprisingly large amount of work between then and where I am now. First of all, I had to rip the wooden supports off the wall. It was easy on the front wall, but the side wall proved tricky as the slats extended all the way up to the first floor. My reciprocating saw came in handy and with a dose of PMS last weekend, I blasted the supports off the wall.
Next I had to deal with what I now refer to as The Trench; the wooden floors you see are new [about 7 years old], and whoever put in the wood floors placed them ontop of the old wooden floors and butted them up against the original skirting boards. So when I removed the skirting boards [using brute force, rage, a giant crowbar and a reciprocating saw], there was a 4-inch gap around the room which was about 2 inches deep. It was all filled with solid plaster, so that had to all be dug out and despite wearing hardy gloves, I still have plaster under my nails.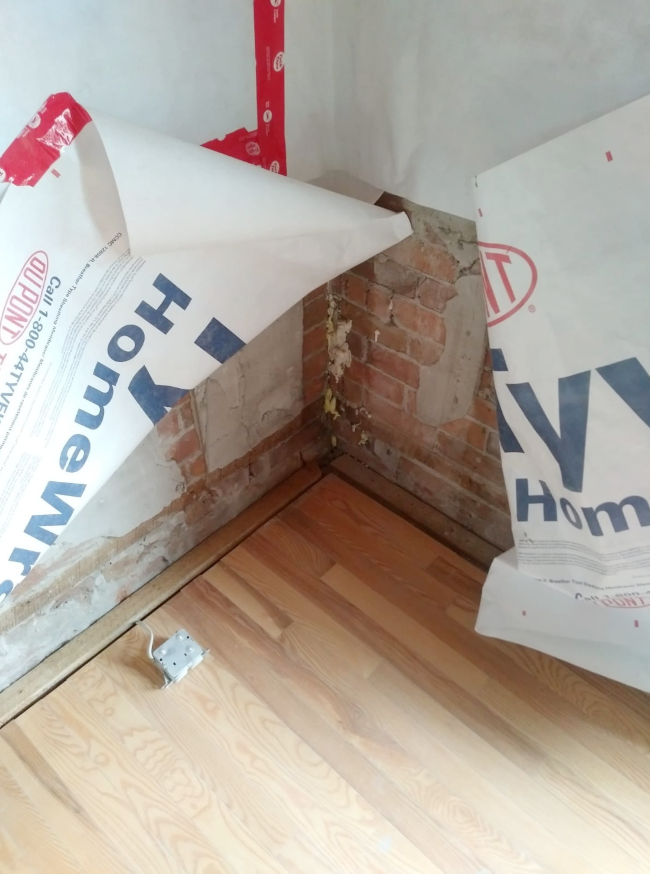 Once the plaster and old skirting boards were cleared out, I reused the old wooden slats that were on the exterior walls and placed them in The Trench to level out the floor ahead of creating a stud wall for the exterior walls.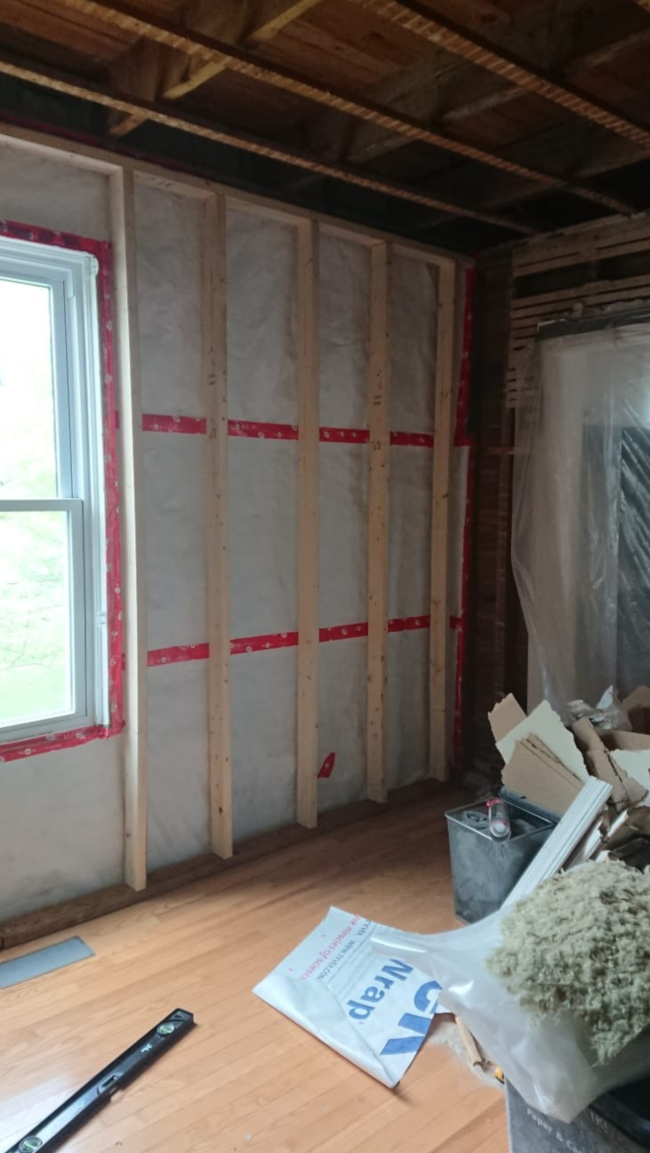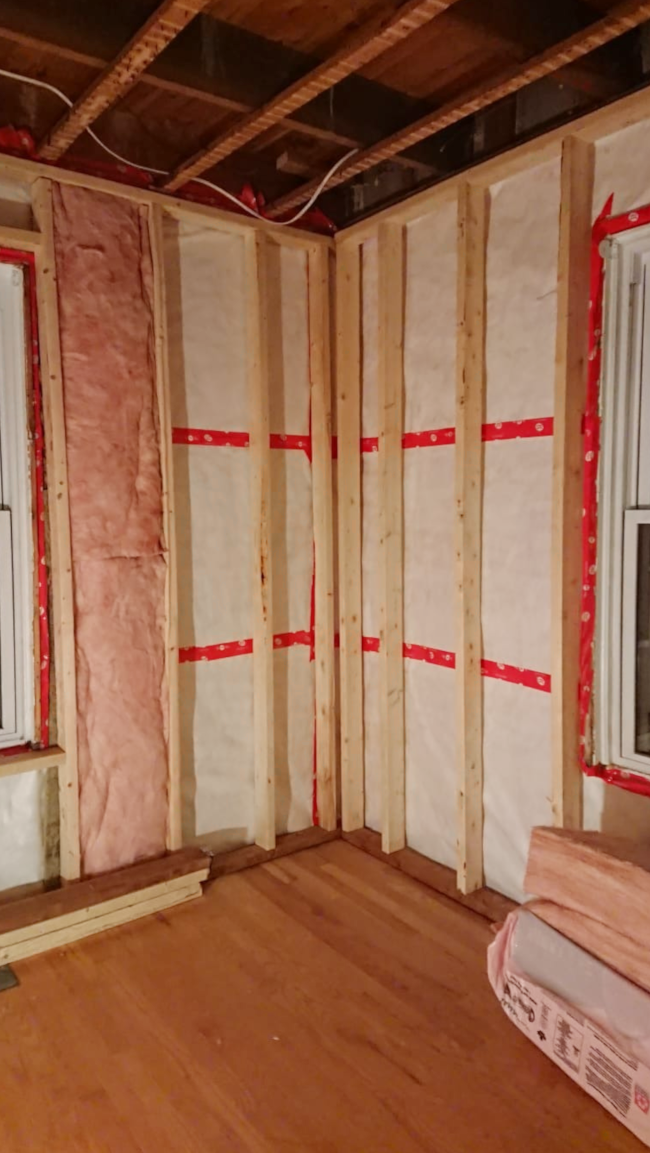 I applied the Tyvek using construction adhesive in three bands across the two exterior walls and used red Tuck Tape to help secure the seams. Over two nights I made the stud walls for both exterior walls and anchored them in place. I had done all the measuring and rough sketches for the design of the stud wall, which Dad DIYer perfected for how best to place the drywall in a way that wouldn't have even occurred to me #InfantDIYer.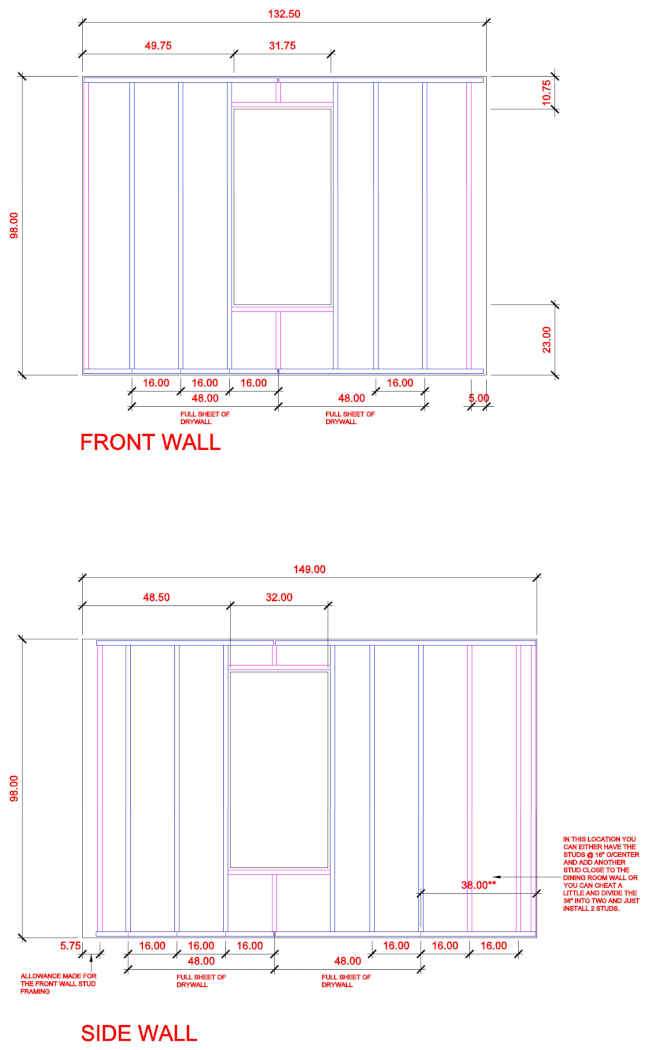 After finalizing the second stud wall last night [I'm thanking my habit of getting Cora used to loud noises when she was a baby as she slept through my excessive hammering and sawing], I had some energy left so I added one behemoth pack of insulation to the room before calling it a night.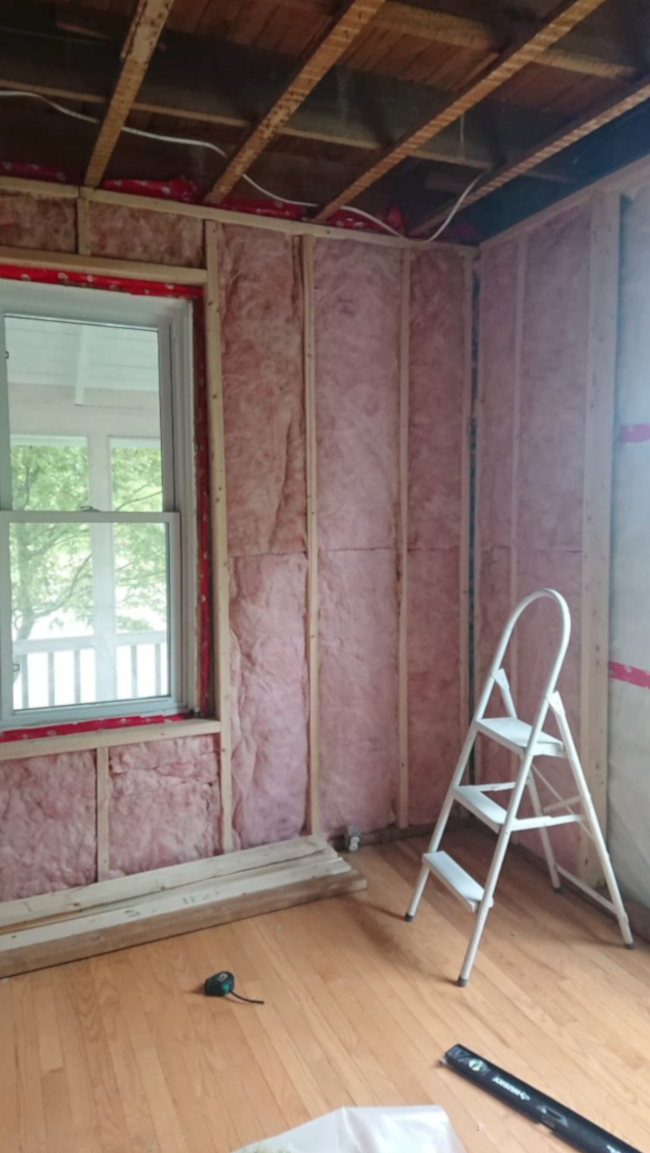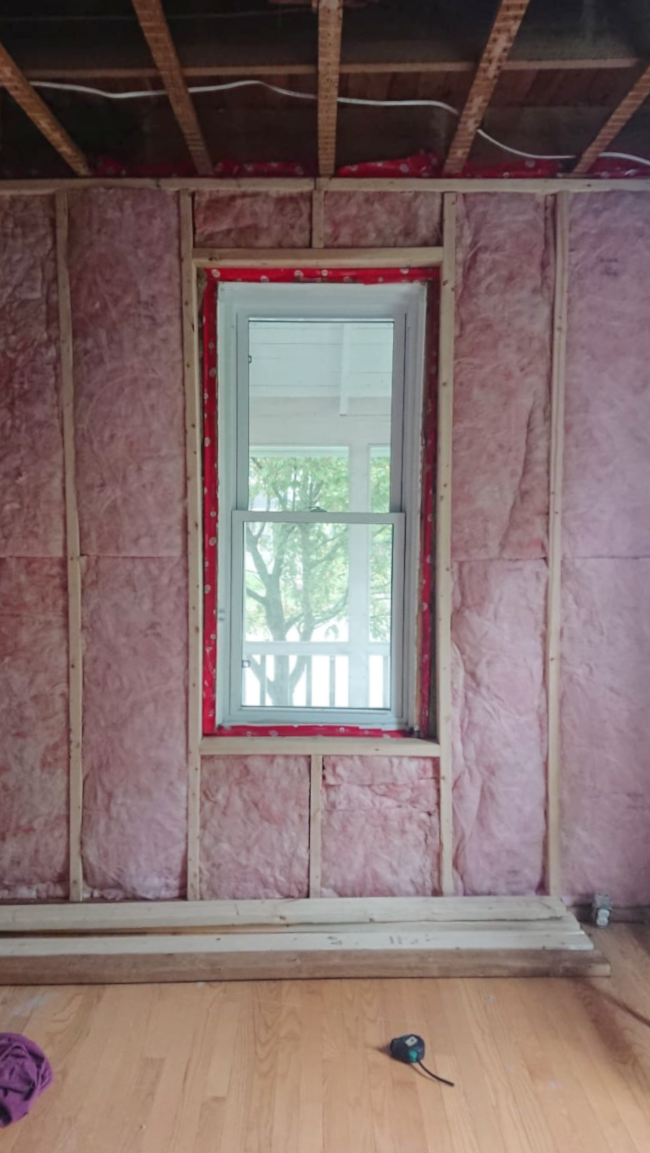 It kind of looks like I've done nothing, but I've gotten so much done this past week. I'm quite proud of myself, if I'm allowed to be that honest. I'm especially proud that I didn't fail miserably with constructing the stud walls and put them in place all by myself. Just me. MEEEEEEE! I feel I can actually claim the title of Interior DIYer now. I've been waiting so long to be able to work on projects like this.
My Week Five feeling summarized into one photo: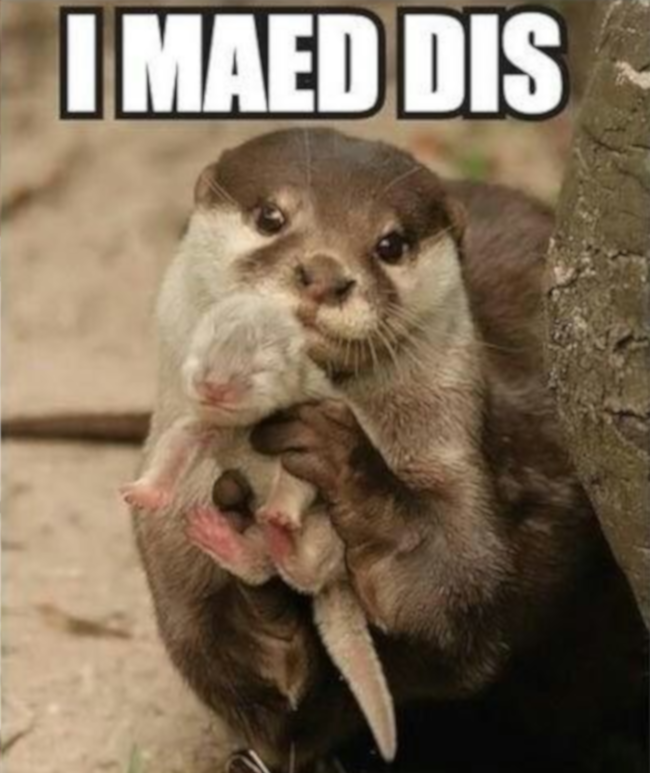 Week One – Week Two – Week Three – Week Four – Week Five
Week Six – Week Seven – Week Eight