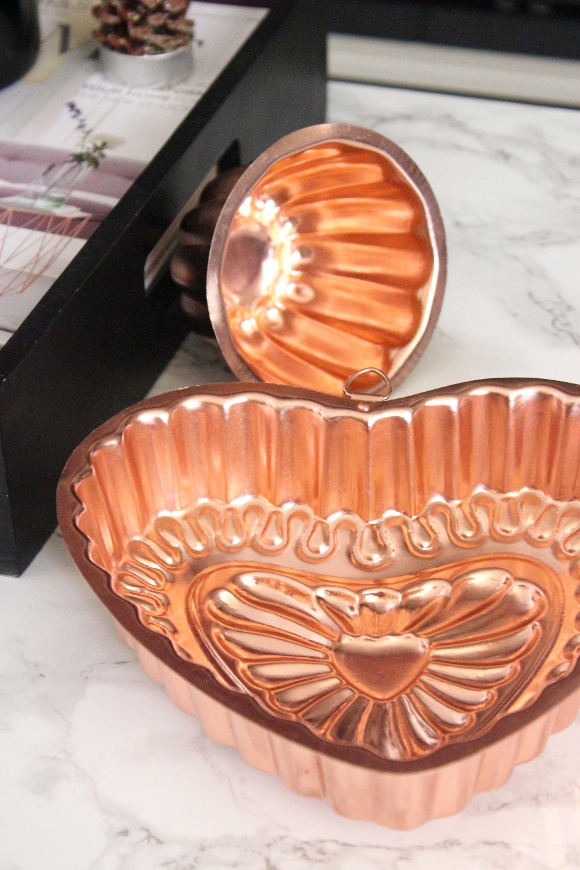 Over the weekend I had some time to walk one of
my favourite Dublin charity shop routes
. I was on the lookout for nothing in particular, but kind of also had my radar possible nursery furniture. I didn't find any furniture, however I did find these absolutely adorable copper jelly moulds. I'm super sappy these days so the heart-shaped piece jumped out at me immediately as well as the smaller mould. They were both marked as €1 each [!!!] in
Age Action
so I couldn't not get them.
I'm fairly certain they're not vintage as they're quite light and are actually more of a rose-gold colour than copper in real life [they look very much copper in these pictures]. I think the heart shaped mould would look really lovely hanging up in the baby's room and the smaller one for holding all kinds of tiny baby related nonsense on a shelf.
We'll have to buy some brand new pieces for the nursery [cot, bedclothes etc], but for the most part I'm really hoping to find as many second hand pieces as possible. I have a vague idea of furniture, layout and colours at the moment, but I have yet to sit down and see if it will all work together. I'm feeling really good these days so I want to get stuck in painting and assembling and fussing over baby stuff! I figure I should start sooner rather than later before my energy levels drop back to non-existent.