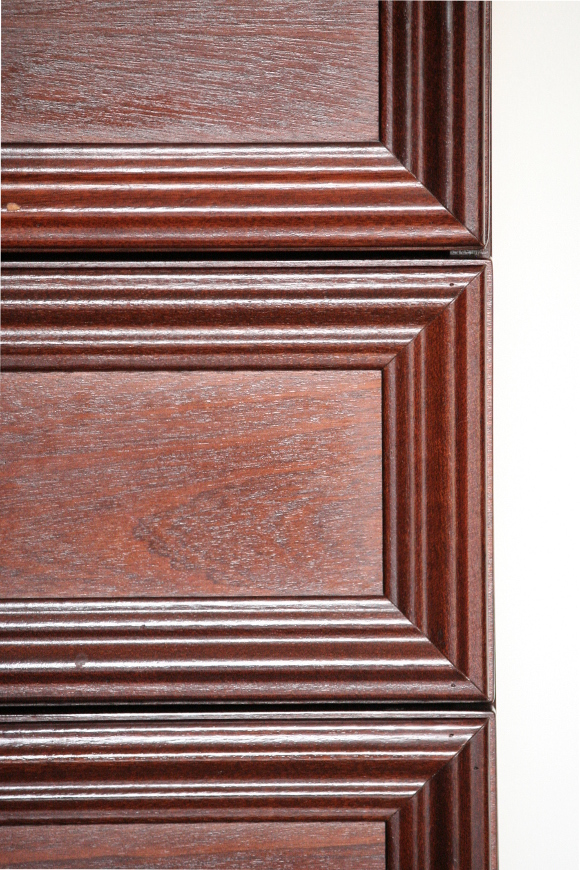 For a while now I've been a bit over our home office. I've wanted to mix things up and more importantly, make our apartment a bit less IKEA-y. Don't get me wrong, I heart IKEA, but thanks to our landlord's [IKEA] furniture that we can't change, our apartment was starting to look a bit like a catalog. So out with the new, and in with the old.
I wanted an older and darker desk with more character, so I took to the internet. I sold our
IKEA desk
within a couple of hours and that same evening I found a pretty sa-weet mahogany desk. It was petite, compact and fill of pretty. I even haggled it down to the same price that I sold our IKEA desk for, making it a direct swap of IKEA for mahogany! Not bad …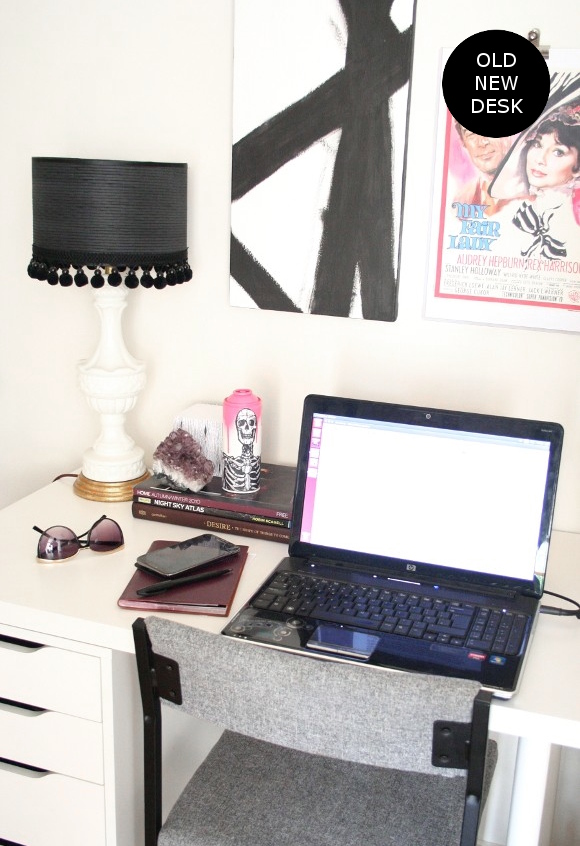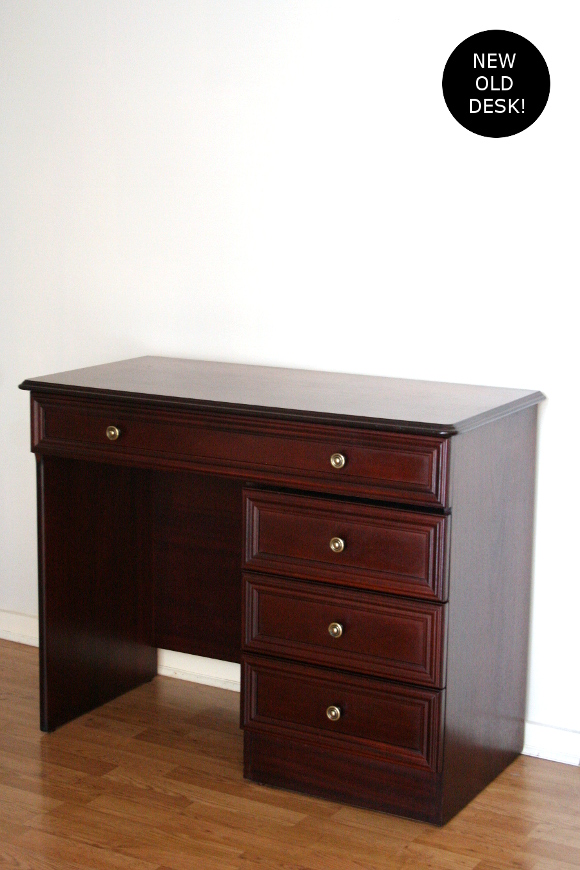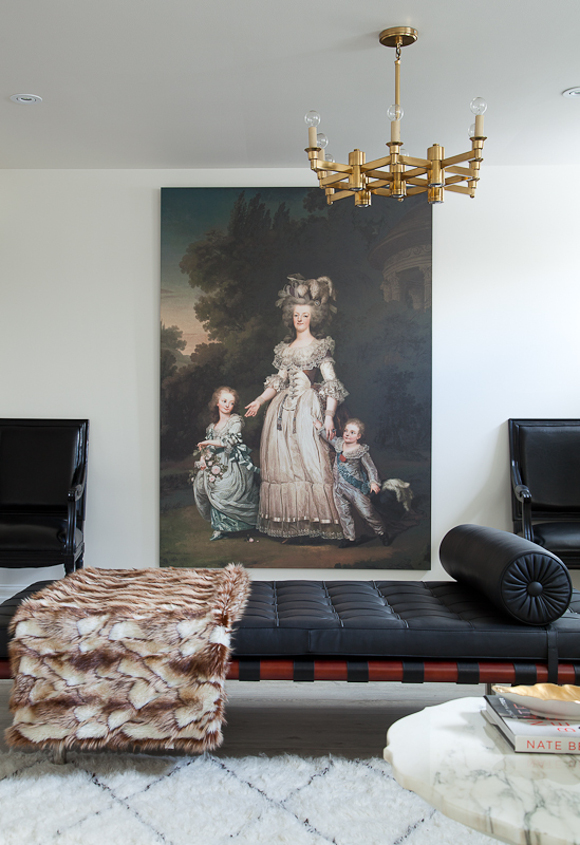 My grand ideas for this small space kept bringing me back to Christine Dovey's, aka Bijou and Boheme's,
basement makeover
. There are no words. It's just insanity. I've yabbered on about Christine many times before, so I'll keep my drooling to a minimum today. But there's something I just really adore about the dark accessories, white walls, old school painting and gold accents going on. A perfect mix of old and new. So ideally, I'd love if I could work the following into our new office space …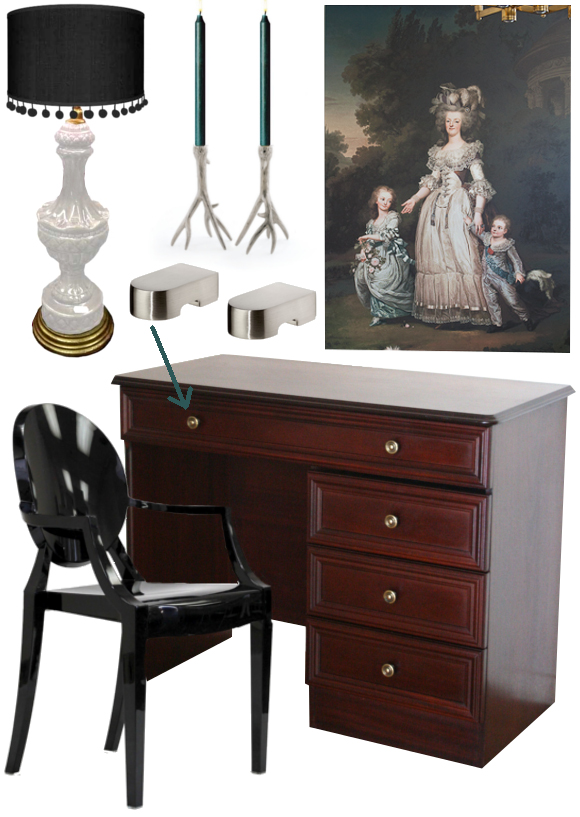 – A giant piece of art of some sorts. Kinda old and maybe kinda new and I might even try my hand at something. This section is a bit up in the air. Can you tell?
– The moment we got the desk, I wanted to change the door knobs. They don't look too bad below, but the current hardware is in no way in keeping with our living room [our office sits in the corner of our living room]. I've spent a couple of days searching for some yummy knobs [oh dear god, hello SEO!] in hardware stores to glitz up our desk, but no luck. Going completely against my 'less IKEA look', I spotted these
ORRNAS
door knobs on the IKEA website and I like what I see. Bringing a little bit of IKEA back in is okay, right?
– I would just die if I could have a black ghost chair. Or dark grey. I'm not picky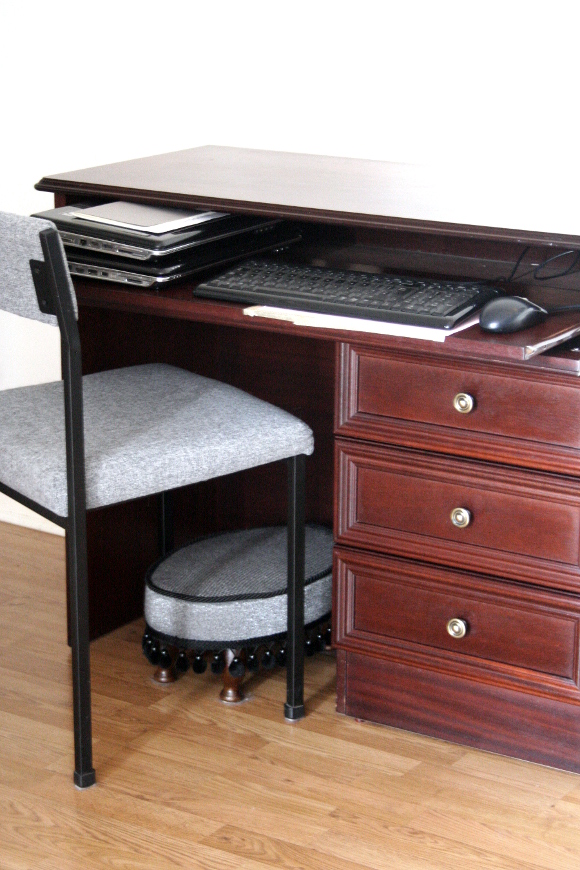 At the moment the chair I'm using I found abandoned on the side of the road. It's a lot less dirty than it sounds, trust me! If the whole ghost chair thing doesn't work out [which let's face it, probably won't because of €€€], I'd contemplate reupholstering my skip-chair in black velvet. It seems like it would be a fairly straight forward job, the only thing deterring me at the moment is the thought of all the cat hair.

Oh and before I forget, above is a better picture detailing the top 'drawer' in our new old desk; it folds down revealing a rolling shelf that I use for my keyboard and mouse, and when the desk isn't in use, we store our laptops in there. Out of sight, out of mind. This little desk isn't just a pretty face, and I couldn't be more smitten.
xx A