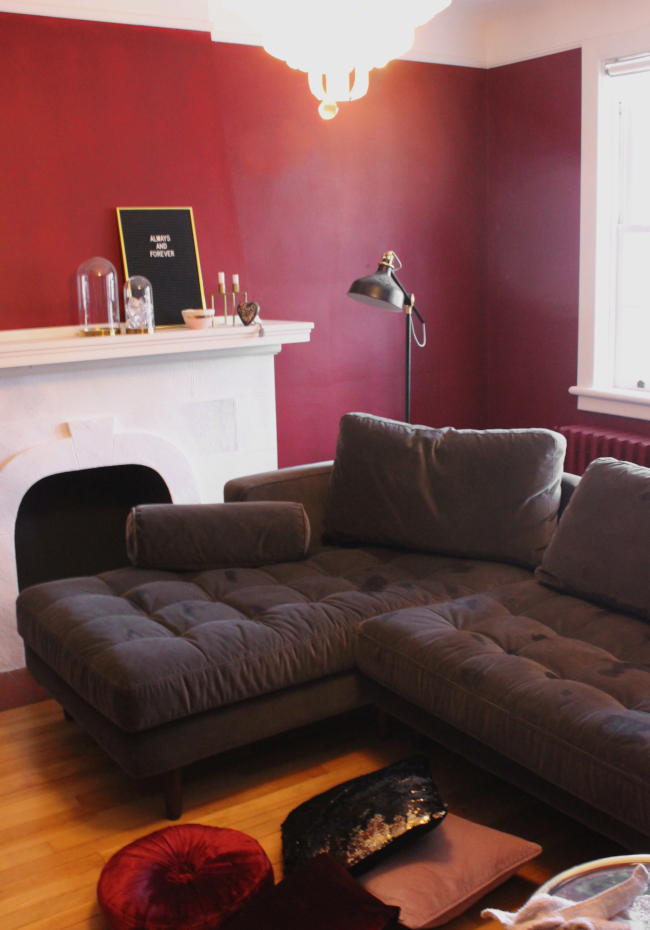 We've had our sleek velvet Sven Sectional Sofa from Article for almost a year. It's still as beautiful as the day we got it, but on occasion I've had to spot-clean it. The first time we were in such a situation was on Christmas morning; Cora was so excited about Santa that she forgot she desperately needed to pee, so she peed on the couch. It wasn't her fault as she was new to potty training and we were all so excited on Christmas morning that bladders were the furthest thing from all of our minds.
After uttering some expletives under my breath, with some quick moves I was able to avoid the pee issue from getting out of control. I've since had to spot-clean our couch a few times and now that I'm more confident about cleaning it and have learned first hand what to do and not to do, my next immediate thought was how much SEO I could get from such a blog post and how any clicks I could get via Pinterest because I'm a heartless blogger.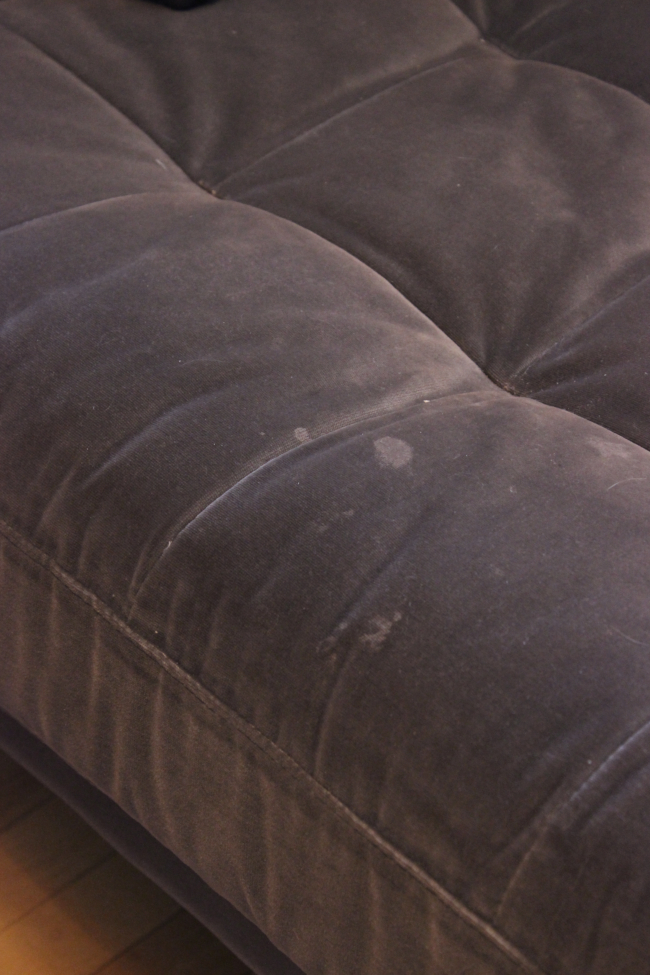 Above is an example of a few typical stains our couch can get on occasion. Are those stains from a drooly cat? A momentary carefree coffee break? A toddlers runny nose? A late night Netflix marathoning spilled drink? A toddler who broke free from the dinner table without being properly wiped and dove face-first into the couch? Or the tears of a parent who just wants 20 minutes of peace and quiet? God knows because I don't. I'm realistic about owning a velvet couch and it's something you should also be aware of. SPOILER ALERT: IT'S GOING TO GET DIRTY. But it doesn't have to stay dirty. Here is how I spot-clean our couch …
Mix the following ingredients in a bowl:
– 1 tiny drop of dish soap. I mean miniscule. So small there's barely a drip
– 1 teaspoon of vinegar
– 1 cup of warm water
– a cloth to spot clean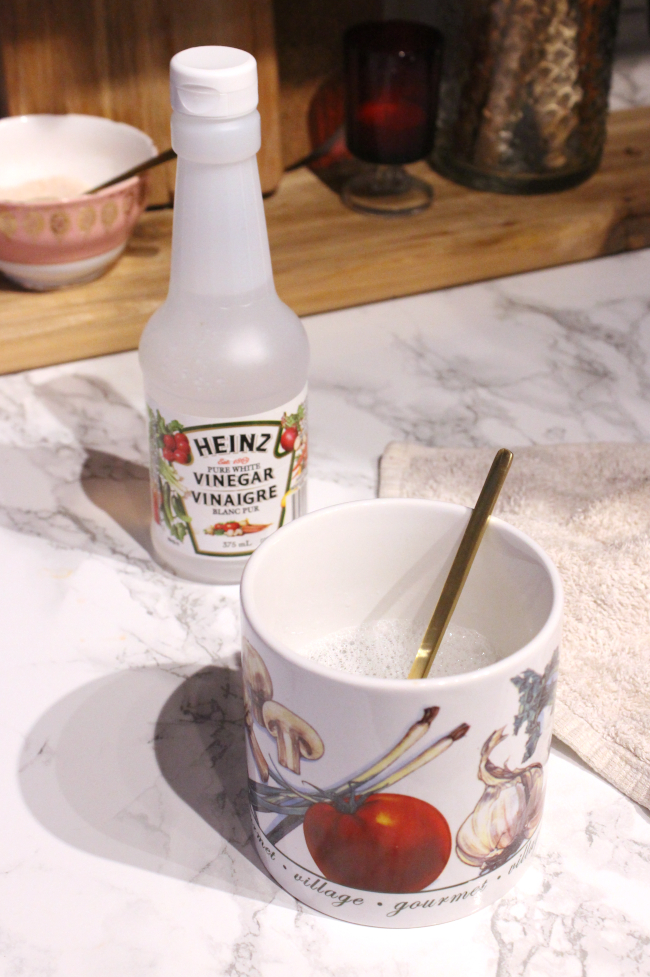 An important step is to find out what direction your velvet runs. The velvet on our sofa runs from left to right. Meaning, when I run my hand from left to right along the couch, that is the direction the velvet is running the smoothest. When I'm cleaning our sofa, I clean against that grain. Meaning, I clean up and down to agitate the stain out of the fabric.
Using your cloth, dab it in the cleaning solution and clean your velvet by brushing perpendicular to whichever way your velvet runs. If you're nervous, it's best to clean lightly at first, and if needs be, get more rigorous. It may take a few minutes, but as soon as the stain has lifted, it's important that you finish your cleaning by running the cloth with the grain of the velvet so the velvet dries in the same direction as the rest of the velvet. I for example, finished the cleaning process by wiping the cloth from left to right to smooth out the velvet.
You can see a smoothed clean version below: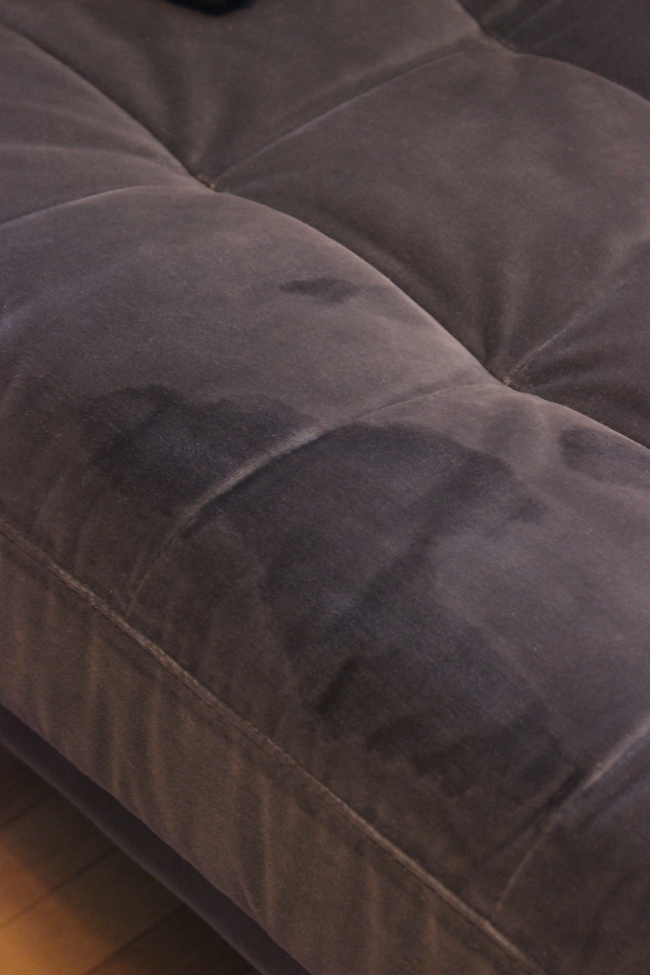 REMEMBER: when your velvet dries you will see a bit of an outline of where you cleaned it. This is okay. Try not to panic. You just need to wear-in the velvet a bit to bring it back to its normal self. Use your furniture like you normally would [ie – smoosh your butt around on it] and within a day or two, the patch you cleaned will blend right in with the rest of the velvet and will return to normal.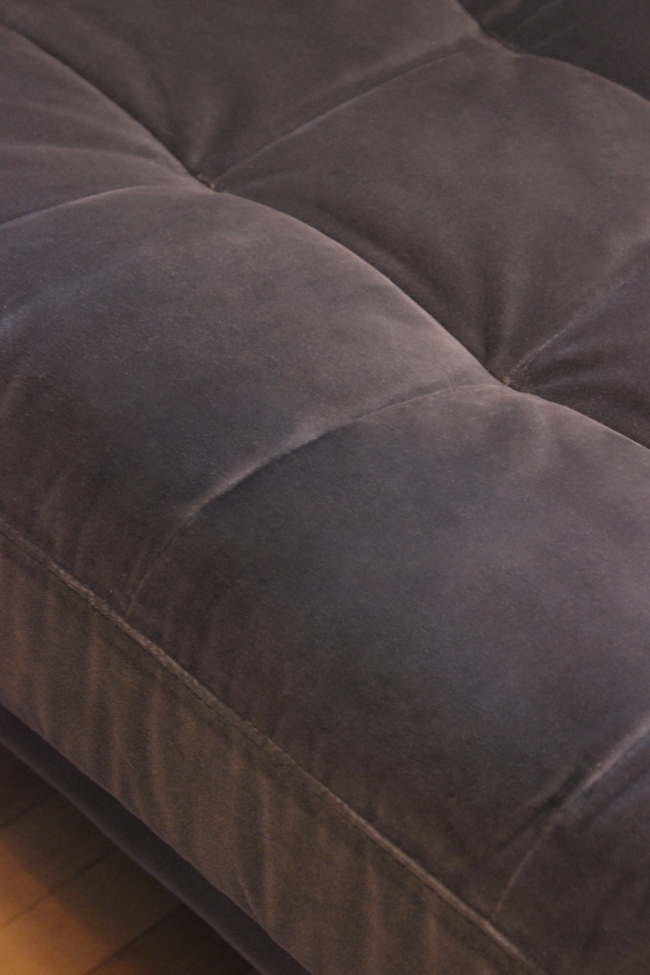 It's that simple. Just remember, you've got to …