When I first brought our new rug home, it was heaven. It fit perfectly under our couch and coffee table, and gave a serious punch of black and white to the room. It really anchored the look of the space and I couldn't have been more smitten. However, as the months went on, I realized exactly how difficult it was to keep. And I realized why.
The IKEA Stockholm rug is a
flatwoven rug
; meaning, it is tightly woven in a loop vs. regular low pile rugs that aren't woven in a loop. Meaning, it ages quickly.
The area between the coffee table and our couch got the most ware. This is where we would walk from our kitchen [to the left of the picture above] and cut across the living room to get to our dining area [on the right]. We also spent a lot of time here as this is where we watch TV, entertain guests and sometimes work.
Another reason why flatwoven rugs are a bad idea is cats. For anyone who doesn't have a cat, I will explain that cats have a natural urge to sharpen their nails. As Toshi is demonstrating so gracefully below. I trim our cats nails regularly, so that minimized the damage that could have happened to the rug. Whenever they picked at the rug, it would pull at the flatwoven closed-loops and sometimes snag. Not cool.

It's something that didn't even occur to me when we bought the rug. But now I know. I'm in no way mad at our cats because it's a natural urge of theirs. They can't help it. So maybe if you have a cat and are on the lookout for a rug, you'll know too. Learn from my mistake. Low or high pile rug = good. Flatwoven rug = bad.
Case in point – we have a black and white
IKEA Virring rug
which the cats also scratch, but because it's a
low pile rug
, their nails sail through it like a breeze and it has zero damage.
So if you have a flatwoven rug that is damaged like some of my incredibly embarrassing photos above, do not fret. There is a way. And it is a breeze.
I first started to trim the rug with scissors. That was laborious and tedious. I quickly had a
eureka
moment and realized –
why not just use husbands electric hair trimmer
? So I plugged it in and it was like some form of wizardry …
Trim. Vacuum. Literally good as new. I was nearly in tears. It was perfect. No word of a lie. I will accept baked goods or folding money as a thank you. You're welcome in advance.
I should explain that my husband doesn't use this hair trimmer so it was okay to use it. When I was finished, the trimmer wasn't dirty and was in perfect working order for the next flatwoven mistake that comes our way. Or you know, for hair.
Our rug turned out so neat, tidy and nearly new that I was in fact able to sell it. I wouldn't have been able to sell it if it wasn't to a high standard. It's all part of my attempt to make our apartment
less obviously IKEA
and I already have my eye on a couple of second hand low pile rugs to replace it. These colder months really call for rugs. Neatly trimmed rugs.
Growing up in Canada, I was very eco-conscious. I think it was down to a mix of playing in woods all year, living in a town that had a very good recycling program and both of my parents being very thrifty so we always made the most out of what we had.
It's not something I talk about much here on my blog, but I have a borderline obsessive level of consciousness when it comes to the environment. Almost everything I do, I think about the environmental impact. I cycle on my lady bicycle everywhere, I recycle within an inch of my life, and I try to buy mostly from second hand stores to attempt to reduce the demand on mass production.
" … I refused to buy new wood … "
She was talking about her extreme hippy lifestyle when she was younger and capitalism's disregard for sustainability, but it really hit home. In fact, I saw it as a bit of a challenge.
So here's where I would like to challenge you. If you're down with it, obv. The next time you're on the lookout for a new piece of furniture, whether it be a bedside table, a desk, a chair or a coffee table, I challenge you to go down the nearly new route to help contribute a little bit less to the demand.
Not buying new wood is something I've done many times because I'm pretty passionate about the thrill that comes with finding a one-of-a-kind pieces of furniture. In recent weeks I sold our IKEA desk for a second hand mahogany desk on a local website [as beautiful as IKEA is, I need a bit less obvious-IKEA in my life]. I've also found some pretty decent pieces online on Freecycle that we still use in our home today. Albeit repainted, but the bedside table in our spare bedroom is a fine example [above].
My main go-to for finding second hand pieces is of course charity shops. I found these wooden pencils yesterday for next to nothing, which will be a perfect accent for my broseph's Canadian man cave office.
I'm already a not-so-shy dumpster diver. Case in point – the bar stool I rescued from the skip in our underground car park at the beginning of this year. Speaking of, there's a brand new ottoman down there that I spotted this morning, and I can't wait to rescue it.
So there you go. There are lots of alternative avenues to take when it comes to buying wood. It's something I feel very strongly about and I hope you too will join me in this challenge in whatever way you can, no matter how small, to see if you can buy a little bit less new wood.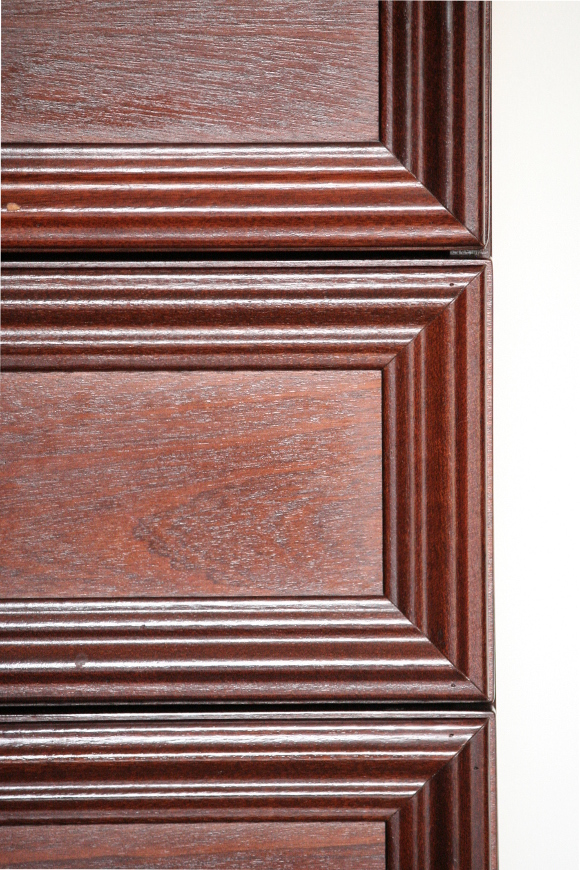 For a while now I've been a bit over our home office. I've wanted to mix things up and more importantly, make our apartment a bit less IKEA-y. Don't get me wrong, I heart IKEA, but thanks to our landlord's [IKEA] furniture that we can't change, our apartment was starting to look a bit like a catalog. So out with the new, and in with the old.
I wanted an older and darker desk with more character, so I took to the internet. I sold our
IKEA desk
within a couple of hours and that same evening I found a pretty sa-weet mahogany desk. It was petite, compact and fill of pretty. I even haggled it down to the same price that I sold our IKEA desk for, making it a direct swap of IKEA for mahogany! Not bad …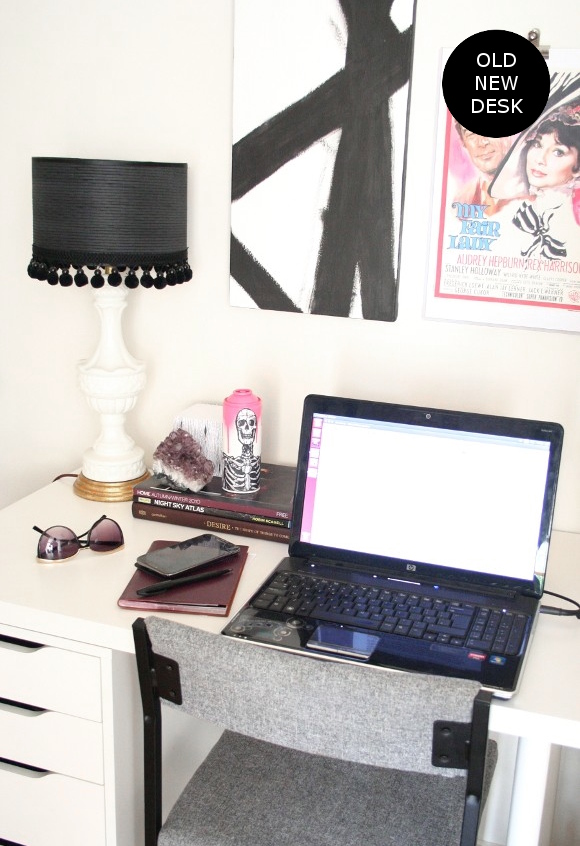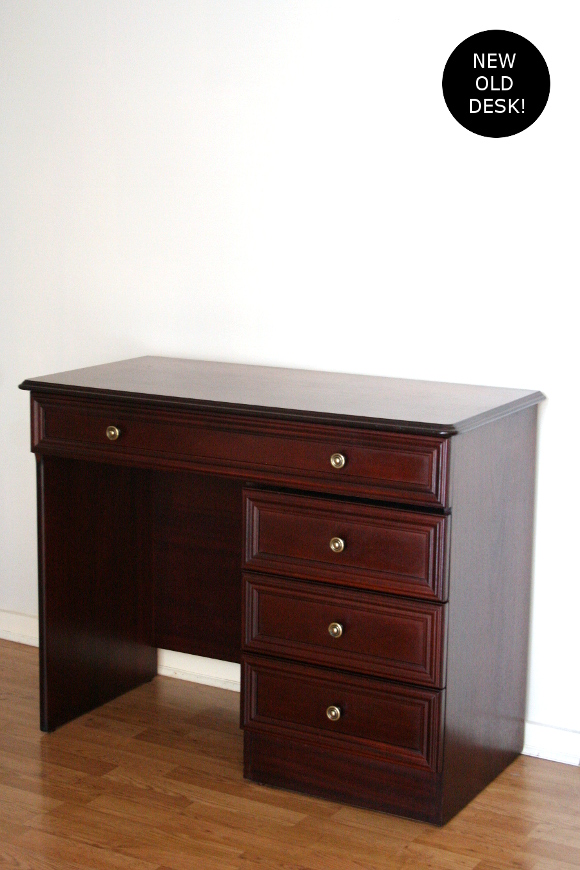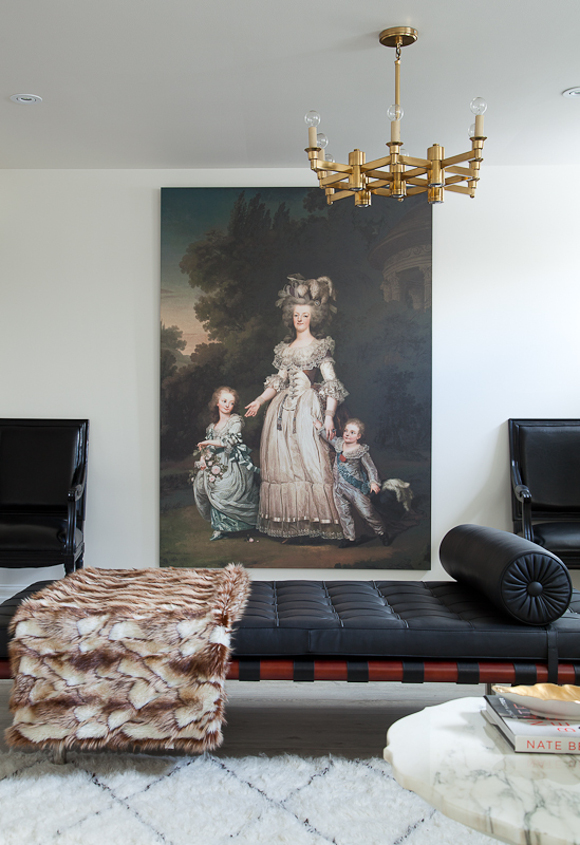 My grand ideas for this small space kept bringing me back to Christine Dovey's, aka Bijou and Boheme's,
basement makeover
. There are no words. It's just insanity. I've yabbered on about Christine many times before, so I'll keep my drooling to a minimum today. But there's something I just really adore about the dark accessories, white walls, old school painting and gold accents going on. A perfect mix of old and new. So ideally, I'd love if I could work the following into our new office space …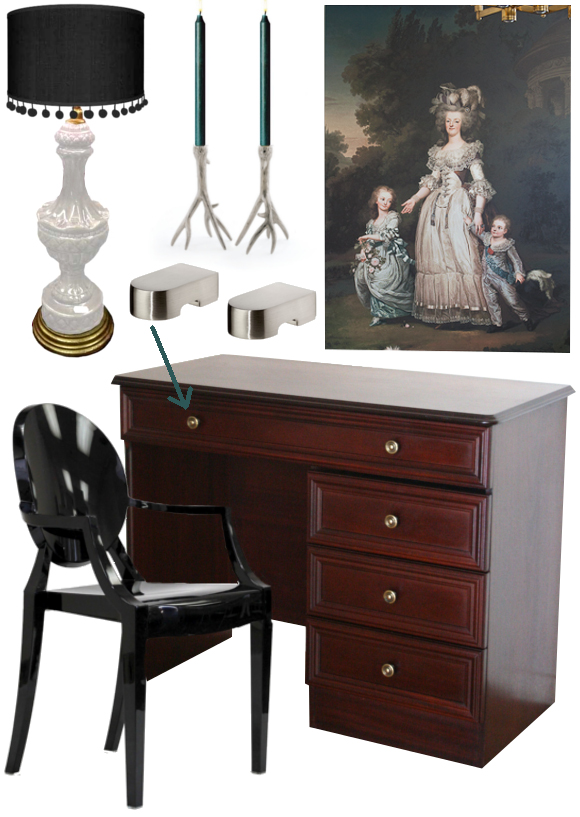 – A giant piece of art of some sorts. Kinda old and maybe kinda new and I might even try my hand at something. This section is a bit up in the air. Can you tell?
– The moment we got the desk, I wanted to change the door knobs. They don't look too bad below, but the current hardware is in no way in keeping with our living room [our office sits in the corner of our living room]. I've spent a couple of days searching for some yummy knobs [oh dear god, hello SEO!] in hardware stores to glitz up our desk, but no luck. Going completely against my 'less IKEA look', I spotted these
ORRNAS
door knobs on the IKEA website and I like what I see. Bringing a little bit of IKEA back in is okay, right?
– I would just die if I could have a black ghost chair. Or dark grey. I'm not picky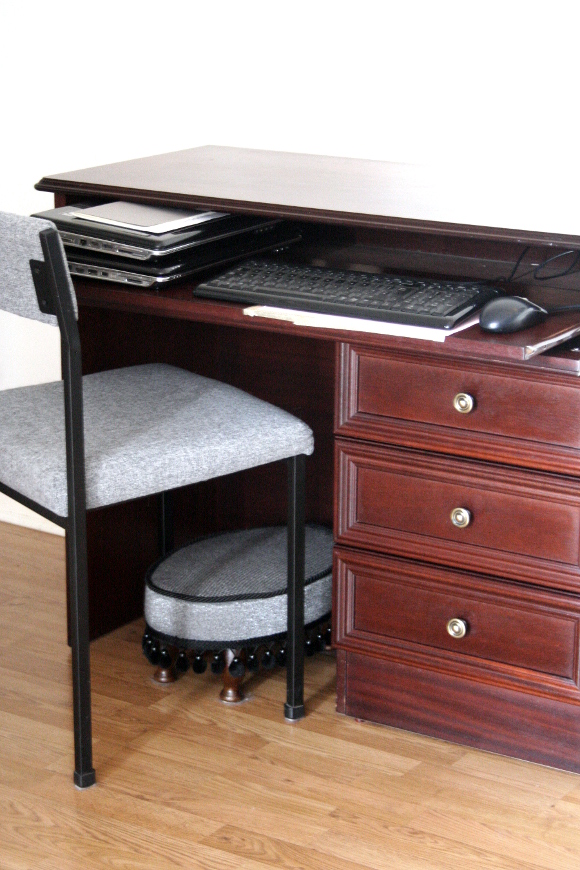 At the moment the chair I'm using I found abandoned on the side of the road. It's a lot less dirty than it sounds, trust me! If the whole ghost chair thing doesn't work out [which let's face it, probably won't because of €€€], I'd contemplate reupholstering my skip-chair in black velvet. It seems like it would be a fairly straight forward job, the only thing deterring me at the moment is the thought of all the cat hair.

Oh and before I forget, above is a better picture detailing the top 'drawer' in our new old desk; it folds down revealing a rolling shelf that I use for my keyboard and mouse, and when the desk isn't in use, we store our laptops in there. Out of sight, out of mind. This little desk isn't just a pretty face, and I couldn't be more smitten.
xx A