Back in November while I was editing the photos I took of our
new rug
, the first picture I included in that post kind of made me uneasy. It was all the colours. And that end of the living room. It didn't really work anymore. There was too much burgundy, there was too much wood that didn't match and the rug made it more obvious. It all looked too thrown together and nothing worked.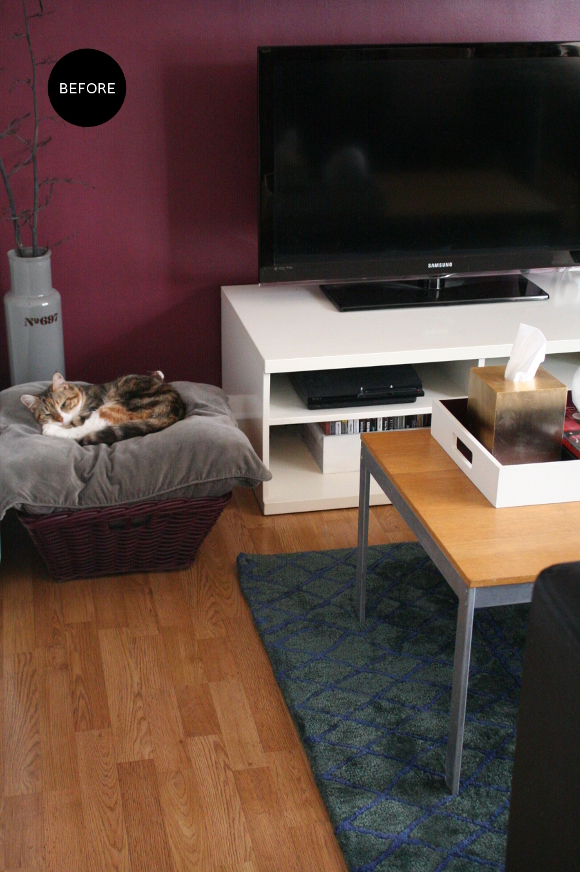 Since we're renting our apartment and are stuck with our landlords furniture [I wish I could burn it to the ground and start over trade it in for more comfortable and practical pieces], I'm forever hitting road blocks in our own home. Of the many pieces of furniture, our landlord's coffee table has been driving me up the wall. It's not the same colour as the 'wood' floors and it's quite distressed thanks to previous tenants. And I don't mean the good kind of distressed that's trendy. The bad kind.
When Kimberly
updated her vanity
and then Linda
updated her kitchen counters
, both ingeniously using faux marble contact paper to do so, I filed that nicely in my brain [even check out my comment on Kimberly's post. Ha!]. Contact paper is beyond perfect because when we move out, I'll simply peel it off and it'll be immediately reversible. As with most things I'm a bit unsure of, I did a mock up to help me make up my mind. I edited the cat basket to black, slapped some faux marble on the coffee table, and as anyone who has updated their home will know, the
design domino effect
came into play so the tray on our coffee table got edited too. Many times.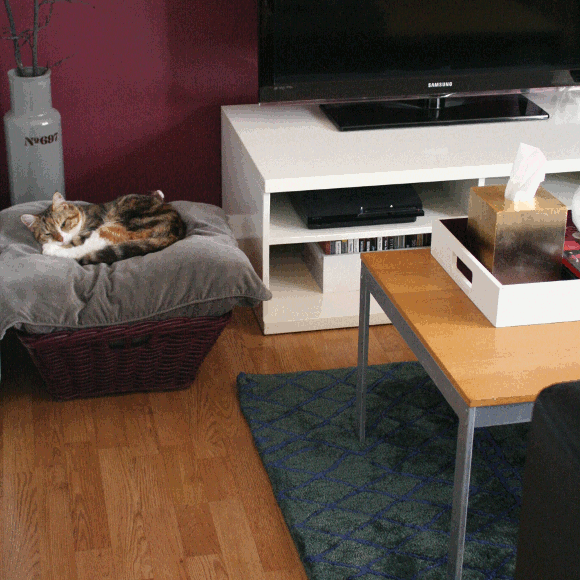 Here's what the above GIF is showing, frame by frame …
1. Original living room as it is now
2. Cat basket edited black
3. Coffee table marble-ised
4. Tray edited black
5. Tray edited burgundy
6. Tray edited viridian
7. Tray edited pink [for the hell of it]
And to think, this was all done without disturbing Juniper in the slightest.
Here's where I need your help. Genuinely. Tell me what you think. Marble? Yes or no? A solid colour coffee table instead? And what colour tray should I go with? Or just leave it all alone? Srsly. I'll be thinking about this one for a while, but a change is defo going to happen. At the moment I'm going for the black basket + marbled table + black tray. But nothing's set in stone. Or faux marble.