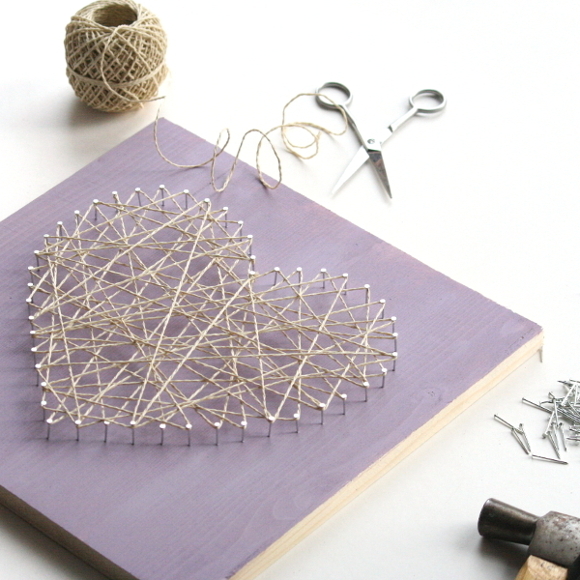 A couple of weeks ago
Woodie's
set me the challenge to create a project for Mother's Day that was quick, easy, would make a statement and also consisted of supplies found in Woodie's branches nationwide. Challenge accepted.
A project I had filed neatly away in my brain for such an occasion was a, dare I say old school, string art tutorial. It was perfect as it required only a handful of supplies, all of which could be picked up from your lcoal Woodie's. And even better, it's a simple tutorial so you don't need to be a DIY expert to make it [remember, nothing tugs on heart strings quite like imperfection].
Onto the good stuff! Here are the items from Woodie's I used for the string art …
– a piece of wood
shelf board
[800 x 300 x 16mm], cut to a square
– Dulux tester pot in whatever colour you like*
*I originally planned on painting this project in a shade of turquoise, but as we were going to be working with a green screen during filming in parts, green or blue was a no-no. So purple it was!
Items you'll also need …
– a saw to cut the wood shelf
– a hammer
– scissors
– a pencil and a piece of paper to draw your template
– tape to hold the template in place
– a paint brush
Now I'ma show you how to make it in 6 seconds. Ready? Prepare your retinas for my stop motion video debut …
I think JP Prewitt would be proud.
I worked alongside a truly cool and down to earth team at
Agtel
on this Vine for Woodie's. It took us just over 3 hours [plus 2 hours prep] to put this little gem together. It was my first stop motion video experience so it was very surreal and exhilarating to see the video come together one frame at a time. I was exhausted by the time I got home, but so excited to see the finished piece. Hats off to Agtel. You guys are magic.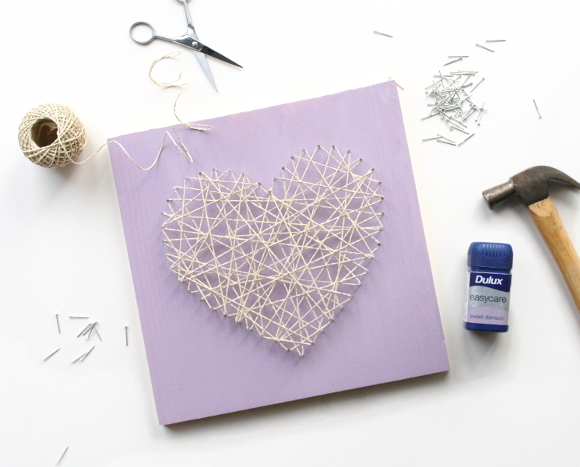 I showed my parents the Vine as soon as it went live and it turns out my dad used to make and sell string art! Albeit incredibly more complex pieces. I'm assuming before my time because I don't remember seeing my dad make any. I do remember a couple of pieces over the years, but unless you're told "that was made by dad!", you just don't know. My future children better brace themselves. They about to get schooled.
So there you have it! I hope you enjoy our little video, and to all the mothers out there – both human and fur baby variety – happy Mother's Day this weekend xx
p.s. I'm now on Vine! I haven't a clue how to use it, so we'll see how much I use it. So far I've done the equivalent of retweeting.