Fleetwood's Vogue paint, much like their Pantone line, has to be one of the best paints I've used to date. It took two coats to paint our room and still had loads left over for touch ups. Speaking of, one deal breaker for me that separates low quality and high quality paint is the touch-up test; if you touch up a patch of wall and it's so obvious that it looks like you might as well have painted red arrows towards the now seething blotch, that's how I can tell a paint is truly a good quality or not. With both Fleetwood's Pantone and Vogue range you couldn't tell where I had made touch ups the following day. For me, that's a deal breaker because I will go out of my way and repaint a wall just to avoid a haggard touch up blotch. But it wasn't necessary [TG] with this paint.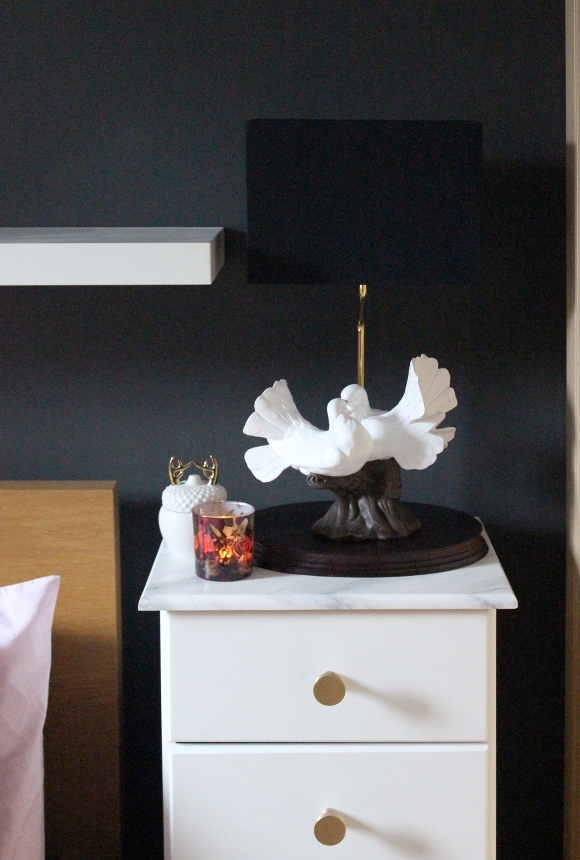 I painted our room in 1830 Rue Chapal the night before I was due to be induced [in hindsight, not a great idea], but once we had our new dark room, I thought about a theme I've long wanted to design with.
It's illegal to take Russian currency outside of Russia, but I was able to sneak two metro tokens home in my change purse. One of which I've stuck up on our wall with blu tac.
Our room doesn't look truly finished and it's not perfect nor does it have essential flower arrangements to top it off, but this is what it looks like for now. For anyone out there thinking about going dark with their bedroom, I would say don't walk but run to your nearest paint store. Come over to the dark side.