This might a bit of a strange blog post, but there were a lot of design pieces I packed and brought with me when we moved from Ireland to Canada. Meaning on-the-plane-packed, not container-packed. They're all either sentimental pieces or pieces I couldn't be without for 4 months until our container arrived from Ireland. So I figured, if there was anyone else out there about to embark on a similar move and you're thinking of packing less conventional things, you're right at home here.
What I did was I started to make a list of the design stuff I wanted to pack in my suitcase and bring with me immediately [vs. ship in the container]. I started this list in about March of this year and whenever I thought of something important or something I couldn't live without, I added it to the list. It also came in handy because as time went on, I was able to prioritise what I really needed or wanted and ended up taking a few things off the list.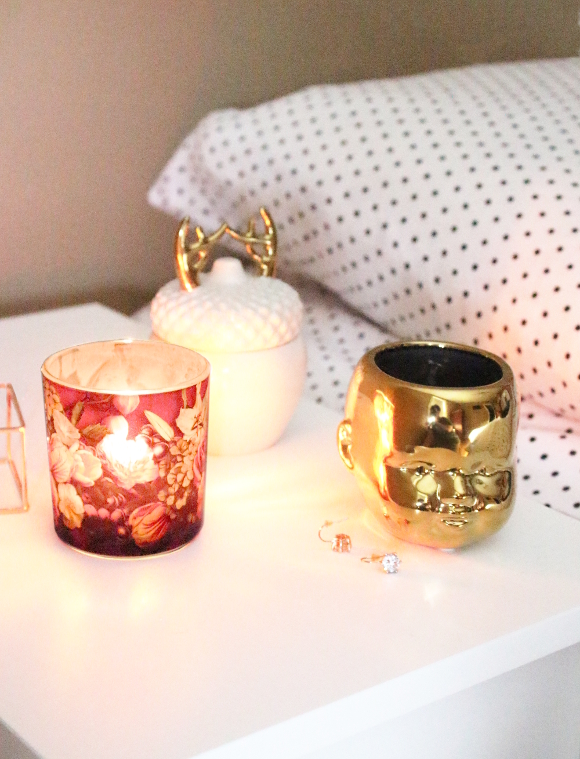 These are the practical [and I will agree, wildly impractical] things I decided to bring with me. I'll start with the pieces featured in the picture above …
–
Floral tealight
holder
from
Easons
. I love this little tealight holder. I picked it up one day in Easons on O'Connell Street as I was picking up a small pregnancy snack / craving. I very nearly didn't get it.
– Antler jewelry holder from Penney's [aka Primark]. This was actually a candle I bought in the Christmas section of Penney's a few years ago. I bought it just so I could use it to hold my earrings.
– A small chopping board from
Sostrene Grene
. This sounds weird, but I brought a small black chopping board. I used it to keep some paperwork flat, and it came in handy immediately when we moved in and had nothing. Not even plates. So I used our cutlery and chopping board to give Cora her food.
– A set of cutlery. It might sound strange, but I packed 4 of my favourite forks, knives and spoons. They've a small cutlery set that I actually have had since I was little, but they're something we used almost immediately after arriving to our apartment.
– Two wooden spoons. I inherited them from my mom and yes, it sounds silly, but they're really good wooden spoons. Another two pieces we used almost immediately [for making prison levels of porridge – all we could make for the first 3 days].
– All my camera and laptop equipment and accessories including my tripod, mouse, mouse pad etc.
–
Brass scissors
from
Hay
. We had to have scissors in our checked luggage to cut Juniper and Toshi out of their cages after the flight, so if you
have to
bring scissors, might as well make them pretty ones.
– Both my
iBride trays
. I have yet to hang them up since moving, but I couldn't be without them for 4 months. I'm trying to decide the best spot for them.
– A collection of Christmas stuff. I really love Christmas so I brought a collection of my favourite Christmas cards that we hang up every year along with some small ornaments including Cora's first ornaments.
–
Paperwork
. Lots and lots of paperwork. Robert and I filled a plastic sleeve folder with paperwork for his work permit, the cats vaccinations, Cora's citizenship and birth details, college paperwork etc. But I also snuck a few paper design things in there too. Like our
car bumper sticker
and Cora's
swan mobile
.
– Cora's
Stokke crib
and allen keys. Yes, we brought Cora's crib with us on the plane. It seems insane, but it was an idea I had early on and I'm so glad we brought it with us immediately. It ended up only costing us €60 to bring it on the plane [even though it was oversized and weighed more than 23kg]. When we got to our apartment at 23:30 that night, Robert and I assembled it and Cora immediately had somewhere to sleep. I couldn't justify buying another crib while waiting for Cora's to arrive.
TIP: we didn't have the box for Cora's Stokke crib since we bought it secondhand. I called Stokke, explained our situation, and they sent us an empty box for free [you should have seen the delivery guys face when he delivered and empty box. I pretended to freak out asking where our crib was. LOL].
– Tools and paint brushes. I brought my hammer, screwdriver, tape measure, paint can opener and two paint brushes. All of which I used in the first few days so I'm very glad I brought them all. It might seem a bit over the top, but I use all of them all the time so it was a no-brainer for me.
–
Throw pillow cases
. I brought our
dark green
and
pink
pillow cases so we could feel a little bit at home as soon as we got there. A quick trip to IKEA for inserts and they were perfect [any excuse to go].
– Cora's
playmat
from
Elodie Details
. I smushed this up and put it in with the crib, and I'm really glad we brought it as Robert and I slept on it for 2 weeks until we bought a mattress. It's been on Cora's floor in her new bedroom ever since and plays on it every day.
– Wood touch up pens from the Euro Store. This was another one of those things I thought am I insane for prioritising bringing these? But I'm glad I did as I've used them on all the secondhand wooden furniture I've bought so far.
For some people, I completely understand some of these things seem completely unimportant to bring with you in your luggage when moving abroad. But every one of these pieces was either practical, or for us, would make us feel at home sooner. What about you? Is there anything you can think of right now that if you moved you knew you couldn't leave behind? It's amazing what I started to prioritise 😉