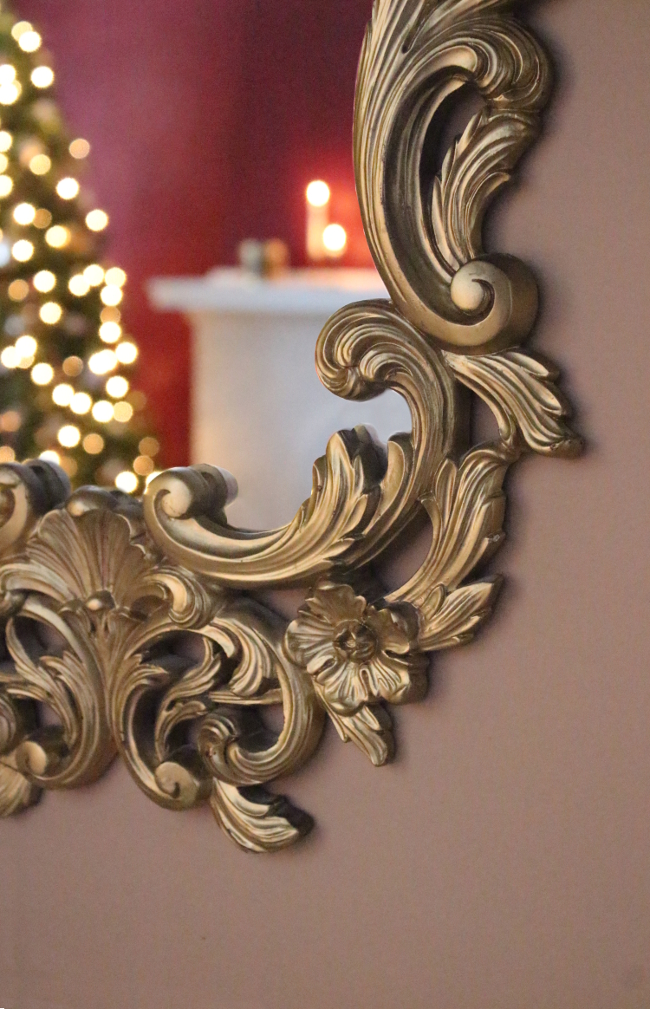 Kijiji
has fast become one of the most visited pages on my browser since moving to Canada [actually, since before we moved to Canada. I found our
green chaise lounge
and even
our apartment
on it]. More recently, one of the many things I've been looking for is a fancy mirror for our hallway. I came close to it a few weeks ago when I found a [proper] vintage ornate gold mirror with built-in candelabra's, but at the last minute, the seller sold it to someone who had a car and could collect it themselves [welp]. It turned out to be a blessing in disguise because just this week I found a baroque style mirror AND console table for half the price …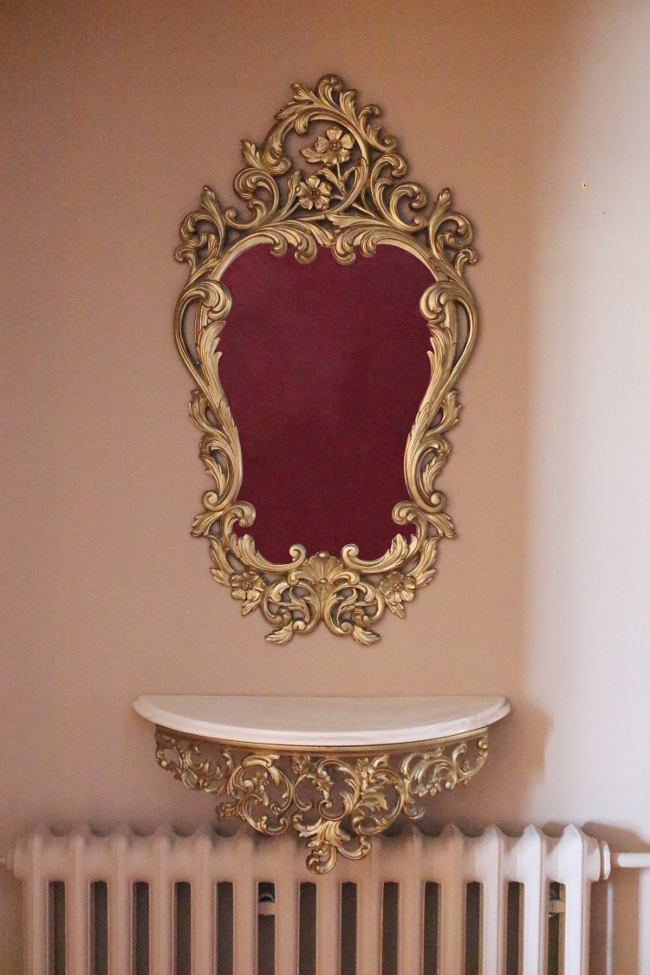 Neither are antiques but TBH I don't care too much about that stuff. Trust me when I say these photos don't do either much justice. The mirror looks very plastic in the first picture, but it's actually plaster and VERY heavy. The console table is solid but it isn't marble; the seller was upfront about that and it's not hugely obvious. And more importantly to me, it's not something that bothers me.
I was hesitant about hanging the console table here because of the heater in our hallway, but I mean, the heater is prettier than the storage heaters in
our Dublin apartment
so I'm not going to loose sleep over it. It's a perfect spot for us to drop our keys, leave our laundry money and maybe a candle [because
MOAR CANDLES
]. I already have big plans for our little hallway and can't wait to paint it [after the living room is finished being painted of course. I try to finish one project before starting another.].
Not bad for $75.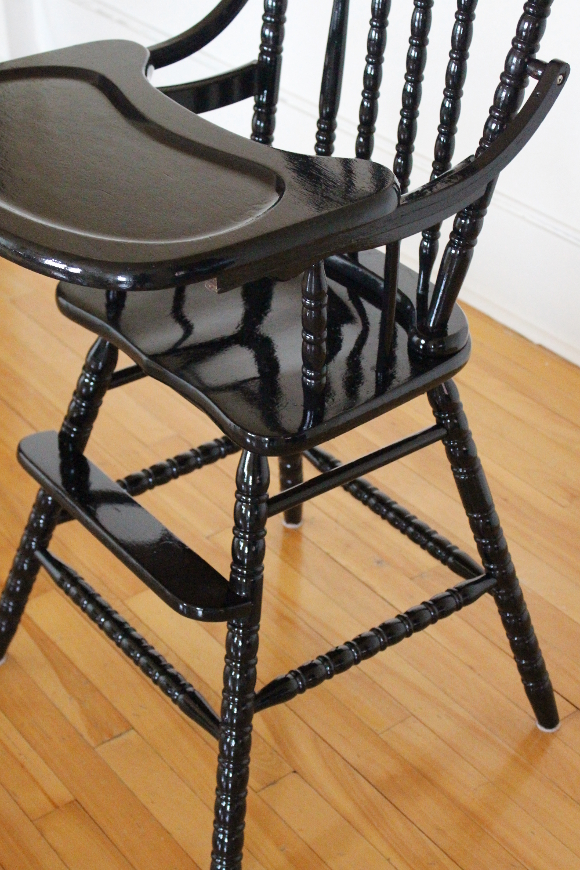 One of the first things we bought when we moved to Ottawa at the end of September was a high chair for Cora. We bought it secondhand on
Kijiji
[the equivalent to
Adverts
in Ireland] for $40. I really liked the old-school shape and style of it and the table flipped the table to the back so when Cora is a little older it would allow her to eat at the table with us. It had so much charm that I couldn't resist it. And yeah, one of the back spindles broke and had been replaced some years ago, but I didn't mind at all. It was in good shape and was clean and safe [I wouldn't have put Cora in it otherwise], but I had every intention of updating it.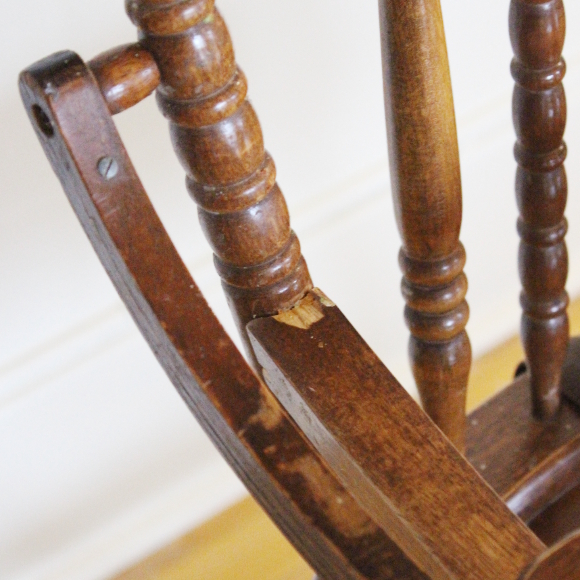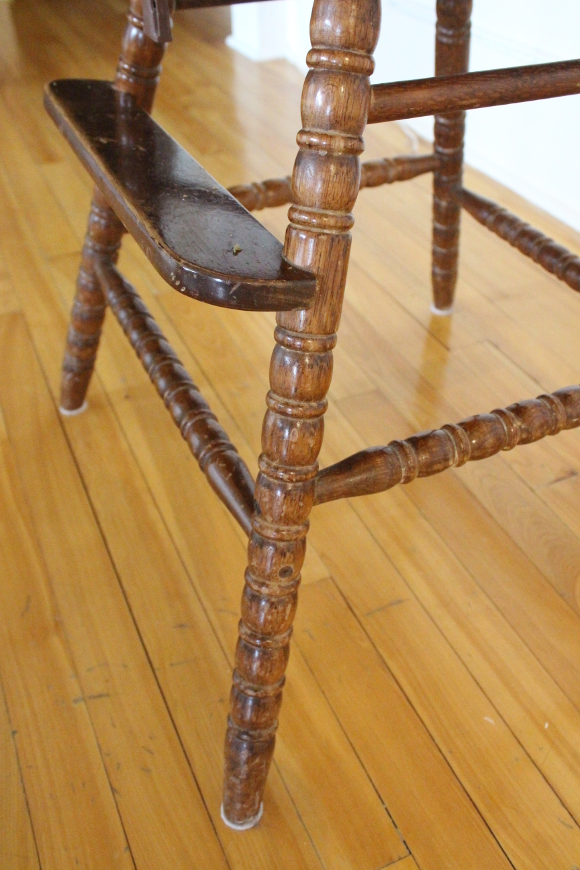 For a long time I wanted to restain it. It had a dark wood stain but 16 years of use had worn through it so there would be a lot of sanding ahead of me. Sure! I'm up for it! But then I actually thought about the work involved. All those spindly bits. Such spindles. So many damn beautiful, intricate spindles. I'd have to sand the entire thing back to the original wood to get an even coat of stain across the whole piece. So much spindly sanding. And to be honest, I didn't have enough mental energy to do it.
I thought about painting the entire thing a solid colour. I thought for a few weeks before deciding on anything [if I'm ever indecisive, that usually means I need more time to think]. In the mean time we bought a dining room set secondhand [also through Kijiji], and its black dining chairs were the reason I went for the set so I figured, why not paint Cora's high chair black to match?
I headed to our local
Canadian Tire
and spoke to their paint experts about what I was looking to do. They suggested
Rust-Oleum
's line of
Tremclad
paint for the likes of outdoor furniture and toys. We decided on their
Rust Paint in black
as it was high gloss and I'd need something easy to clean for Cora's high chair.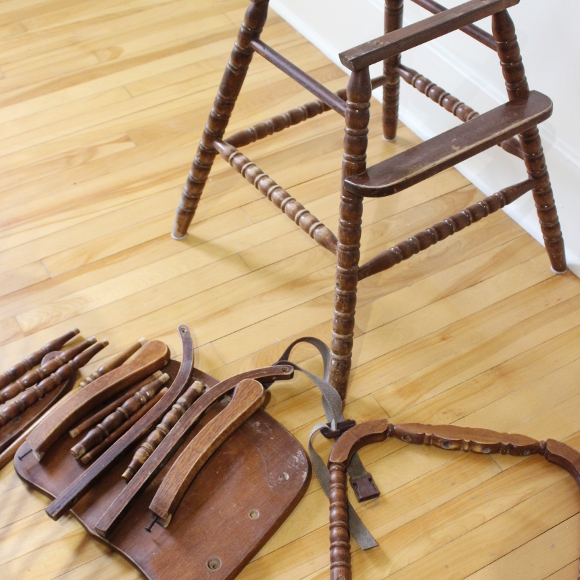 Before I got to work, I disassembled the entire top half of the high chair as the black frame wobbled from side to side – not to the point that is was dangerous, just loose from years of use. I wanted to do a proper job of fixing it and I couldn't tighten the spindles without taking it apart.
I painted each piece in a light coat of paint and waited around 6 hours before applying the second coat [I waited so long because it was drying on our cold porch. If it had dried at room temperature, it would have taken less time]. I waited a further 12+ hours before reassembling it. I glued all the loose spindles back in place with
Gorilla Glue
and let it dry another half of a day before letting Cora use it.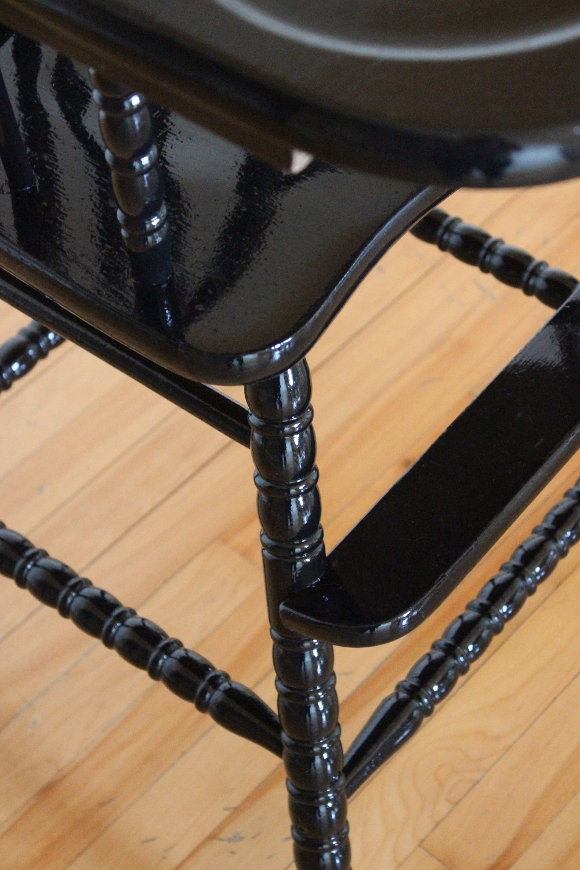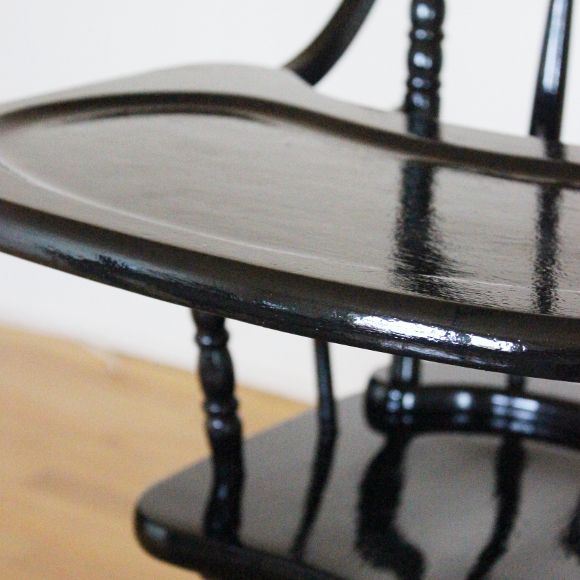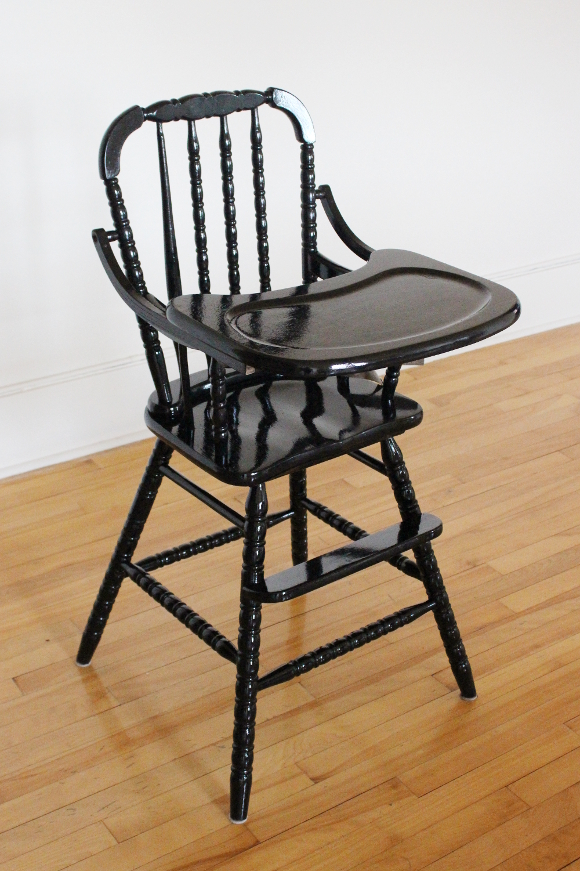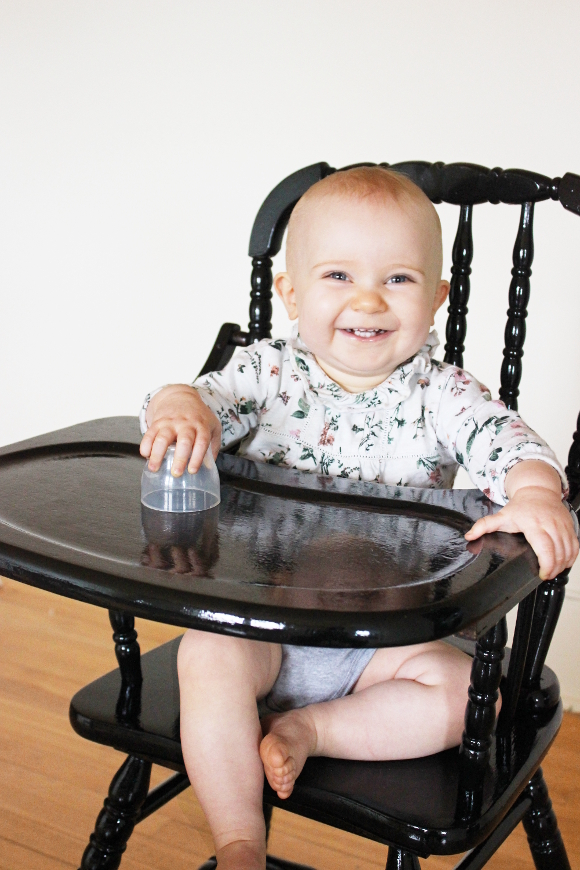 It looks SO MUCH BETTER as one uniform colour and it's so easy to wipe smeared avocado or peanut butter off of it [it was tough to clean it properly before if any food got into a part of wood that was untreated]. I think it looks quite posh actually! Yes, I totally spent $250 on our child's high chair …
I doubt black would be a colour many people would think to paint a high chair, but it looks really smart alongside our new dining set; all of which are black [sans the table]. The woman I bought the set from had 'upcycled' [her words, not mine] the set by spray painting the chairs black and painted the seats with grey chalk paint [which makes zero sense], so I'll be repainting each of our chairs in the same [more suitable] paint as Cora's high chair so they'll all match. They already look really well together now that they're the same colour and I can't wait to share more of our dining set soon. SOON!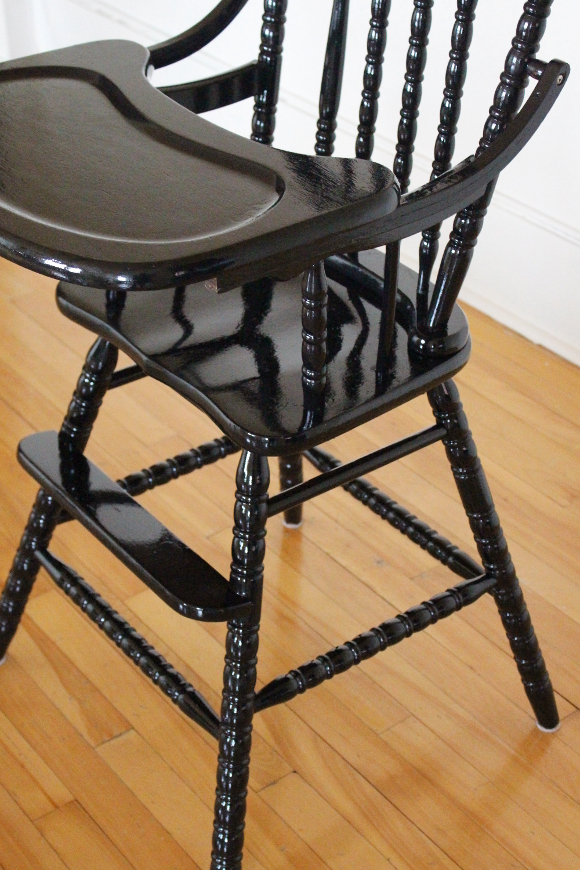 Do you have any weird or unusual collections? Or do you share a passion of hoarding something slightly more normal like small boxes like I do? I get that from my mom so it's in my DNA so that makes it okay.