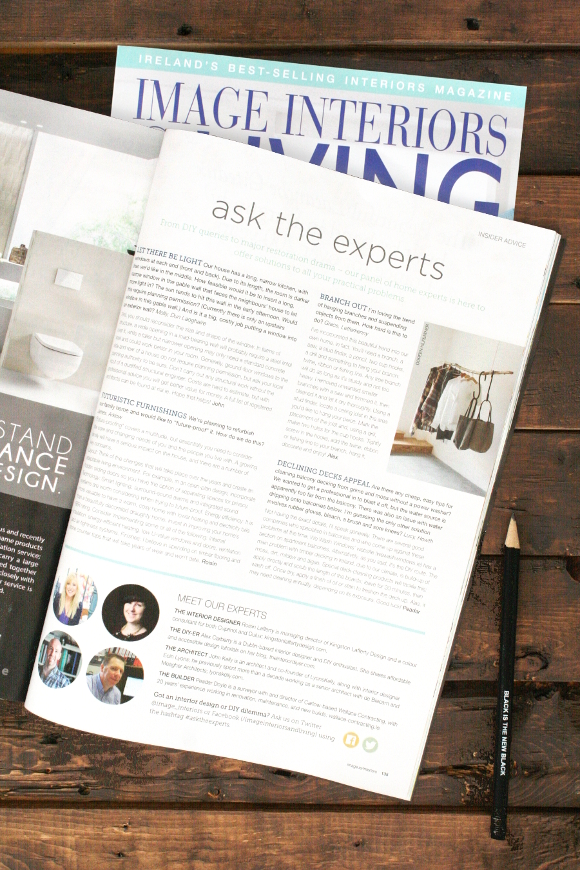 Hello Friday, you sexy beast. You are here at last and the cherry to the top this fine Friday – the new
Image Interiors & Living
is out! The Ask the Experts team is back and in this issue I put my DIY knowledge to good use with a readers' question about how to DIY a hanging branch for their home. It was a perfect question as it was a culmination of two recent projects I did in our
spare bedroom
[pendant cord light + branch art], so I was like, don't worry guys, I got this.
I still have to pinch myself when I see me alongside the likes of
Roisin
,
John
and
Peadar
. I'm just waiting for someone to realise I'm an intruder.
Wait a second, how did SHE get in here! Off with her head.
But seriously, there aren't enough awkward words in my vocabulary to describe how humbled I am to be included in this panel. It's pretty awesome.
You can check out the full mag in all good newsagents as and from today. And happy Friday of course! TFIF.
UPDATE – you can check the full tutorial online on Image.ie here!