Me and rugs don't have had a great history. First, there was the ethereal
IKEA Stockholm rug
I lusted after for so long. Being in a high traffic area and having two cats meant the rug went downhill rather spectacularly fast so
I repaired it
and sold it as it was not a rug suitable for our home [the rug was
definitely
the issue, Dude].
Then there was the
dainty pink rug
. I got it cheap. Real cheap. Second hand. From an online site where you advertise stuff you want to sell. Especially dirt cheap if you want to get rid of it fast. Yes, it was a bit small for our space, but it was cute! At first. Then it gave up on life and fell apart. It was cheap. I learned from my mistake. That rug went straight into the bin as it would have been of benefit to no one.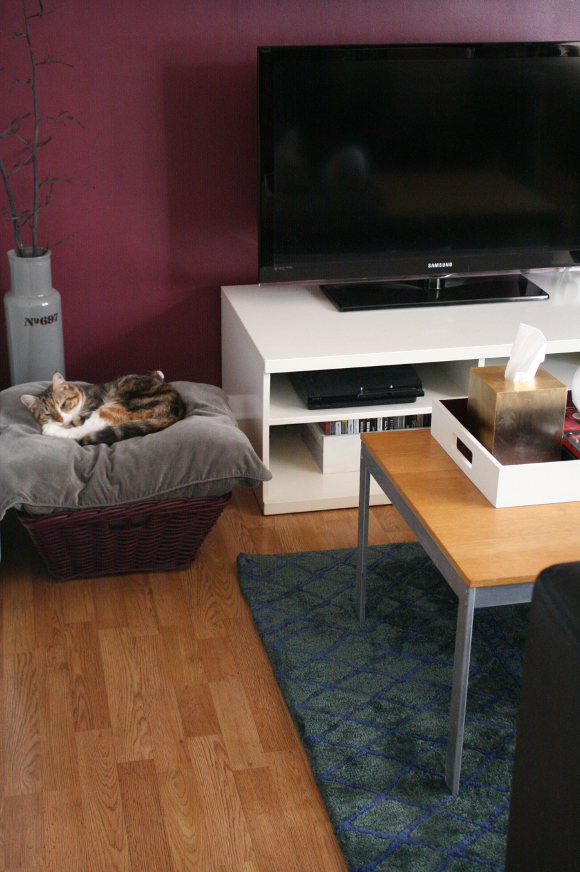 With the most excellent of timing, Wayfair.co.uk got in contact to work on another project this year [I worked with them last year on my lumberjack pillow tutorial that was featured in my broseph's Canadian man cave office]. In return for my upcoming tutorial, I got to shop on the Wayfair.co.uk site and low and behold, their rug range is immense.
Since I already have a lot of burgundy in our apartment and I've had a [failed] black and white rug, I wanted to go for something different yet would work with our apartment. I spied the Fusion Green Rug and thought about it for a couple of weeks. It was an incredible green with an imperfect navy pattern on it. It was a bit of a leap as I wasn't sure exactly what colour it would be sans a sample, but my fingers were crossed on a deep viridian. It arrived yesterday, and boy did I luck out …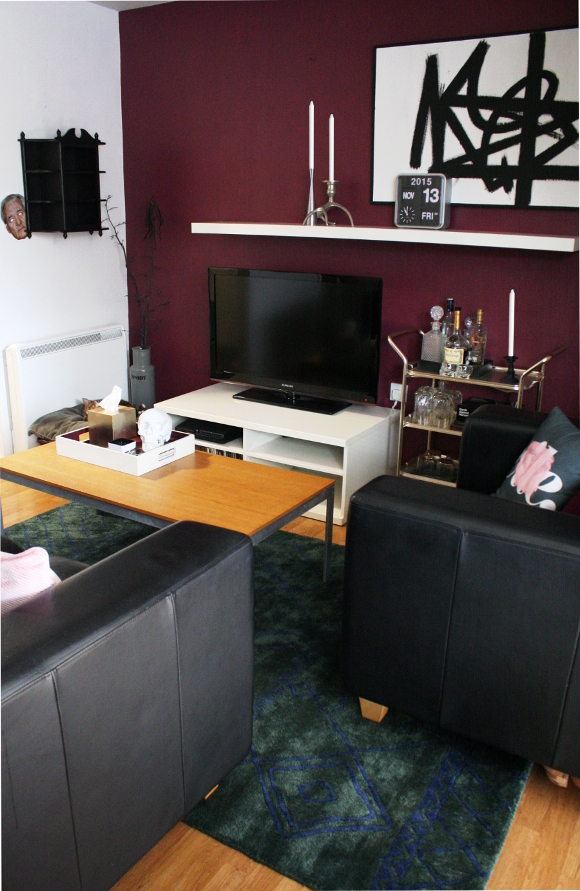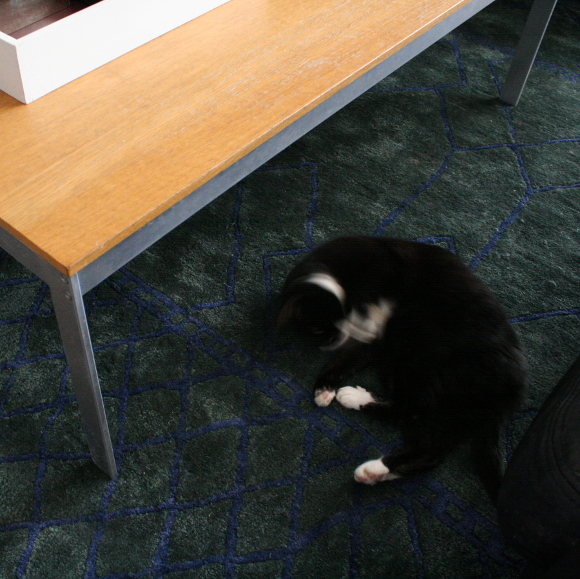 I am not just saying this because I am now the proud owner of it, but it's an exquisite rug. It's painfully luxurious and soft under foot. It's also a very solid rug so it won't warp like the IKEA Stockholm rug did. It passed the cat test and doesn't shed or pull or distort like our disaster of a pink rug either. MASSIVE. SIGH. OF. RELIEF. I'm still up in the air as to flipping the rug 90 degrees so it's running the other direction, but for now, it'll more than do.
Disclosure – Wayfair.co.uk sent me this rug free of charge in return for an upcoming project I'm working on for them [keep your eyes peeled as it's a good one and involves a certain new movie being released next month!]. As always, all words and opinions are my own. I only work with companies I like and of course, think that you will too. Thank you for supporting the companies that support The Interior DIYer.