If you've been following my blog for the past few years you may remember that for my 30th birthday my parents bought me a beautiful vintage curio cabinet. After some time I decided to paint it black and hung it up in the corner of the living room in our Islandbridge Apartment in Dublin, but for a very long time I had no idea what to do with it or what to put in it. I mean like two years passed and it was completely empty. I eventually put some jars in it for the sake of putting something in it, but I was eternally haunted by having such a cute cabinet and no idea what to do with it.
When we emigrated last year and moved into our Lower Town Apartment, there was a space in our kitchen that would be absolutely perfect for my curio cabinet. And almost immediately, I knew I wanted to keep all my spices in it. Don't tell Robert, but I packed and shipped some of my favourite tiny empty glass jars [yes, completely empty jars. I have a problem] to Canada from Ireland. Once I unpacked everything and got myself organised, I hung up the cabinet in our kitchen and decanted all the spices and herbs we use the most into secret little jars and labelled them with black labels and a gold pen.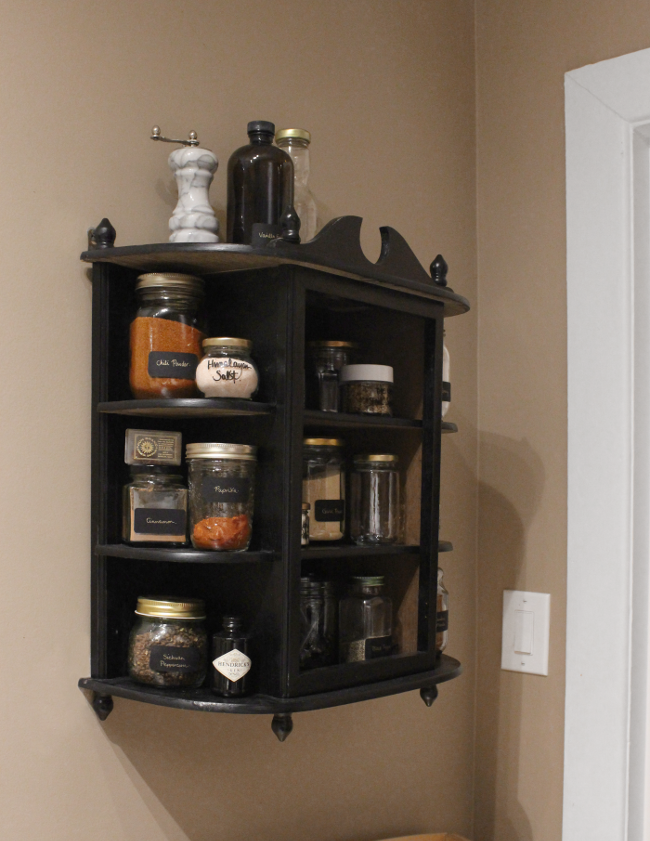 As soon as I started arranging the jars, I was embarrassingly ecstatic. I love stuff like that; organizing and sorting and having a little project just for me that essentially makes me feel like a witch in the kitchen.
I've been wanting to paint over the brown in our kitchen [this shade of brown was in the hallway and is currently in our entire bedroom], but I keep getting stuck on the idea that a room should be complete before I can take photos of it. Which I know does not make sense. Our kitchen will be a work in progress for the next while, but for the moment, I am loving my tiny curio cabinet in lieu of a perfectly curated dream Pinterest pantry.