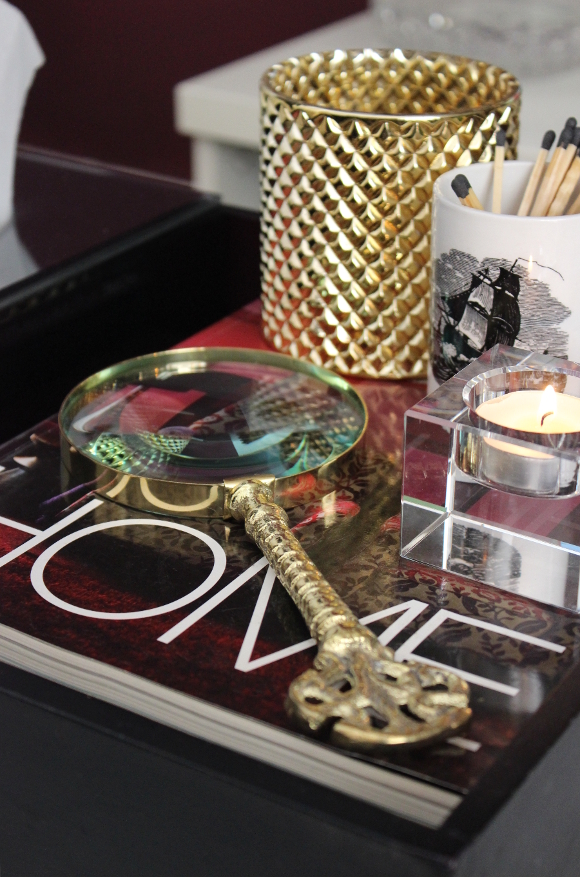 This morning we had good light and I had a few minutes to myself so I took pictures of my
HomeSense
haul I picked up on Wednesday night.
As mentioned in
yesterday's blog post
, I didn't realise I got a gift card to spend in store at the launch until almost an hour into my visit. It was a happy surprise and because I'd already been around the shop twice, I had a few [massive understatement] pieces in mind that I wouldn't have had a problem bringing home. And here they are …
[Above photo] DECORATIVE MAGNIFYING GLASS, €9.99 AT HOMESENSE
I've always wanted a magnifying glass for our coffee table, but it was one of those things I never ended up actually getting. I saw this one at the launch on Wednesday and it was the first thing in my trolley. The first of many.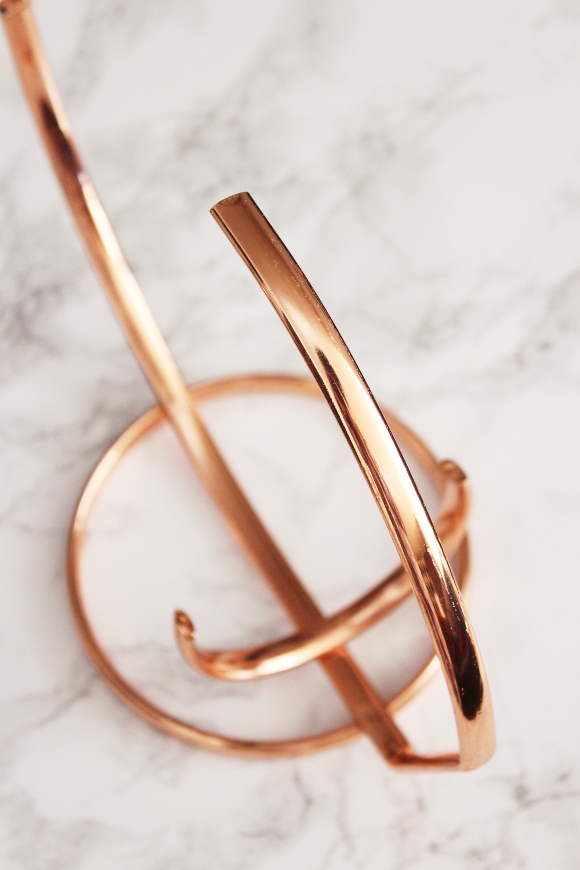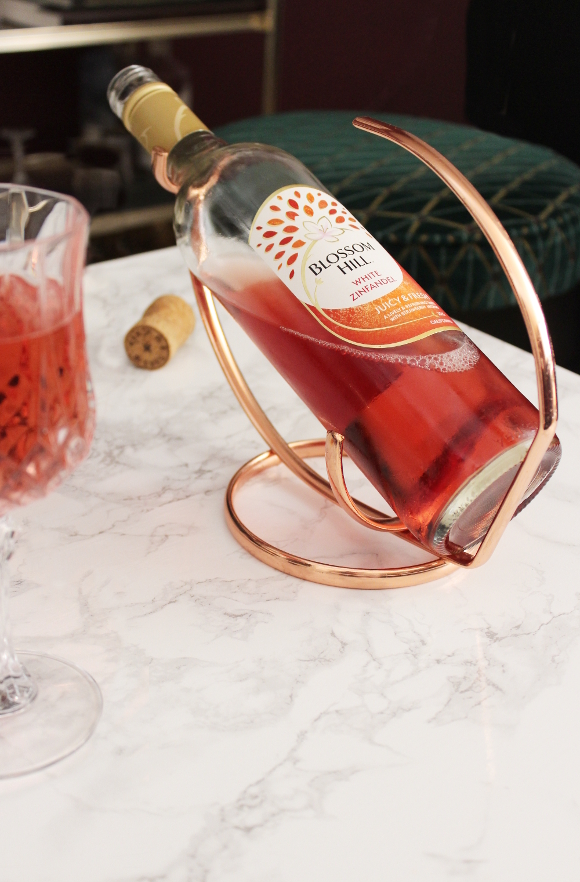 ROSE GOLD BOTTLE HOLDER, €8.99 AT HOMESENSE
HomeSense have an actual rose gold section in the kitchen area. I saw this wine bottle holder and picked it up because Robert and I spend a lot of time at home, so if we do have a glass of something, this will make us feel fancier. Even if we're in our PJ's on the couch watching Better Call Saul.
[That bottle of wine is a screw cap. I put the cork on the table in an attempt to look sophisticated. Full disclosure].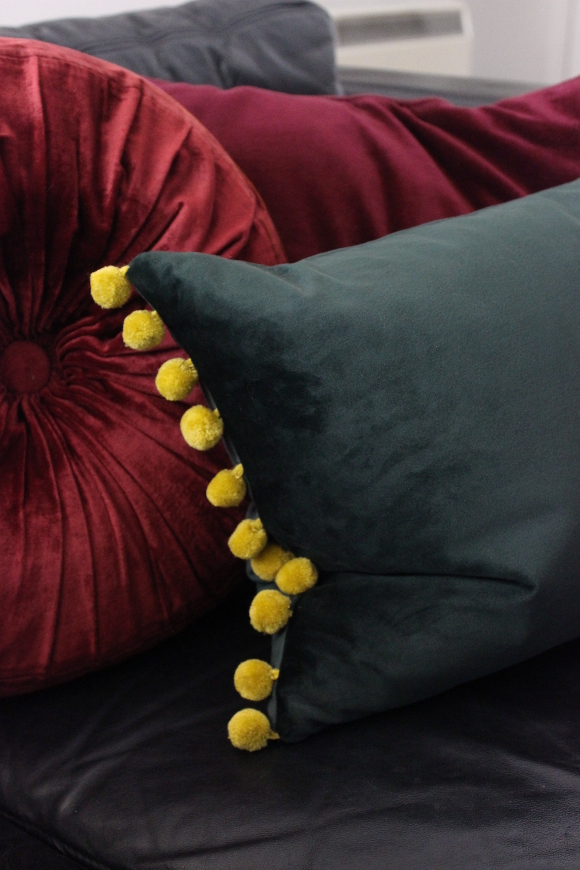 WINTER GREEN THROW PILLOW WITH POM POMS, €16.99 AT HOMESENSE
Of HomeSense's pillow aisles [yes, aisles as in plural], I kept going back to this dark green pillow. It's my favourite deep green [just like our footstool] and in the softest fabric. I wasn't sure about the bright green pom poms, but there are tiny hints of bright green in our living room [like on one of my iBride trays], so I went for it and I'm surprised with how much I like such a bright colour on our couch.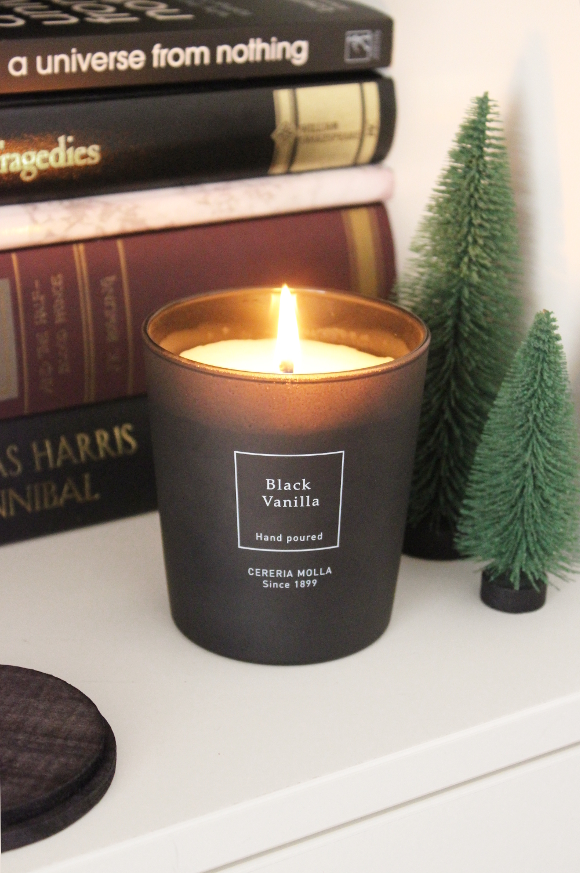 BLACK VANILLA VEGETABLE WAX CANDLE, €8.99 AT HOMESENSE
There's a black candle section in HomeSense. I stood there for about 10 minutes looking at all the black candles and eventually decided on this black vanilla candle. It smells like heaven. I'm a sucker for a pretty candle.
I got 2 more pieces in my HomeSense haul; something for Robert ahead of Father's Day and something for my mom, but didn't want to share them in case they see them here.
Thank you again to the lovely Kate and Kayla and HomeSense for the invitation to the launch and for the generous gift card! It worked. I'll be back.
DISCLOSURE – while this blog post is not sponsored, I did receive a gift card to the amount of €50 free of charge to spend at the HomeSense launch. As always, all words and opinions are my own. I only work with companies I like and of course, think that you will too. Thank you for supporting the companies that support The Interior DIYer.