My first week of this season's One Room Challenge was a tedious one and I feel like I didn't get much done. But at the same time, I know once I get the tedious and incredibly boring stuff finished, things will fall into place quickly. As soon as I paint the ceiling and walls the room will feel 70% completed, so let's get this week's boring updates over with!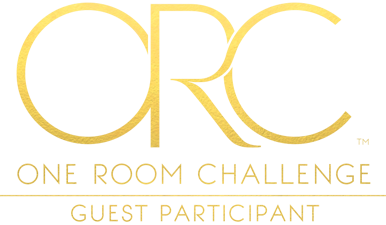 One tedious thing I fixed this week was the strange drywall "repair" under the ghost window in our home office …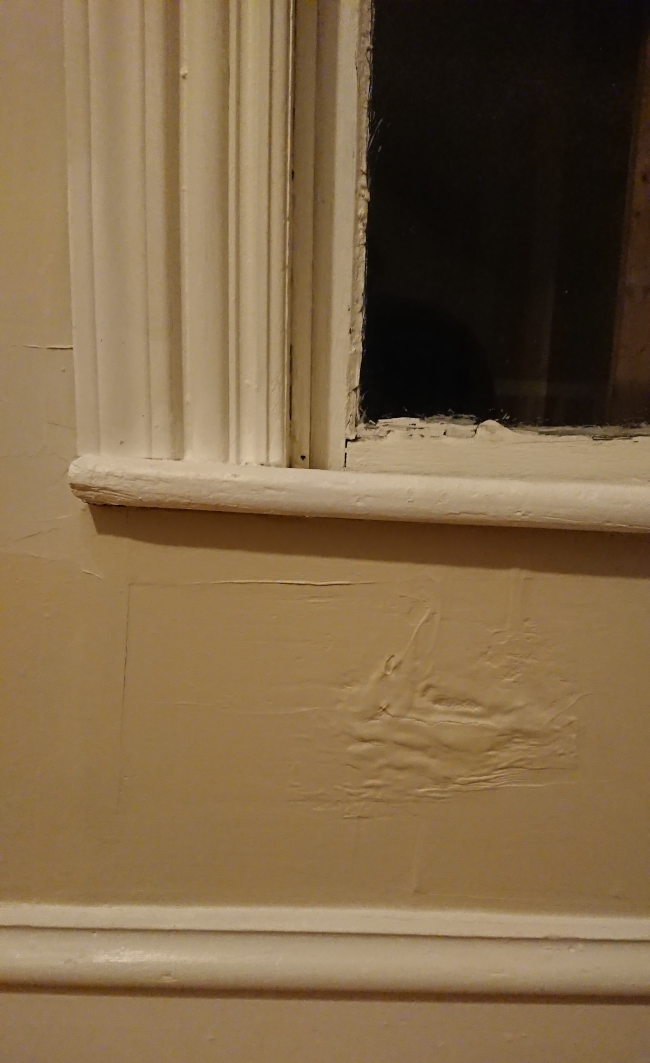 I honestly think someone tried to repair a hole in the wall by mushing a piece of fabric into it and then painted over it roughly 40 times [seen above]. SPOILER ALERT: it didn't work as well as they thought. Insert Chrissy Teigen disappointed gif here. It would move when I touched it, so I ripped it out. While I was giving this corner some special attention, I peeled away the taping someone had half-assedly put along the corners 60 years ago, then everyone who's lived in this house since has ignored it instead of fixing it [seen below].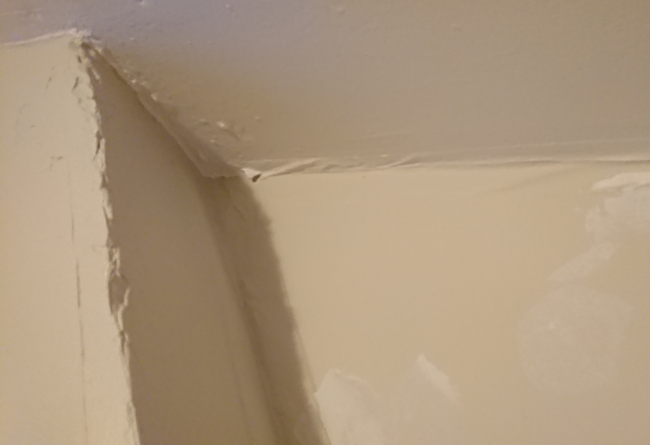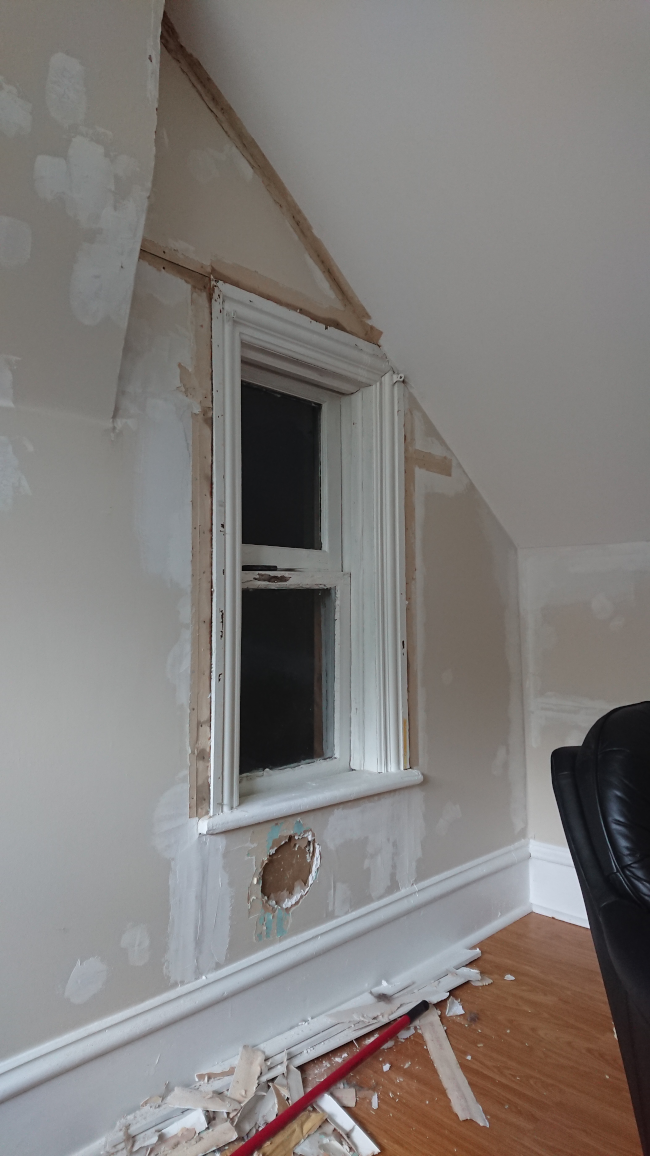 ALEX ENTERS THE CHAT. This is definitely a satisfying fixe. I started by removing the chonky repair work under the window but quickly realized it would be easier to just replace the entire panel under the window. Once I got in there, I found a giant [and I will stress a very old] wasps nest.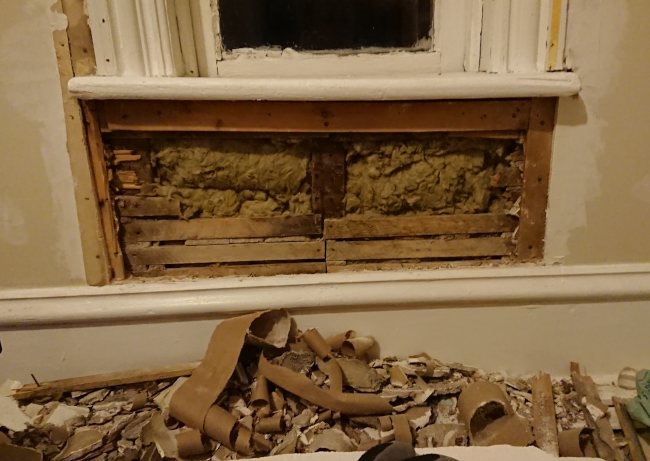 I carefully removed it, filled the gap with insulation and added a small piece of drywall. And taped and mudded it *properly*. I would like to thank the academy …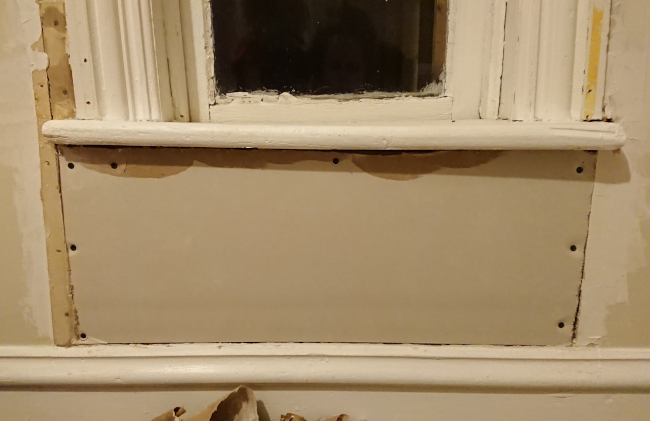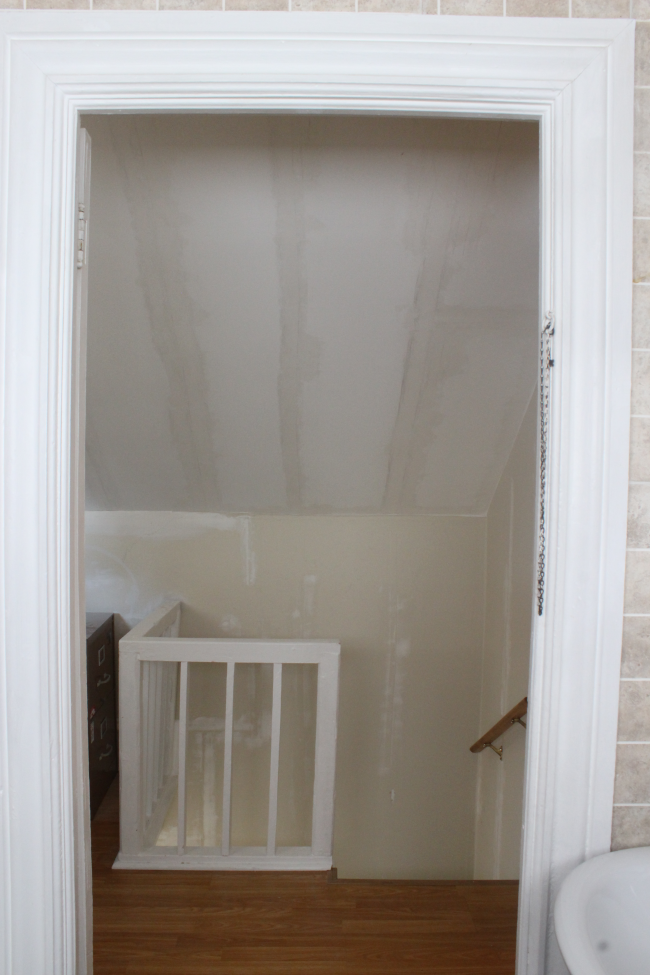 Speaking of mudding, in my Week One post I mentioned the tape throughout the room that no one bothered to mud. It was very difficult to photograph before, but now that I've been repairing it, it's incredibly obvious [as seen above, the view from our bathroom looking toward the servants stairs. The office is to the left, and the bedrooms are to the right]. For some reason I am unable to comprehend, whomever drywalled this room put up tape, but never mudded it. And possibly added really thick tape? And then painted over it. It's one of those things that didn't photograph well, but IRL was soooo obvious. You could see tape lines every 12 inches across the ceiling and along all the walls. So that was the biggest challenge for me this week; just finishing evening out all that old thick tape.
How I did this was pretty simple on a small scale, but spread across a whole room was tedious. I bought a few tubs of LePage Polyfilla from Rona and with help from my palette and a few blocks of sandpaper, I got to work. I applied polyfilla to either side of the taping, and using my palette, scraped along either side of the tape, creating a flush continuation from the tape to the walls. That is super wordy, so I created this little image to hopefully better explain the process: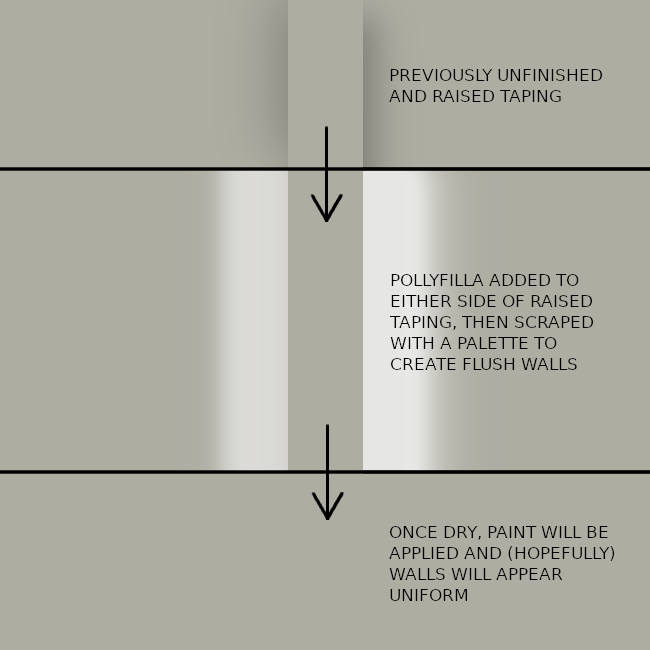 I'm quite proud of that little diagram as I think I managed to explain it quite well.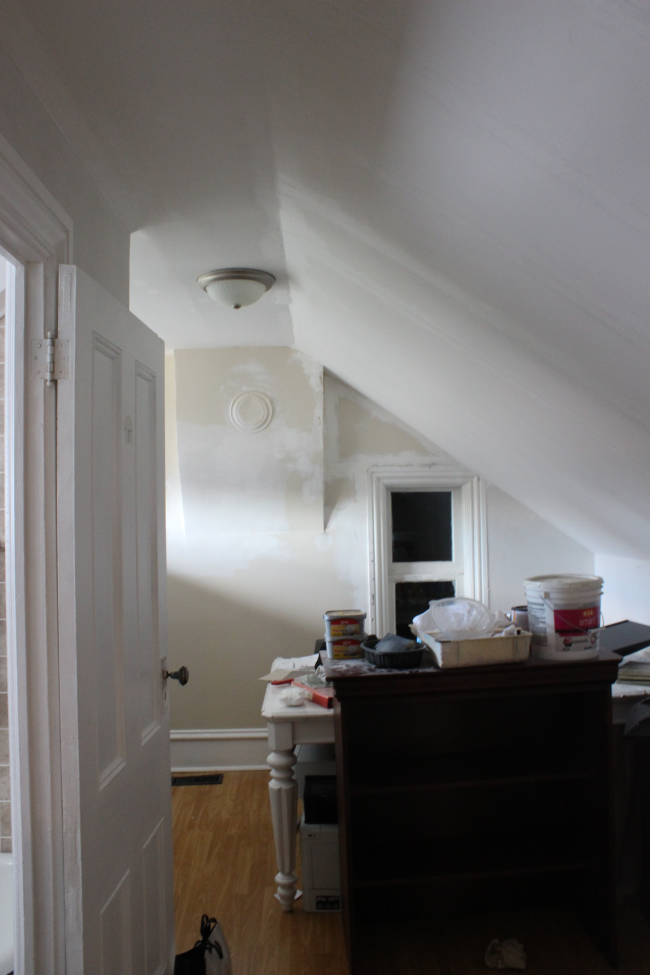 I am so close to being finished with filling and sanding the ceiling. I'm being very particular about it, but I'm really hoping to be finished by the weekend so I can get a coat of paint on the ceiling. I'm certain that once I get the ceiling finished, a huge part of the work will be over, because there honestly seems to be more ceiling than anything else in this room.
As for my to-do list, it looks like I've achieved nothing this past week, but I know next week will give me much more satisfaction when I cross like 4 things off my list.
ORC SPRING 2022 TO-DO LIST: (no change from last week … )
– Skim coat / patch ceiling
– Skim coat / patch walls
– Paint ceiling
– Paint walls
– Replace / upgrade banister at top of servants stairs
– Update and reinstall handrail [with prettier hardware?]
– Repaint stairs [not super necessary, but I might as well]
– Install desk system
– Update secondhand tufted office chair
– Source chandelier / remove the boob light
– Source storage cabinet[s] for office items
– Possibly source and hang curtains [not sure though for either window]
– Decorate / hang artwork / overkill the space
Be sure to check out all the Guest Participants here and view all the Week Two updates!
Week One – Week Two – Week Three – Week Four – Week Five
Week Six – Week Seven – Week Eight