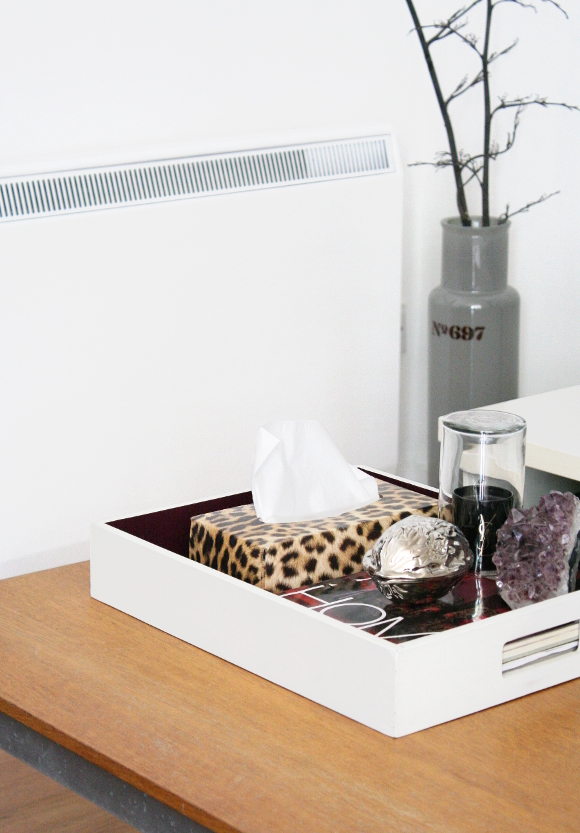 When I look back at all the work I've done to bring our rental apartment to where it is, I'm pretty proud of myself. Repainting the entire apartment. Updating the kitchen and bathroom. Sanding, prepping and repainting all the
yellowed doors and skirting boards
throughout our apartment was a tall task, but worth it. Even though we're
only renters
and don't own our apartment, I take pride in knowing our landlord is over the moon that we'll be leaving our apartment in better condition than we found it. I like a good project, no matter how remedial and non-glamorous it is.
Now that all the skirting boards and doors are no longer yellow, the only remaining major eyesores were the heaters. And boy, were they eyesores …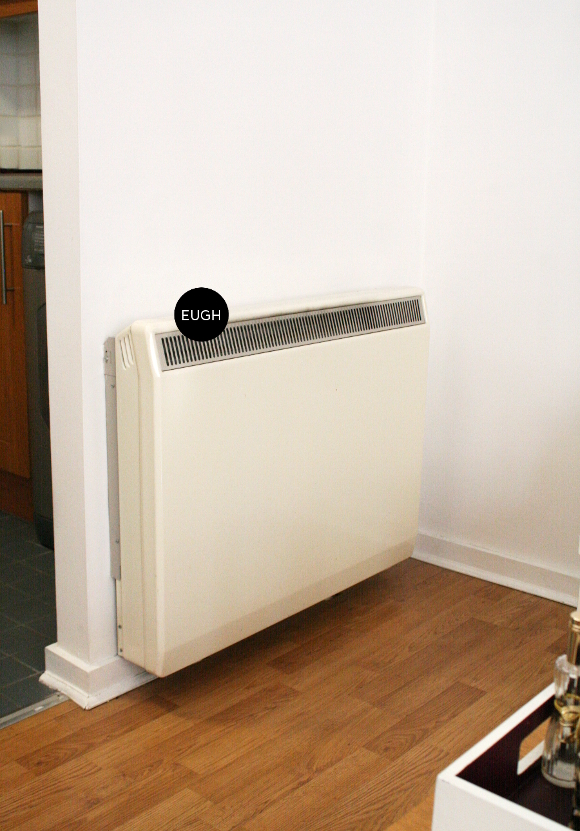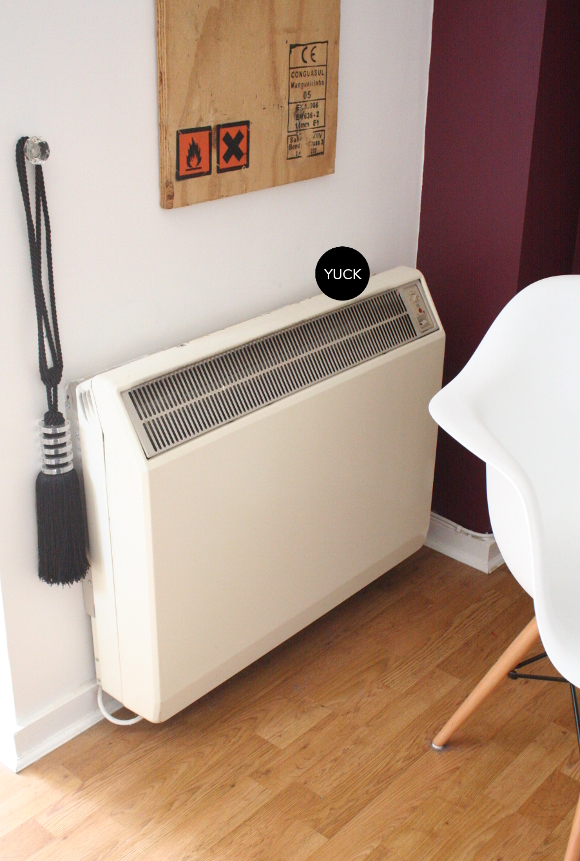 With the most epic of timing,
Rust-Oleum
got in contact with me and asked if there was a product of theirs I'd like to try out. I did a quick search on their site and when I saw their
radiator enamel spray paint
, I knew I had to try it.
The most noticeably yellowed heaters in our apartment are the two in our living room and one in the hallway. There are two more [one in each bedroom], but they're nowhere as obvious. Once my Rust-Oleum paint arrived I got to work. I asked Dad DIYer to help with dismantling one of the storage heaters with me so I could see how easy it would be to dismantle the rest of them on my own. Storage heaters are full of bricks and I as I explained in my
upcycled vacuum cord pendant
post, anything electrical make me all kinds of nervous. I felt a lot better knowing my dad was helping out.
NOTE: please read all manuals that come with your heater / radiator before disassembling them and disconnect the mains where necessary. But you guys knew that.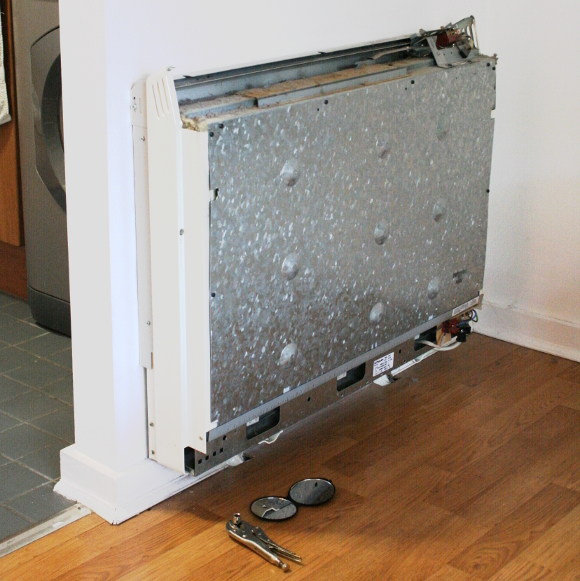 We dismantled both the front and top panel on the storage heater for spray painting. Ideally, I was hoping to disassemble the entire heater to spray paint it elsewhere, but we were stopped in our tracks when we discovered the heater was on brackets that were bolted under the floor boards [which you can better see in the last picture]. So I was going to need to paint the side panels indoors.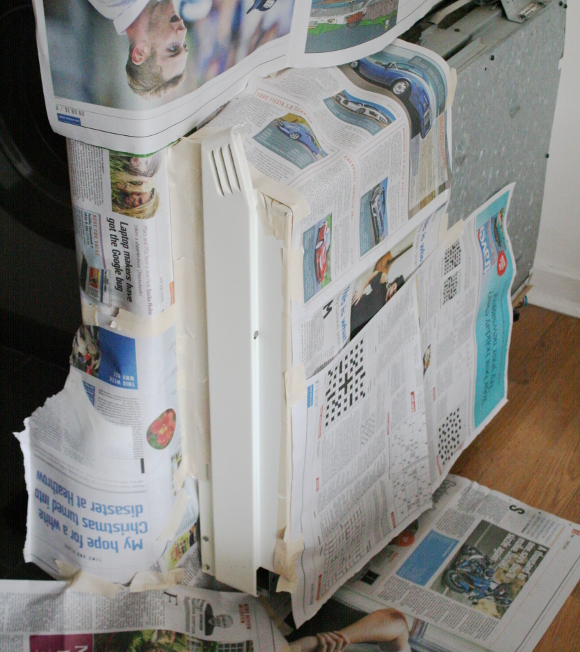 Before long the heater looked like a Mr. Bean special. As advised by Dad DIYer, I taped a giant plastic bag around the exposed side panel [not pictured] and spray painted within the bag so the overspray didn't get everywhere. I then took the remaining panels outside and gave them 2 coats of Rust-Oleum's white radiator enamel paint, let them dry and reassembled the heater again.
TIP: cover any text or instructions on your heater with masking tape before you spray paint. Because remember, you won't be the only one using them now or in the future.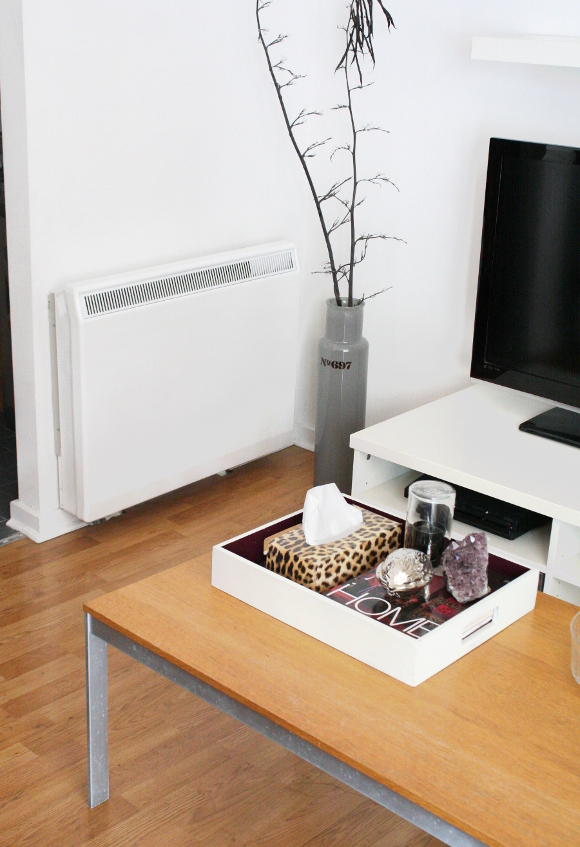 Since it took a bit of planning to paint the one heater, it's the only heater I've repainted so far. But I am very much looking forward to our heater[s] doing what they're supposed to – disappear into the background, not be a focal point and keep us warm. I for one am so happy with the result. No more fugly radiators! I know, I'm easily amused.
Thank you again, Rust-Oleum!
Disclosure – Rust-Oleum generously supplied radiator spray enamel free of charge to help in my never ending quest to update our rental. As always, all words and opinions are my own. I only work with companies I like and of course, think that you will too. Thank you for supporting the companies that support The Interior DIYer.