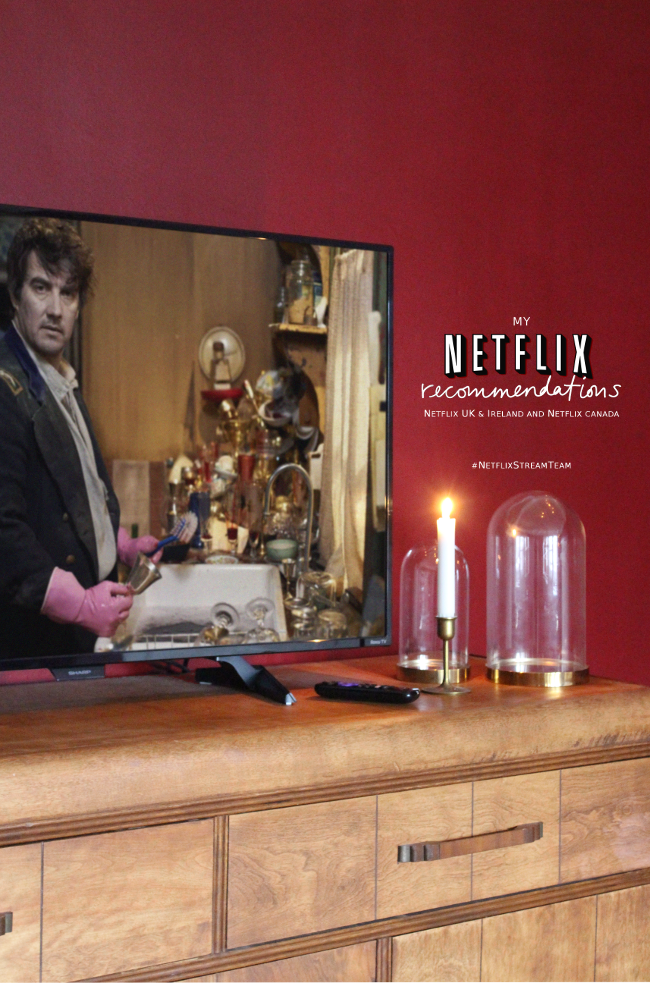 Storm Emma has made herself home in western Europe this week and if you too are stuck indoors like so many of my friends and family, I thought there was no better time to share a list of my favourite Netflix shows and movies. As a member of the UK and Ireland #NexflixStreamTeam I can assure you I've put in the time, effort and countless hours of research to bring you a list of my favourite lesser-known Netflix features, all of which I've recommended within the past year to family and friends. Since moving to Canada, I now have access to the Canadian Netflix and have picked up some new favourites here, so I've detailed if each movie or show is available in Canada (🍁) or Ireland (☘️), or both! And if you can't see those emoji's from your device, you're just going to have to guess which is which. Tough.
Schitt's Creek (🍁 and ☘️)
Starring Catherine O'Hara and Eugene Levy, a quirky and comically awkward show that you can easily binge over a few days. Moira's wardrobe alone is a reason to watch.
The Little Hours (🍁)
A movie based in medieval times but with a modern dialogue and it is hilarious and very unexpected.
Rick and Morty (☘️)
Not a show for everyone, but if you like things that don't make sense and are very out there or inter-dimensional cable, this is for you.
What We Do In The Shadows (🍁)
Easily one of my favourite movies now thanks to Netflix. It's a movie I tell almost everyone about. It used to be on Netflix UK and Ireland but has recently been removed, but I'm hoping it comes back soon because it is something everyone needs to see.
Labor Day (☘️)
A very captivating and unexpecting movie with a really good story.
John Wick (🍁 and ☘️)
A violent and graphic movie that won't be to everyone's taste, but is very good and was made for Keanu Reeves.
Hidden Figures (🍁)
Funny, empowering and inspiring movie that I brought Cora to watch when she was teeny tiny. It became available on Netflix the day we moved to Canada and it was the first thing we watched here (and have watched it many times since).
Puffin Rock (🍁 and ☘️)
I can't not throw a kids show in here and if I had to pick one it would be Puffin Rock. It's so sweet and it won't drive you insane as a parent. It's narrated by Chris O'Dowd so you know it's going to be good.
The Last Man on Earth (🍁)
We just finished the 3rd season and we can't wait to watch the 4th. It's an unbelievably good show and even better, it's helping me curb my swears in preparation of Cora becoming ever more conscious of talking.
ADDITIONAL! A list of mainstream / popular movies and shows you may not have watched but I can attest are very good and are very popular for a reason (all of which are 🍁 and ☘️!) …
– Ozark
– Fargo
– Gilmore Girls
– Looper
– The Good Place
– The Keepers
– Grace and Frankie
AND FINALLY … What used to be on Netflix but aren't at the moment but for the record, were some of my absolute favourites …
– The English Teacher
– The Help
– Life of Crime
… And hopefully they make a reappearance soon.
I hope wherever you are this week that you're warm and have enough bread. And if you do try one of my Netflix recommendations, let me know! I always enjoy hearing if people think my recommendations are good (or bad!). And tell me , what's been your favourite lesser-known Netflix binge these days? Or do you prefer to stick to more mainstream shows?