Years ago I loved Pinterest. It was one of my favourite places to go for inspiration. I'd scroll between calls when I worked receptionist jobs and I'd kill a few hours on it at home when the weather was miserable. Then around the time I got pregnant with Cora, I lost interest in a lot of things and Pinterest was one of them.
This past week I gave myself a break and treated myself to a few hours on Pinterest and it was SO NICE. I threw myself entirely at it and purged all my boards (it's amazing the things I pinned a few years ago LOL / WTF was I thinking?). My taste has changed a lot these few years and now my entire Pinterest account reflects more of what I like …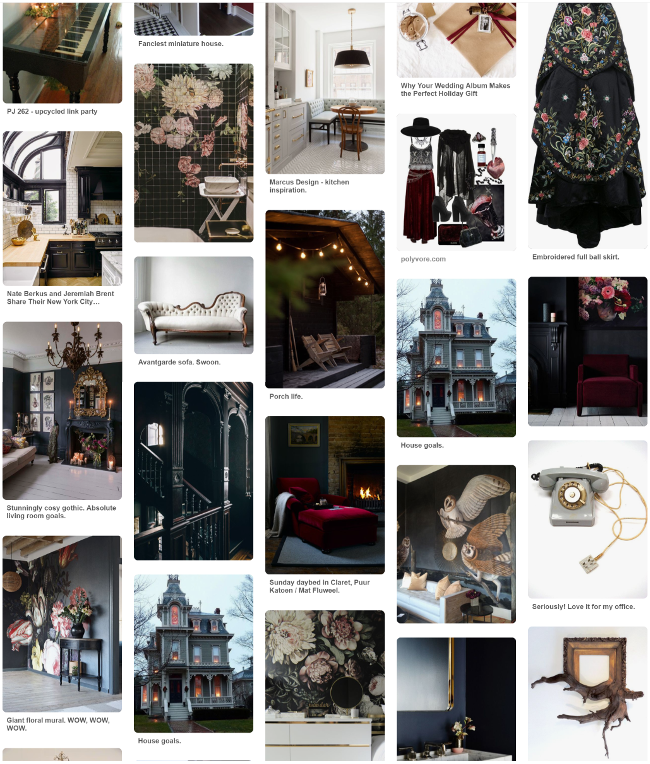 Yes it's darker but it's also warmer, has more character and more secondhand / vintage ideas. Much more #DarkRomanticLuxe. And yes, I just spotted that Victorian house I pinned twice, but I'ma leave it because that house damn well deserves to be pinned twice.
So if you'd like to follow along with me on Pinterest (where I promise I'm actually active on it again), just click below! And of course let me know if you're on it too as I'm always looking for new accounts to follow. See you there? *Awkward hand gesture*