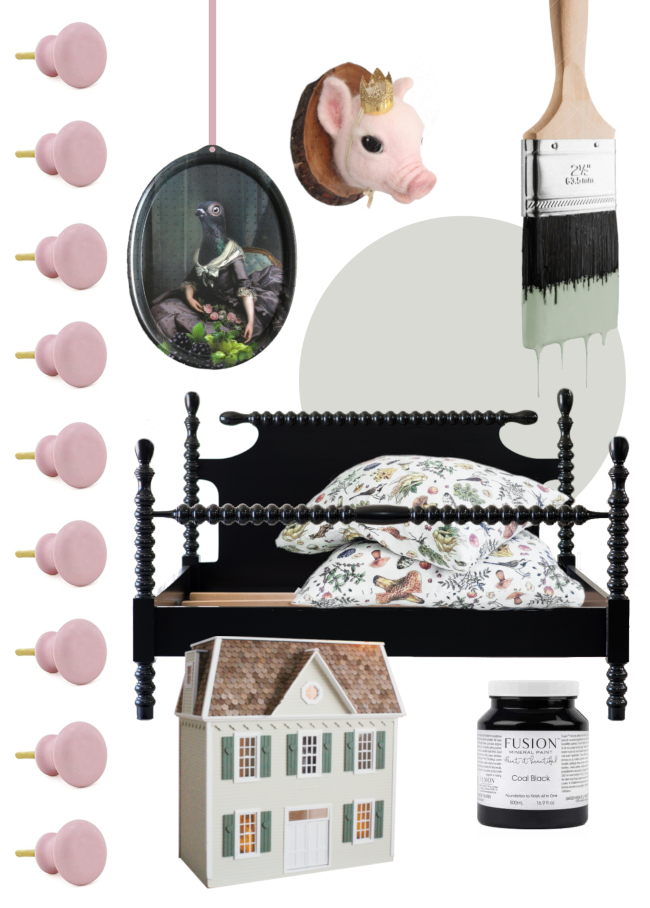 I'm quite excited to share my moodboard and layout plans for Cora's Big Girl Bedroom™ makeover. It took me about 6 months to get my head around a colour scheme, theme, and design for her room, not to mention working around the physical limitations that came with her dormer sloped ceiling [see what I mean in the before photo's of Cora's room here].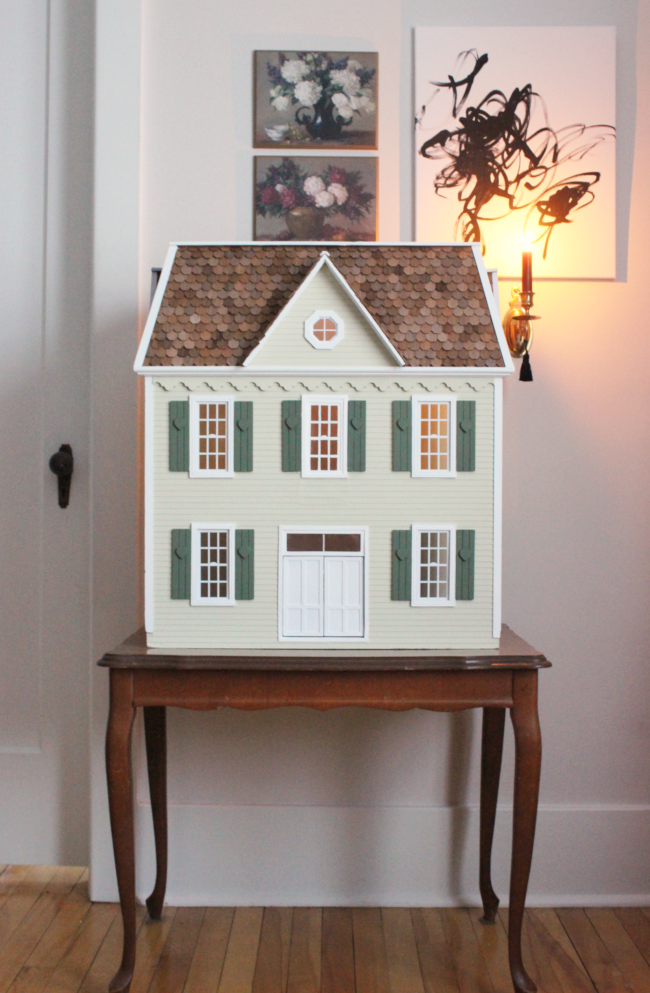 I took a huge amount of inspiration for Cora's room from the dollhouse I updated and gave Cora for Christmas 2018. Mainly, the shade of green paint I used [pictured above] set the tone of her bedroom makeover.
I matched the green craft paint to the shade "Agaves Green" by Sico Paint via Rona hardware store [I feel I have to write hardware store as poor Rona has the misfortune of also being a slang term for the ongoing global pandemic. In case you needed clarification, I am not painting COVID-19 throughout Cora's bedroom].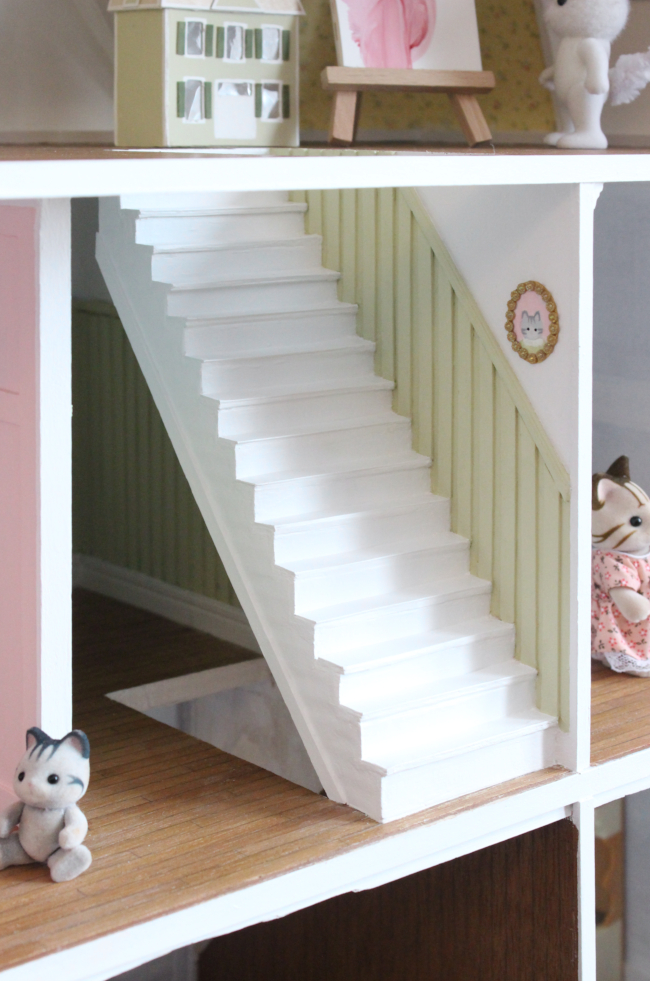 I decided early on that her room wouldn't be entirely green, but half of it, similar to the little hallway I designed and coffee-stick-bead-boarded for Cora's dollhouse [above].
Once I had the basic design figured out, it was time for the layout.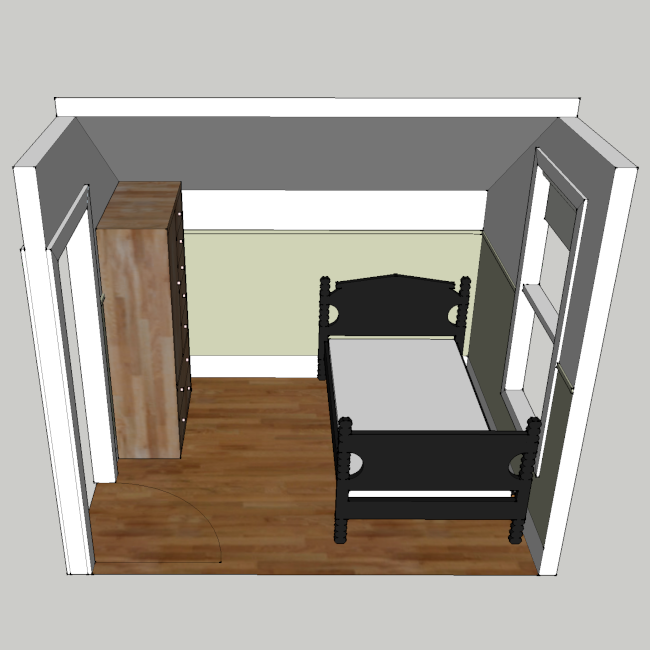 Cora's bedroom is tiny. Like, hugely tiny. And it has the added obstacle of a dormered ceiling, plus no built-in storage, so I had to be creative [and cut-throat] with what furniture I added to her room. I measured her room and created a layout in Google SketchUp. Since there was little-to-no wiggle room when it came to space, I had to be certain the pieces of furniture fit and worked. Oh, and did I mention I sourced the furniture secondhand? If you're new here, you may not know that I like to give myself a challenge.
So here is the basic layout I decided upon for Cora's Big Girl Bedroom™ makeover, using an armoir and bed I sourced from Kijiji: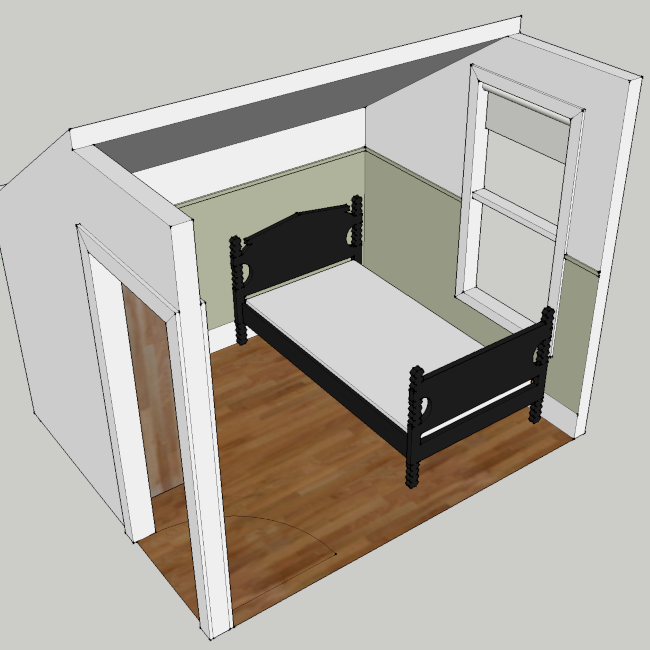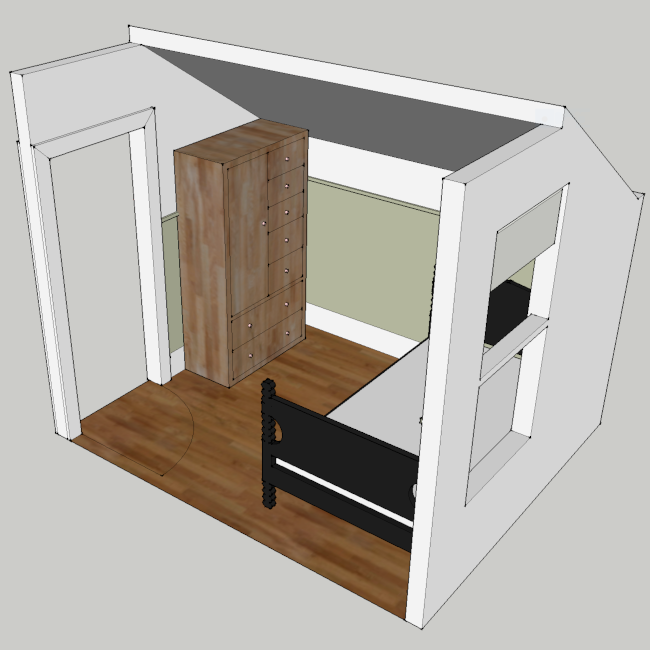 There was very limited options for furniture placement, so unless Cora was prepared to sleep in a bean bag or stand in the corner like a vampire, there was only the above layout option.
I also took a great amount of pleasure getting the perfect armoire for Cora's room; I looked online for a few weeks and the armoires I found were either too wide, too deep, or too tall, which were immediately ruled out because of the dormered roof. I took my time and found the perfect armoire for $50. It fit perfectly, and I actually love the shade of wood it is, so I won't be painting it. Just updating the hardware.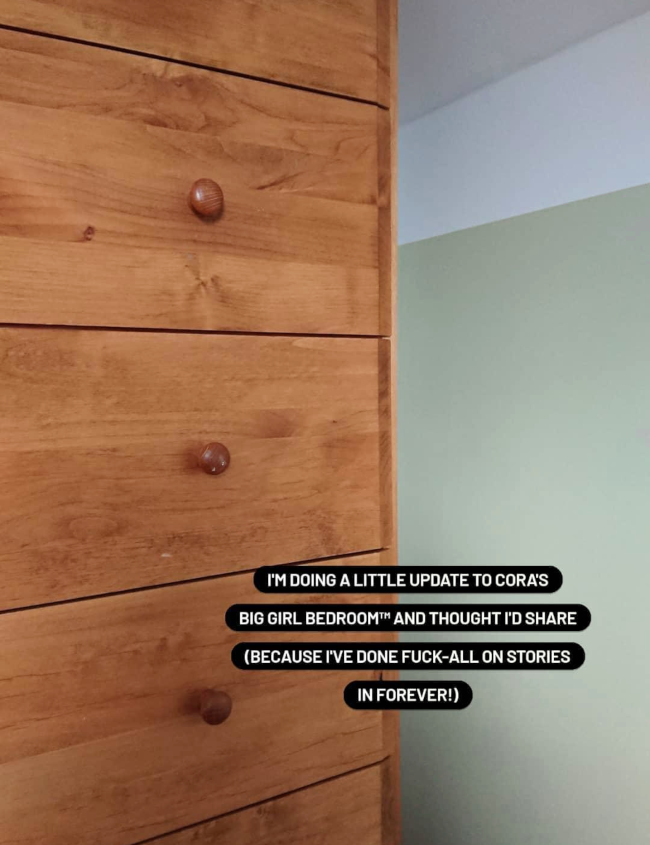 This actually won't be Cora's room long-term. Once Cora's 5th birthday rolls around, baby will be 6 months old and it'll be time for her to move into this room. Cora will be moving into our spare bedroom later this year, and just wait until you see what I have planned for that room. It will essentially be my dream childhood bedroom. No spoilers.
SOURCE LIST
– Walls "Agaves Green" by Sico Paint
– Isild female bird tray by ibride
– Needle felted pig by Felt Fauna by AC
– Bed and armoire sourced secondhand via Kijiji
– Bed painted in "Coal Black" from Fusion Mineral Paint
– Mushroom linen fitted sheet and pillowcase by Grannet Home
– Vintage porcelain pink knobs from Firstfinds