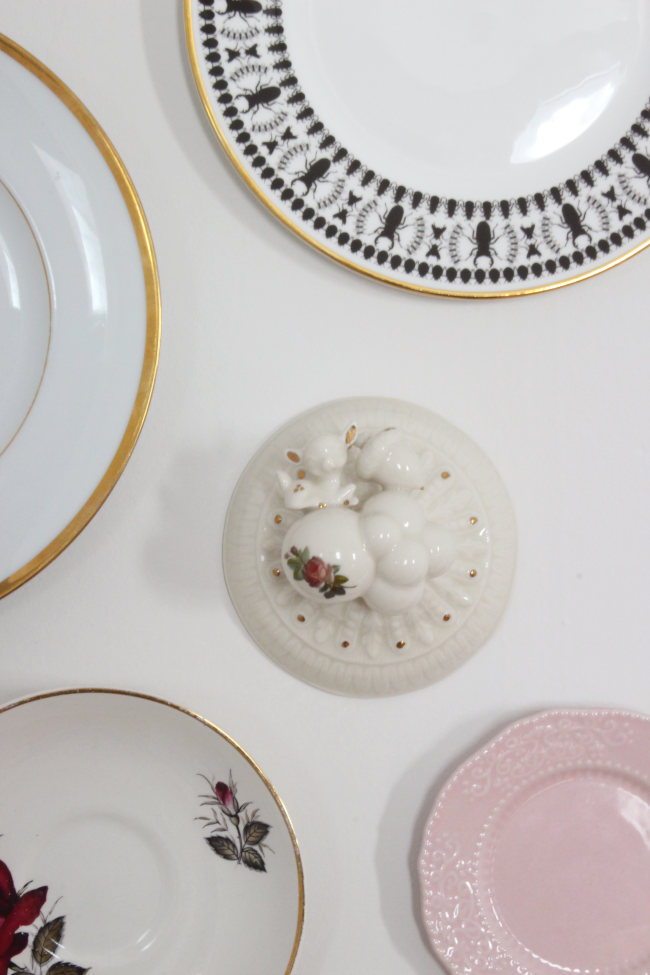 A few weeks ago I added a plate display to our dining room and I'm so pleased with how it turned out. I added some of my favourite thrifted plates along side some very fancy one-of-a-kind plates I've collected over the years.
A lot of the steps I took to hang the plates are pretty obvious, but since I encountered some trial and error [i.e. I dropped a plate], I thought I'd share my whole hanging process as this was the first time I've ever hung up decorative plates.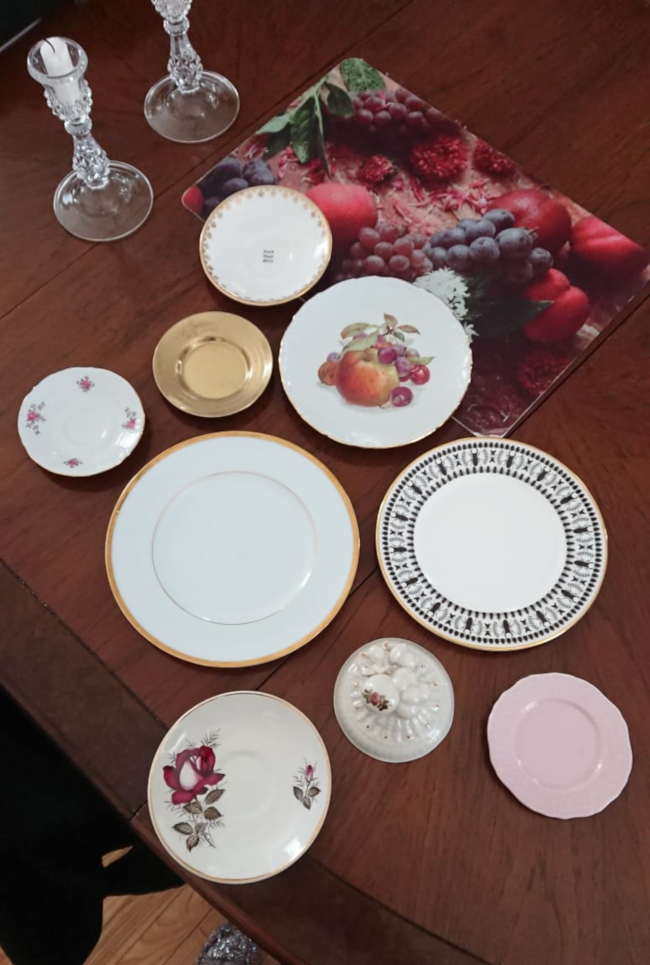 I started by making an arrangement with our plates [above] and swapped them around until I was happy with how they looked. I next left them on our dining room table for 5 days and awkwardly ate each meal around them. This step is optional.
I next worked on how to hang up the plates. Two of the plates came with hooks already fixed to the back, and I think we were in a state of lockdown when I was working on this [I'm loosing track of lockdowns at this point], so it wasn't an option for me to walk into our local hardware store to pick up some sort of plate hooks, so I DIYed my own. I took some pull tabs, bent them slightly with plyers, and super-glued the bottom to the back of the remaining plates [seem below]. As an added strengthener, I super-glued a long piece of masking tape through each the pull tab. This looks 9,000% flimsy, but the masking tape sealed rock-hard to the back, adding extra "just in case Cora goes on a stomping rampage" insurance to each plate. Trust me, this is incredibly secure.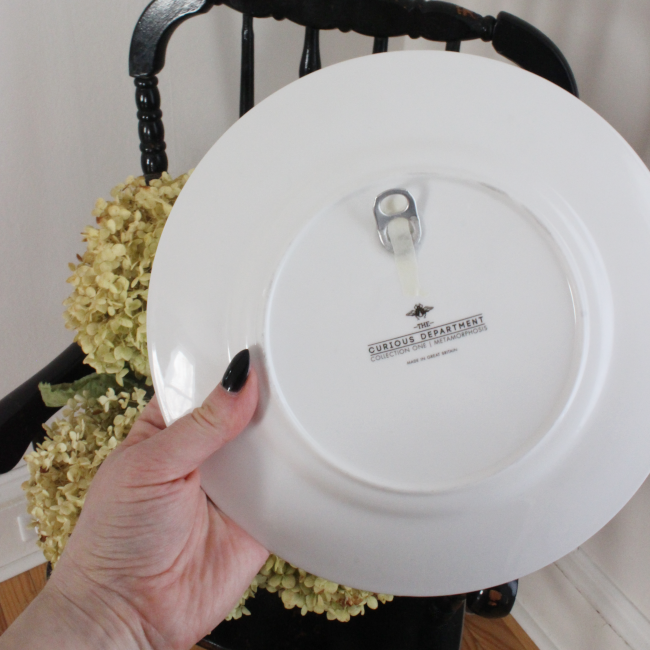 I then began adding the plates to the wall by starting with placing the two largest plates as a starting point, then adding one plate at a time. TOP TIP: it's a total pain in the ass, but take every plate down before you hammer in a new nail [so your pattern will be: hang up a plate, hold up another plate, mark the next nail, and take down all previous plates before nailing in the next nail]. I didn't do this in the beginning and my hammering caused the large plain plate to jiggle off the nail and fall. Luckily, it didn't break. Taking all the plates off before nailing in the next nail is a total time-suck, but worth it in the end.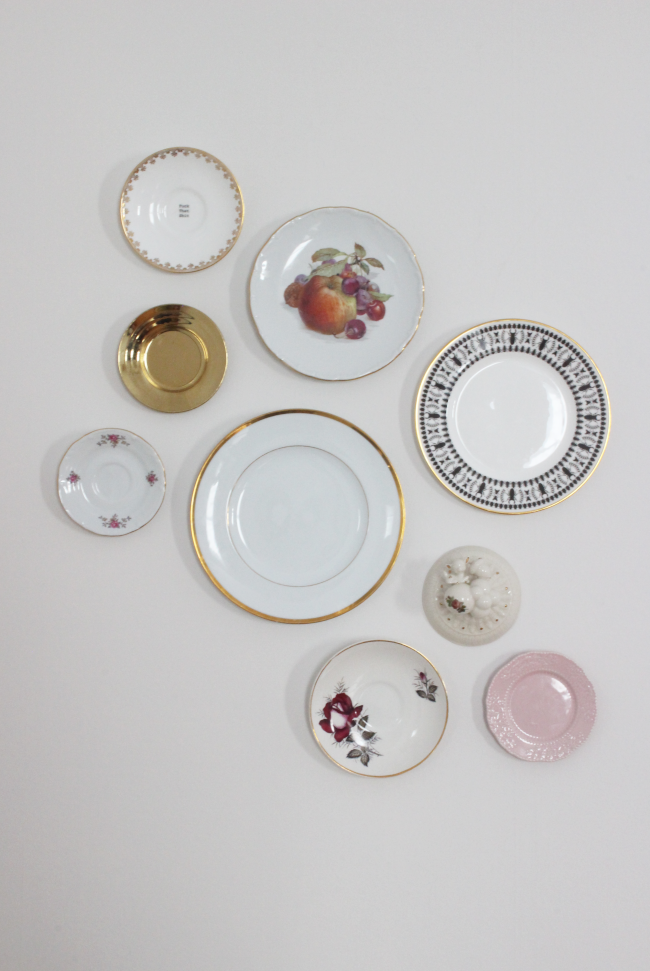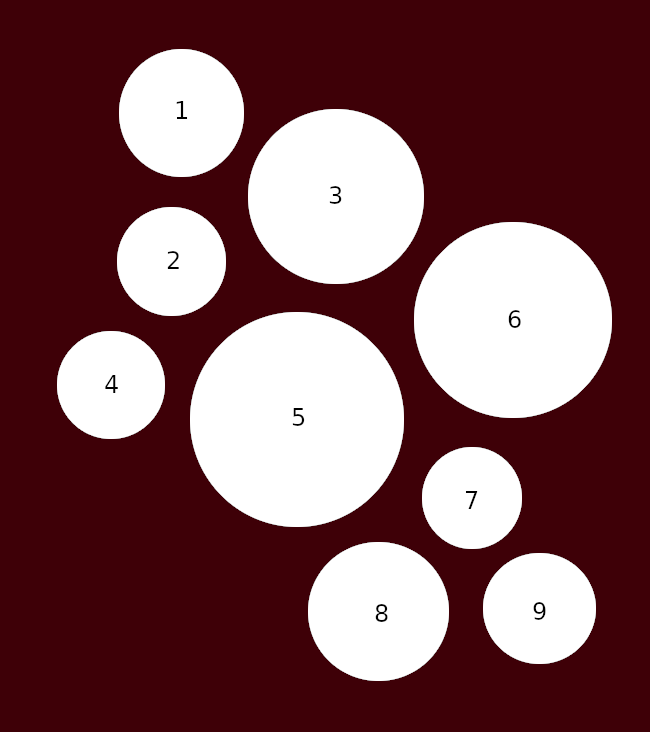 SOURCE LIST:
1. Fuck That Shit decorative plate by Lou Brown Vintage
2. Thrifted gold plate
3. Thrifted side plate from Value Village
4. Plate left in our Lower Town apartment by previous tenants
5. Thrifted side plate from a charity shop in Dublin
6. Insect Mandala side plate by The Curious Department
7. Bubble wall sculpture by Lana Filippone
8. Thrifted tea set from a charity shop in Dublin for our wedding
9. Plate left in our Lower Town apartment by previous tenants
Special mention for one of my favourite plates which was a recent pregnancy insomnia purchase, Fuck That Shit plate from Lou Brown Vintage [pictured below is a similar plate since they're all one-of-a-kind]: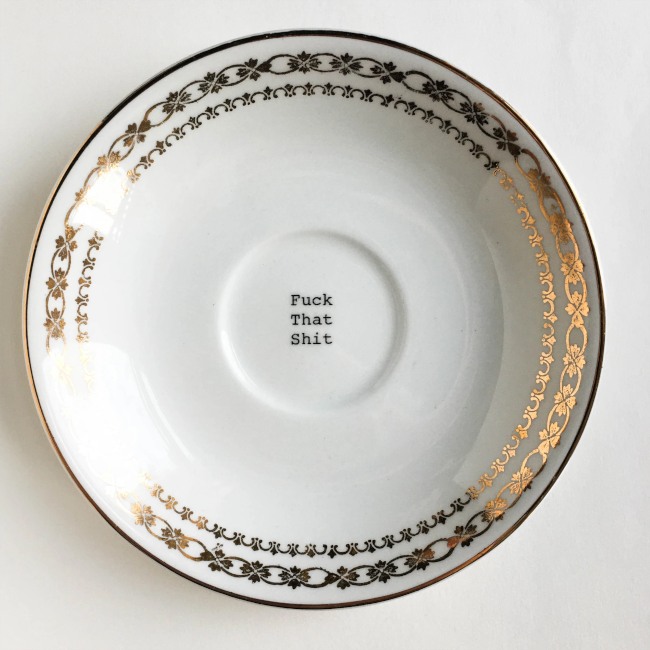 I have many more plates I'd like to add to this corner in our dining room. A good few of which will be from Canadian artists I've found through Instagram over the past while, and there will be more thrifted plates as well. I'd love to have so many plates that they overflow onto the next wall.
In short: this plate display virgin is a solid convert.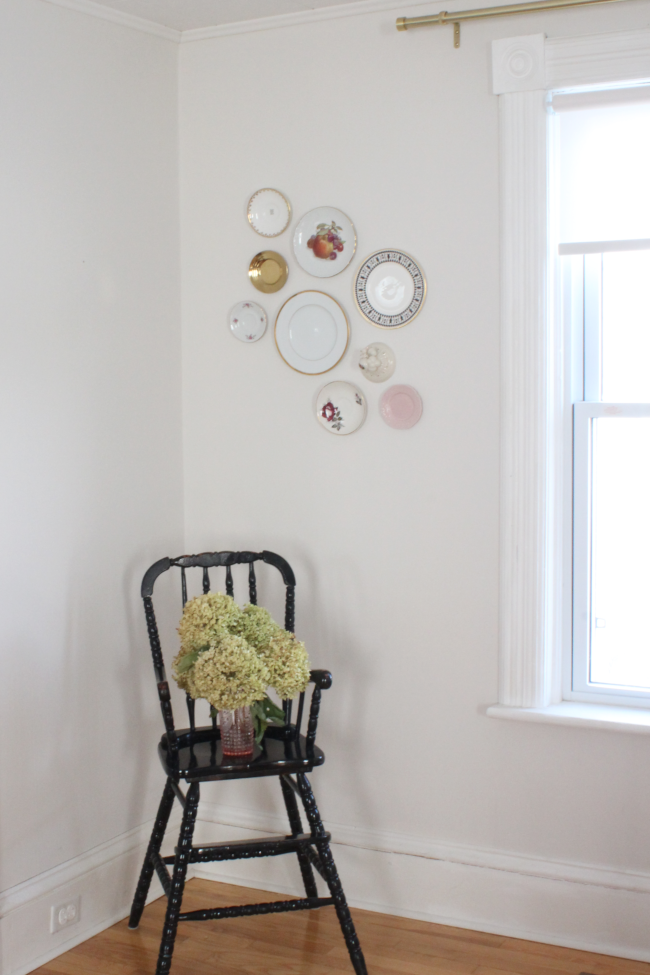 Also featured: secondhand painted black highchair, pretty gold curtain rods