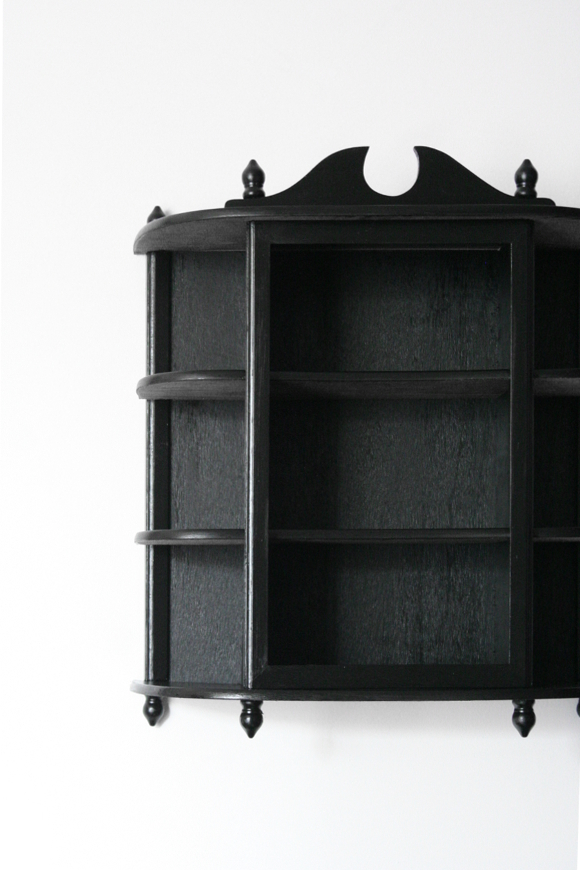 This past weekend we were gifted with some truly horrific weather here in Ireland. However, sometimes it's nice to have such a solid excuse to stay indoors in your pj's all day and contemplate striking one item off your never ending list of things to do. I was in such a mood this weekend so I finally rolled up my sleeves and repainted my little
curio cabinet
the blackest of black. As a reminder, here's what it looked like up until this weekend …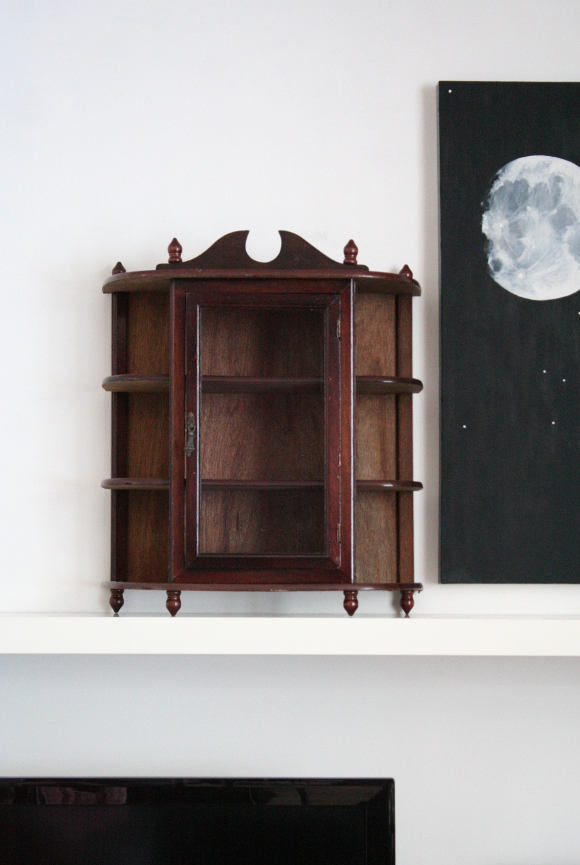 Not bad, but not great either. The finish was chipped all over, not to mention most of the panelling had no finish at all [as seen two photos down]. I began by disassembling the entire cabinet. As my dad showed me when it was gifted it to me for my
30th
[and suggested in the first place that it be painted], you simply unscrew all the knobs along the top and bottom and that allows the entire piece to be taken apart, and fairly easily.
I laid the cabinet flat on a drop cloth on our dining table and began disassembling it. As I was taking the cabinet apart, I made a quick note of the order in which I took it apart [accompanied by a couple of rough sketches for the fancier pieces whose name I didn't know. ie – the very top piece I called the tiara bit]. This note came in immensely handy when it came to reassembling the cabinet at the very end as it turned out to be trickier than I thought, even with the list.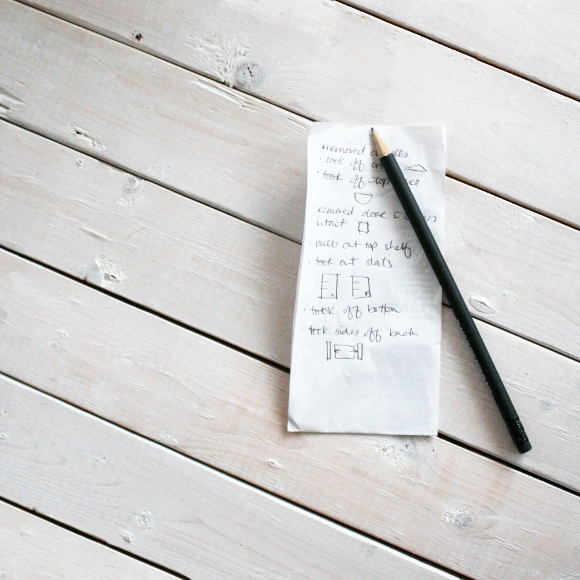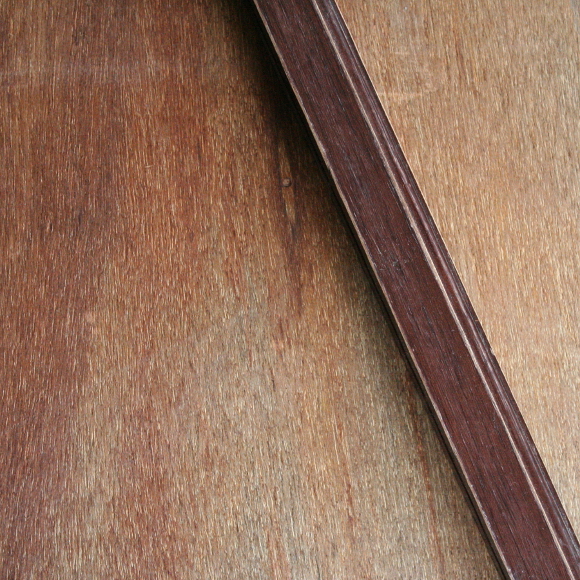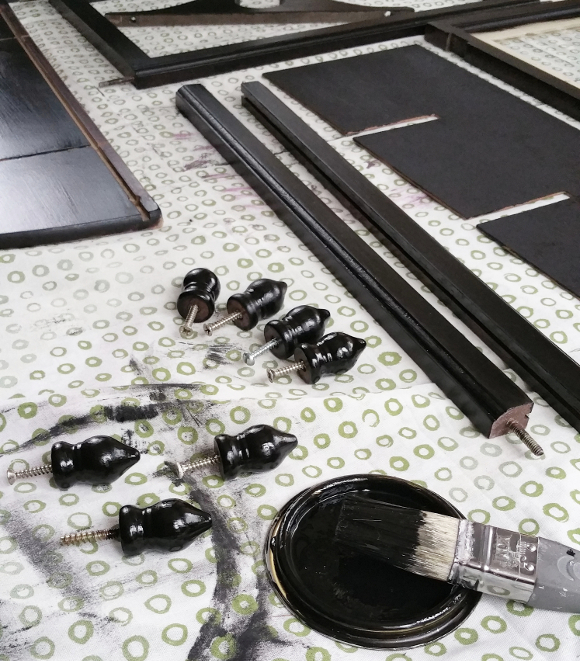 I took the cabinet apart, lightly sanded [in the direction of the grain] each piece, cleaned it with a damp rag and lightly painted two coats of black paint [again, in the direction of the grain]. Since removing it, I have yet to put the glass door back on as I'm in the process of replacing the hinges [I steeped them in coke to remove the rust, but alas, they were beyond repair]. Now that there's no door, I'm actually kind of liking it. It doesn't look too out of place sans door either …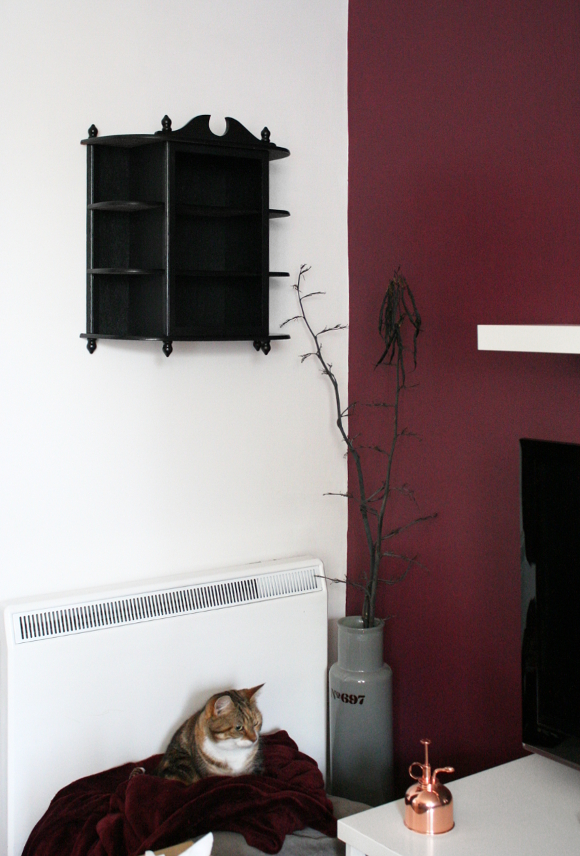 Now that it's painted, my exciting [for me] decision is that I'm hoping to fill it with succulents! Yes! Living things! I was originally going to fill it with my Sylvanian Families cat collection, but I've managed to keep a certain succulent alive since I brought it home from
Dublin Design Night
, so one day I thought
how lovely it would look filled with little succulents in glass jars?
It would look lovely, past self! And it would make the cabinet seem a bit less … daunting, too.
I'm not however sold on where the cabinet is now hanging. If I'm to fill it with succulents, hanging it over a storage heater probably isn't the best start. The cabinet's also kind of fighting with the white shelf over our TV. It looks not too bad in the above photo, but in real life they look like two grumpy old men having to sit next to one another for the duration of a long bus ride. For now, I'm thinking maybe over my desk would look nice? We'll see. Chances are, it'll take another two months for me to make my mind up.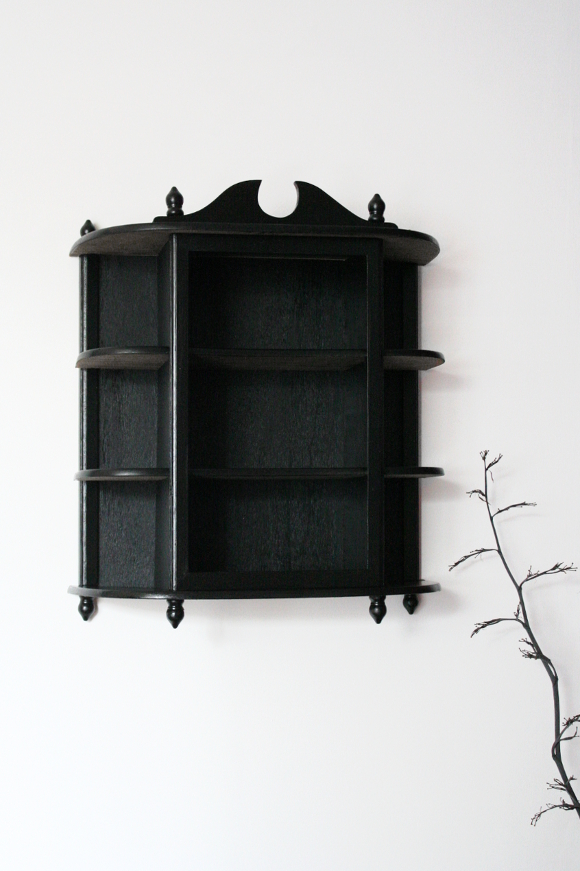 and Juniper looking rather confused