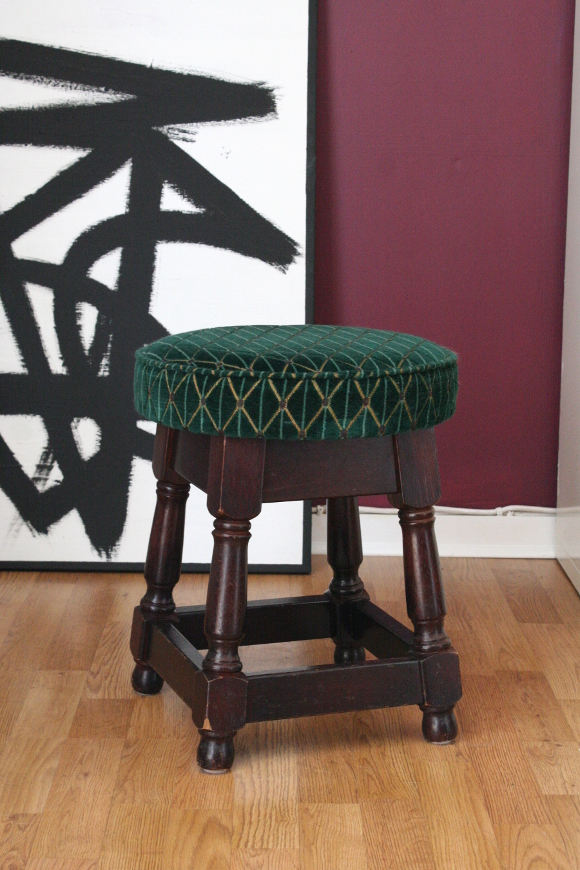 Last weekend Robert and I wandered around
Mac's Salvage Warehouse
to quench
our
my thirst for vintage markets in lieu of the no longer Merchant's Market. I was originally on the lookout for an old wooden ladder with some character for our living room [for blanket and throw purposes]. Unfortunately they didn't have any ladders, but Robert did happen upon a behemoth stack of bar stools. Originally, I had my eye on some dark red stools, but Robert insisted there were some '
lovely green ones
' [vom]. See, gentlemen, he didn't use the correct annotation. He should have said there were some '
fabulous viridian coloured stools
'. I was sold.
We settled on this stool as it had the least ware on the legs and zero visible ware on the upholstery. There was a minuscule issue with the fabric as the pattern had red, blue, yellow and pink details. "Not to worry," I said. "I'll just fix that with a Sharpie when we get home". And fix it I did.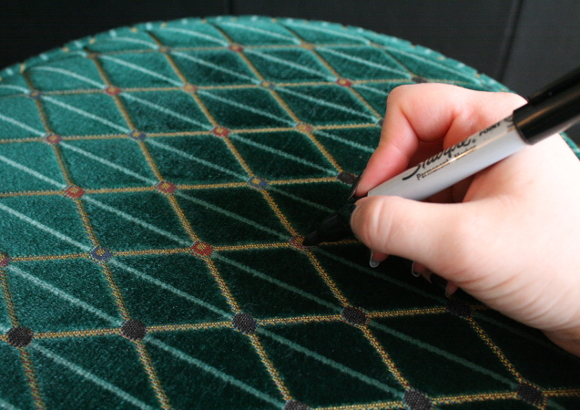 Not the most professional of fixer-uppers, but more times than I'd like to admit I've used a Sharpie on a project or two. Or seven. I use them to touch up loads of things [nicks on black picture frames etc], so I simply used my black Sharpie to colour in the colourful dots.
TIP – if you decide to do this, make sure you don't use the seat / fabric for at least half an hour after colouring it in, otherwise the ink may transfer.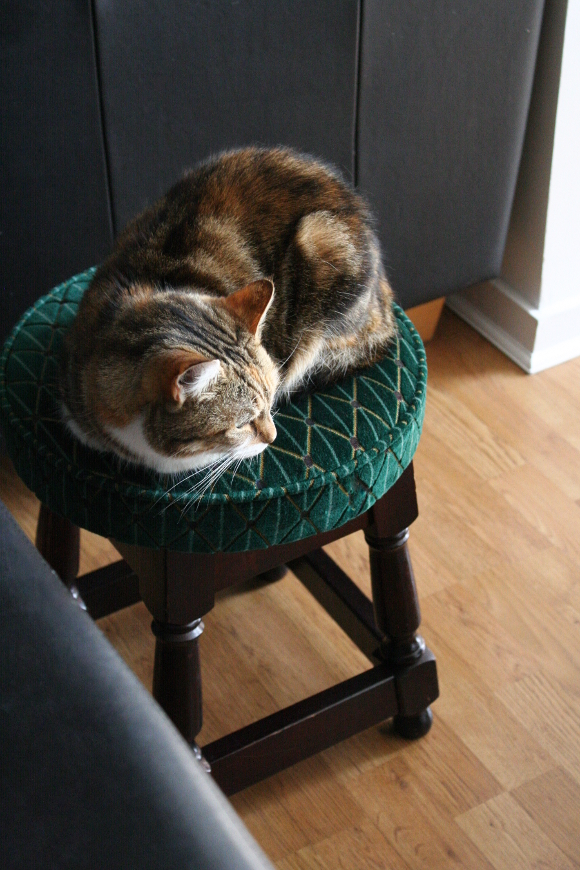 Something I am a bit stumped on is what to do with the wood legs. I quite like the dark finish that's on them. It needs to be touched up in places, so I'm thinking of getting a varnish to fix the little scratches. But what do you think – would you just repaint the legs something entirely different? I was thinking black, but I like the colour of the wood too much. At the moment the wood doesn't match anything in our apartment [other than our desk], but I keep reminding myself that we won't be renting this apartment forever. I guess I'm still waiting to inherit that Victorian full of mahogany finishes.
But for the moment, our new stool has been thoroughly approved by Juniper and Toshi. They take turns sitting, clawing and sleeping on it.
UPDATE: I painted the legs black! I was hoping to do it in high gloss black, but changed my mind at the last minute and chose mid sheen. I think it looks so much better. Except now I have my eye on updating my imitation Eames chair legs too. It's a slippery slope, I know. But still … Can you imagine it with black legs?! Swoon!