Maybe it's because as I get older, I care less about what others think. Maybe it's because I'm tired of mind-game algorithms. Or maybe it's the universal push against social media I've been feeling in recent months, but having another set of 'rules' to follow creep into my timeline at this time of year is feeling like the last straw. Or maybe it's because so much outside is overwhelming and all I want to do is create somewhere wonderful at home.
I know they're not rules at all but guidelines and opinions set out for the year ahead, but imagine if the 2019 Interior Design Trend predictions were Whatever You Like instead of mass consumerism, and Pantone's colour of the year was Whatever The Fuck You Want It To Be?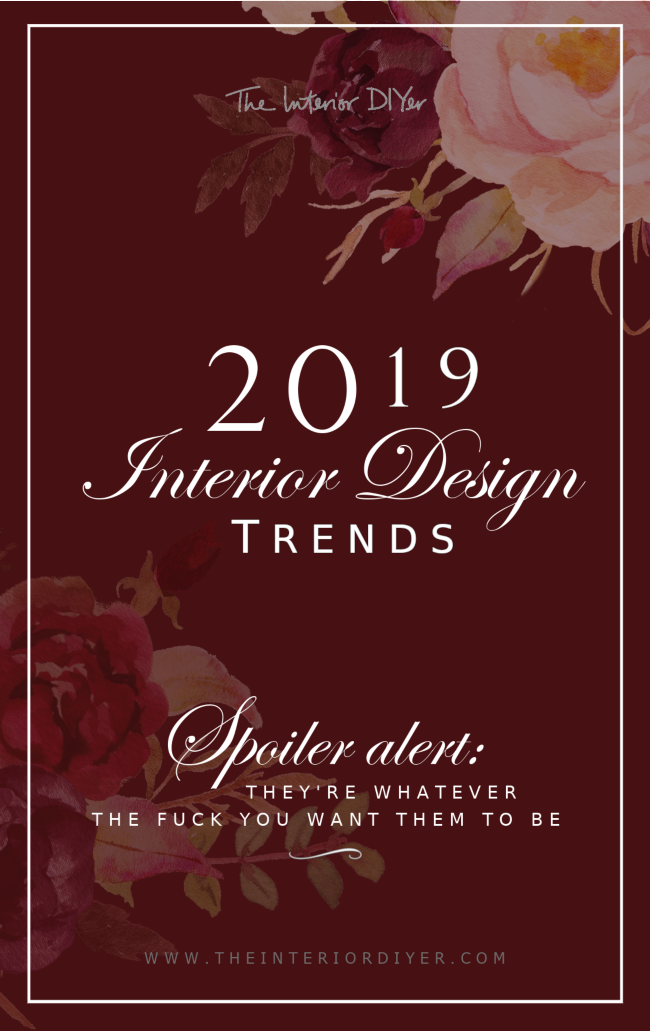 Since starting my blog in 2008, the more involved I got with blogging, connecting with others and diving into what was trendy, the more I wanted to add those popular trends to our home. It took a while, but I realized I don't like a lot of what is popular, and I began phasing them out. I've been spending less time mindlessly online recently and more time focusing on what I actually like. And surprisingly, a lot of what I like [design-wise] is a mix of dark Victorian style [Dark Romatic Luxe] and as odd as it sounds, 90's comfort that brings me back to my childhood. I'm talking Mr. and Mrs. Wilson's house circa Dennis the Menace and the McCallister's house in Home Alone; over the top curtains, patterns on patterns, overstuffed sofas, walls littered with frames, warmth and a more carefree feel to being at home.
I'm hoping 2019 is the year when for the most part we're less rigid about what is and isn't stylish. If you want to wallpaper your doors, wallpaper your damn doors. If you want to sponge paint your walls, sponge paint them. I'll be right there cheering you on. Do whatever the hell you want! Fill your home with whatever makes you happy, regardless of whether or not it will look good Instagram or to other people.
Sponge paint those walls.
[
For the record, I find sponge painted walls nostalgic
.]